First Driving Impressions – Bentley Continental GT Speed, International Press Launch, Bavaria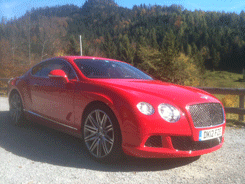 The Continental GT Speed is a tale of two cars: it's just as happy going at 5mph around town, as it is at high speed on the Autobahn. It's a highly luxurious car that hides some monstrous abilities. Light the touch paper and stand well back!
The Continental GT has been on the market for almost ten years, and in that time has sold over 26,000 units, so it has been an enormous success for the company. Sales this year are up by around 25% year to date, with 4,752 cars being sold in 2011 and 5,969 sold so far this year. North America is still in pole position in terms of units sold, with China now at number two.
Bentley cars have always stood for luxury and quality, with the GT Speed being no exception. Its seats are so comfortable and you are surrounded by an interior which is made up of the best materials money can buy. All the controls are easy to use and all are in the right place, but there are a couple of exceptions: firstly, we think the gearshift paddles deserve an improvement. The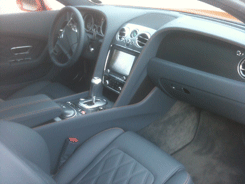 paddles are too large and are in a fixed position behind the steering wheel; they're just a bit too clumsy and stick out like sore thumbs. It's now time for Bentley to either invest in a new steering wheel – where the paddles are attached – or modify the paddles themselves so you can change gear more efficiently as you turn the wheel. Trying to locate the paddles as you're driving is difficult due to their positioning – they should be where your fingertips are and not half a turn away. Secondly, on the left hand side of the steering wheel, the indicator switch is too close to the left paddle, so you find yourself trying to set the indictor to go left or right with the gearshift paddle. However, in regards to everything else, you don't feel as though you're in a supercar where everything is difficult to use and you feel as though it's a constant battle just to keep the engine running.
The features that the GT Speed carries over the standard GT include diamond quilted leather and drilled sports pedals, but of course it's the engine where the main difference lies; it's extremely powerful and this is in fact the fastest car Bentley has ever produced. It is powered by a W12 petrol engine that produces a whopping 625ps. It goes from 0-62mph in just 4.2 seconds and has a top speed of – wait for it –  205mph; yes, 205mph, where permitted of course. The car's rear spoiler pops up at 80mph, so technically it would never be needed here, but it does have a manual override button so you can have the spoiler up if you want. However, in Germany there are certain sections of the Autobahn where you can go as fast as you want, providing it's safe to do so and there is enough clear road ahead. Whether you have the nerve to drive at those speeds is another question!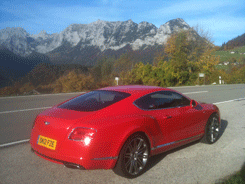 During the time we drove the car on the Autobahn, traffic was fairly heavy so trying to get even anywhere near its top speed would have been practically suicide, but there was the odd occasion where the road was clear, and you could press the accelerator to test its phenomenal power. Needless to say, it was truly amazing.  We certainly reached speeds that if tried in the UK, you'd certainly be looking at a twelve month ban at least, but in Germany it was absolutely legal. However, speed isn't everything: we knew it could do it, so we thought the best thing to do was sit back, relax and enjoy the car and the spectacular scenery of the Bavarian countryside.
We drove from Munich on the Autobahn and then through the pretty villages, with the typical wooden chalets with flowers on the verandas, piles of logs everywhere ready for the winter and cows alongside the road in the fields with bells hanging from their necks. The ski lifts were idle, but will soon come alive when the first snow arrives, which shouldn't be too far away. What a way to spend a day: in the most perfect car, in the most perfect place. We ended the first day in Oberzalberg at a hotel very close to The Eagle's Nest, which is open to the public every day. The only way up there is by public bus, as private vehicles are not permitted.
When you select Sport, it practically changes the car's personality; it's like pressing a 'loud button'.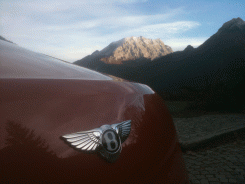 The GT Speed has an 8 speed automatic gearbox that is so smooth, it can almost read your mind; it's as if it knows what you are going to do before you do it. It has a block-shift system, so instead of going down all the gears one-by-one, it can miss some out, such as going from 8th to 3rd, and you hardly feel it happening. The power goes to the 4WD system which is split 40:60, and with having 4WD, it certainly makes the car feel a lot safer and you feel like you're more in control. There's very little chance of the driver losing the back end in the wet, or losing grip under severe acceleration. There are two drive settings for the automatic gearbox: standard Drive or Sport. When you select Sport, it practically changes the car's personality; it's like pressing a 'loud button'. The steering stiffens up, the gear changes become quicker and the suspension firms up. The exhaust note is noticeably louder and it becomes much sportier, transforming from Bruce Banner into The Hulk.
As I already mentioned, this car is capable of doing 205mph, but this is possible because the whole of the car has been engineered to do it. The tyres have been specially manufactured to ensure they can deal with such forces and the under-body has been aerodynamically designed for additional down-force. The body has been lowered, it has an improved chassis and the side windows are double-glazed, having additional soundproofing and extra window surround housings to ensure they don't pop out at high speeds. Bentley explained that if the driver were to hit the brakes hard at 205mph to a stop, it would release enough energy (if it could be harnessed) to power a small house for 6 hours.
The GT Speed's two rear seats are a bit cramped to sit in for adults; they're acceptable for short journeys, but would suit children better. The boot space will easily accommodate two full size suitcases – with room to spare – or a full week's supermarket shopping.
The cost of the Continental GT Speed starts from £151,000, but add a few nice options and this can easily reach £170,000.
The standard GT is like a bonfire night rocket: it takes off very quickly, but soon fizzles out. The GT Speed, however, sets off quickly and just keeps on going.