Test Car – Skoda Superb 2.0 litre TDI Elegance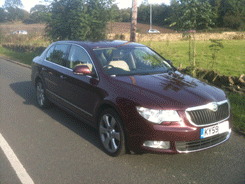 We recently had a 2009 59 plate Skoda Superb that came from Volkswagen Financial Services and had been out on lease with a customer for the last three years. It was delivered to us, immediately after it had been collected from the previous driver, and he or she had obviously treated it so well; it was immaculate throughout.
The car was three years old and had covered just over 60,000, and to say it was as good as it was new would be an understatement. It had a dark metallic red exterior and a beige leather interior – a combination you would have thought might look a bit tatty by now, especially with leather seats which tend to sag and look a bit scruffy with age. However, this wasn't the case at all; the interior looked very impressive, and there was very little sign of bagging leather.
The legroom is similar to a large premium executive saloon; it offers nearly as much room as a Limo, but for a fraction of the cost.
When leasing companies finance all their cars, they must worry about the state the vehicles will arrive back in after a few years of use, and especially when they see a light coloured interior on the invoice. Hearts must start to pound in anticipation of the result when the cars are handed back, but there are caring, loving drivers out there who do look after their leased cars and treat them as if they were their own. This Superb is a good example of that.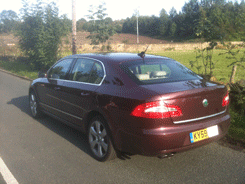 The car was powered by a 2.0 litre TDI diesel engine that produces 170ps, so no shortage when it came to power. Its official combined fuel consumption figure is 46.3 MPG and this car achieved just over 40 MPG according to the on-board computer, which for the size of car and the power it produces, is a good result.
From the first day I saw the Skoda Superb all those years ago, I still cannot work out how the rear door system works and just how clever it is. You press a button in the middle of the boot lid and the boot opens as a conventional four door saloon. Press and hold another button to the right of it, wait for the high rear braking light to flash a couple of times, press the middle button again, and a full tailgate appears, effectively turning the car into a hatchback! This provides much more space for loading in shopping or luggage, but the main advantage to this system – in my opinion, after having used a few Superb models – is that in winter, when you have to use the boot, no cold air reaches the cabin when just the saloon boot lid is used. I am sure there are many more reasons why Skoda dreamt up this idea, but whatever the reason, it does work and it's a brilliant yet simple idea.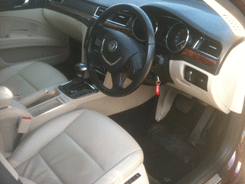 The ride is excellent; it's a really comfortable car to use on long journeys and despite it looking like a huge car, it's no longer than any other D sector car such as the Ford Mondeo and Vauxhall Insignia. The interior space is where the Superb definitely scores highest, as it is huge; especially where rear occupants are concerned. The legroom is similar to a large premium executive saloon; it offers nearly as much room as a Limo, but for a fraction of the cost.
A used Skoda Superb is a good choice if the customer wants a large car with good fuel consumption, plenty of interior space, a high quality fit and finish and good value. The car we tested was exceptional throughout, so let's hope its new owner will look after it as well as its previous one.