Test Car – Vauxhall Ampera Electron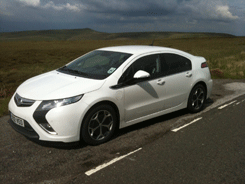 There is an old saying 'all that glitters is not gold', which means don't always believe what you see, or read. The advent of the recent spate of electric cars really should have taken the world by storm; in theory everybody would have wanted one, but sales have been disappointing as the prices are too expensive and the range isn't good enough for most people. The Range Extender is the next hope that people will be convinced to buy a semi-electric car – a car that on paper offers a combined fuel consumption figure of 235.4 MPG, however, after having used a Vauxhall Ampera for a few days, the figures just don't stack up for the sort of journeys I have been making.
The Ampera is an electric car – the wheels are turned by electric motors and the electric motors are turned by lithium-ion batteries, but it has its own on-board power station in the form of a 1.4 litre petrol engine. The engine doesn't have any direct connection with the wheels; it's simply used to create electricity to charge the batteries, but you can charge the batteries direct from a three-pin plug and it takes around 9 hours to get 37 miles of pure electric power, so the engine isn't needed for this sort of distance. However, if you wish to solely use the engine and preserve battery power, then press the 'Hold' button.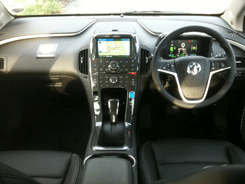 The Ampera's interior is very modern; it looks fantastic and was universally liked by those who I showed it to. The seats are very comfortable and supportive, and they have a real quality look and feel to them. There are only two rear seats but they're both sculptured, so you do sit in them as opposed to sitting on them. The dashboard is full of individual touch switches that have a nice feel to them and are very different to traditional switches, which again gives the Ampera a very original angle.
The exterior is also modern and does attract attention as it looks different to anything else on the road at the moment. The boomerang front lights are very distinctive and the car has a general futuristic look from every angle; the designers have done a great job on producing such an original looking car that will no doubt still look fresh for many years to come.
Charging up the Ampera is a relatively simple task, but the cable isn't very long. I had to park the car with its nose nearly up to the garage door, as my plug is half way down the garage and if I had backed the car up to the door, then the wire wouldn't have been long enough. You cannot use an extension cable; you can only use the cable provided with the car, which sits neatly in the boot under a cover, however, this could prove to be inconvenient if you have a boot full of luggage. If someone disconnects the cable while it is charging and the car is locked, then the alarm will go off.
The dashboard is full of individual touch switches that have a nice feel to them and are very different to traditional switches, which again gives the Ampera a very original angle.
I am not altogether sure about the etiquette around charging an electric car. I took the Ampera to a hotel near Slough and wondered whether to ask to use their electricity overnight and park it near a three-pin plug, but there wasn't one anywhere where the car was parked. I parked it near my bedroom window to see if I could put the cable through the window and plug it in in my room, but the cable wasn't long enough. If you go to a friend's or family member's house, do you ask them if you can use their electricity, or do you offer to pay for it, and if so how much is it?
I charged the Ampera up overnight from my garage, but hadn't realised what a tight fit my up-and-over door was. There wasn't enough room for the cable, so I had to leave the door ajar with the car's bonnet nudging it to keep it from going up. The next morning it was pouring down and I had to wind up a very wet cable from the ground, which wasn't a pleasant experience, but I'm sure if you had one full-time then you would invest in a pair of waterproof gloves.
During the time we had the car we covered 593.8 miles and charged it up once. The reading from the on-board computer showed it had used 15.2 gallons of petrol and achieved an average of 38.8 MPG, which is miles away from the official combined figure. On a full tank of petrol the on-board computer showed a range of 277 miles, so the journey from Huddersfield to Slough and back meant I had to go to three different filling stations to ensure I had enough fuel to get there and back. In a normal car, one fill-up would have been enough. The Ampera is a tale of two halves because if the driver just covers short journeys and is prepared to be forever charging up the car after around 40 miles, then it will achieve a very high MPG, but if the driver uses it as a normal car, making distance journeys, then the fuel used will be to say the least disappointing and far worse than a diesel powered car. So, the customer has to decide just how it will be used and driven before they buy one. If long journeys are the majority, then think about something else, but if short journeys are to be expected, then the Ampera is worth considering.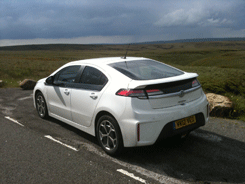 After the disappointment of the fuel consumption, I still feel the Ampera and other range-extenders are the way forward, while pure electric powered cars with limited range are going to remain difficult to find buyers. The Ampera is a fine example of some brilliant engineering and design, but customers' expectations must be managed to avoid a huge disappointment and a feeling of being sold the wrong vehicle.
The cost of this car is £38,995 on the road less the government grant of £5,000, which is cheap for the amount of technology you get, but expensive compared to diesel powered cars of a similar size.
In conclusion, the Ampera is not a car for those who cover high mileages; it's designed for those who do short, regular journeys and can charge the car up before they take it out. In an ideal world the owner would use it for 10 days, doing up to 50 miles per day on pure electric and occasionally they would go on longer journeys of up to 100 miles – this type of usage would show just how little fuel the car can use. The Range Extender is definitely the way forward and would be the choice of many above a pure electric as it does offer so much more, but buyers need to be aware that they have to use it for what it was designed for.
Subsequently, Vauxhall has recently announced that the Ampera range will have a new entry level model called 'Earth', which is priced at £34,995 on the road, or £29,995 minus the £5,000 government grant.