Is CO2 still the main factor in manufacturers' future fleet strategies?


Are the days of fleet managers selecting vehicles mainly on the level of CO2 output slowly coming to an end?
Although global environmental concerns remain a major driver of automotive technology, other factors are now increasingly having an impact on manufacturers' current and future new car strategies. 
Fleet managers don't just exclude cars from their lists because high CO2 equals a high tax burden for their drivers.
Fleet policies can lead to a blanket ban on cars with emissions above a certain level, say 130g/km: this is also the level at which capital write-down allowances fall from 18% to 8%. So there's a financial incentive for companies to do this.
But it can also send a signal that a company is conscious of the environmental impact of running a company fleet.
HR departments have an impact on fleet specification
Similarly organisations are becoming more and more aware of their responsibilities to their employees, and the benefits to them of providing a superior duty of care.
As with environmental policies, there are tangible and intangible reasons for this, and so vehicle safety technology could be the difference between making it on to a company's fleet list or not.
HR departments are becoming more and more influential with regard to this. Here's why: 
Productivity - 

Keeping employees healthy and pain free can reduce days absent through sickness. This is especially the case for employees who are required to drive long distances frequently. So ergonomic seats with lumbar support are a must for these drivers. Furthermore, accident reduction through avoidance technologies reduces the time a vehicle spends off the road, whilst a reduction in claims may lower fleet insurance over time.

Recruitment and retention – This is a vital element when providing users with their car lists. After all, happy employees are more likely to stay, reducing recruitment costs.
Legislation – HR departments' pressure for safer vehicles is often aided by EU legislation. A good illustration of this is the growing expectation that Autonomous Emergency Braking is to become mandatory post 2017 under new EU legislation. Companies have a duty of care to their employees, which means vehicles need to be equipped correctly ensuring they don't break the law – using Bluetooth to answer their mobile phone, for example – is in their interest.
It's difficult to argue that HR policies and new legislation are not having an impact on the fleet market. It is important that manufacturers consider the impact of future policies and legislation which are on the horizon before releasing a new or facelifted model because this will determine how successful the vehicle is for the full duration of its life cycle. 
Driver convenience: Future technologies that may become 'must haves' for fleet vehicles
An example of a technology that enhances driver convenience and has slowly become a standard feature on new vehicles is cruise control.
This feature is now a component that is expected to be included in a user chooser fleet vehicle specification list. Once only seen on luxury cars, its increased availability across the market can be attributed to the demand that originally came from fleets. 
Like cruise control, there are many safety technologies in the pipeline which in time may become 'must haves' for vehicles hoping to be included on fleet lists because they enhance the convenience and comfort of the driver. For example: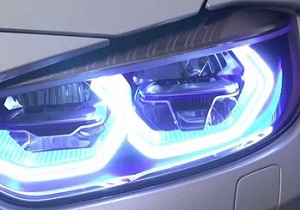 BMW – Iconic Lights will be available on the new M4. They highlight 100 metres in front of the vehicle illuminating corners, animals, pedestrians or any other potential hazard with the laser-based Dynamic Light Spot well in advance of the driver reaching an obstacle. For fleets this will improve the safety of drivers at night and on unfamiliar roads.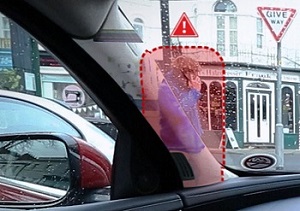 JLR – The 360 Urban Virtual Windscreen has transparent A, B and C pillars made possible by external cameras, giving the driving an uninterrupted 360 degree view without blind spots. The real genius is in the digital windscreen that displays a satellite navigation system, with built in hazard warning system. The system includes features such as 'follow me ghost car' which uses a 3D technology to portray a dummy vehicle ahead to illustrate the direction the driver should be heading in accordance with the satellite navigation.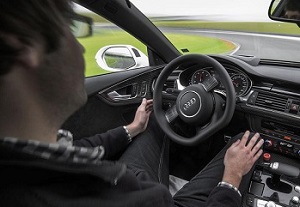 Audi – The RS7's piloted driving concept provides an autonomous driving mode both on motorways and in heavy congestion traveling in stop-start traffic, which similar to cruise control would aid fuel consumption and make for less stressful journeys. 
However, it's not all progress.
Autonomous driving raises questions of who's in control of the vehicle, and who is liable if it fails? During the early stages of the roll-out of this technology, HR and company legal policies may mean that company car drivers cannot use it whilst driving on business.
Should the effect on the RV's and the impact on the used buyer take centre stage?
All these new technologies leave manufacturers fixated with creating the best product to suit the demands of the new vehicle market.
But looking at the total lifecycle of the car, the demand for such technologies need to be assessed in terms of the value each feature carries through to the used market. Therefore a balance needs to be addressed when allowing CO2, HR departments or driver convenience to dictate a specification level that is not competitive in the used market. 
Here at CAP we've always been cautious about the value of safety technology to the used car buyer. Most of the time the technology is not visible and therefore the used buyer does not see any added value to the vehicle. And people do not get into a car thinking they're going to have an accident so it is often a secondary consideration or 'something they can go without', which leads to a low demand and therefore a reduced residual value of the individual technologies. 
This matters because the residual value of the vehicle is the biggest component in calculating the competitiveness of a vehicle in the price-sensitive fleet market. 
So what should future fleet strategies include?
As with everything, a balance needs to be struck.
OEMs are keen to roll-out new technology which will under line their commitment to both innovation and the safety of drivers of their vehicles.
Fleet managers want a good deal for their drivers and their companies.
HR departments wants to keep their staff safe, healthy and productive.
So it's vital that OEMs balance the development and introduction of new safety technology with the needs of the new vehicle driver with the needs and pockets of the used vehicle buyers.
Chris Blakely, CAP Consulting