Aston Martin Vanquish Carbon Coupe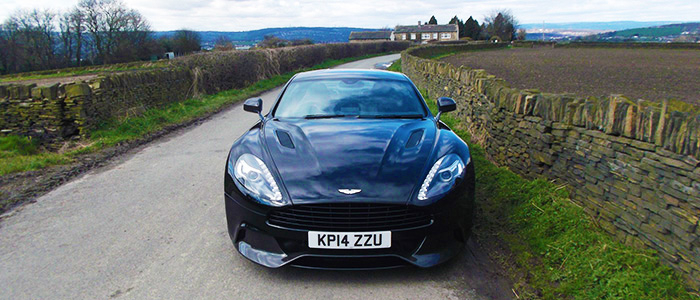 The name's Ward... Martin Ward. 
Test car: Aston Martin Vanquish Black Carbon Coupe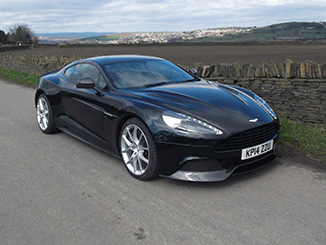 The new 2015 model year Vanquish has had a few tweaks to make it even better than it was, if that is possible. It has a new Touchtronic 8 speed automatic gearbox as opposed to the original 6 speed, which has improved the car's performance and its fuel economy. The 0 to 60 time has been reduced from 4.1 seconds, to a staggering 3.6 seconds, and CO2 has been reduced by around 10% to "only" 298g/km. The 2015 model year also benefits from the latest Bosch Engine Management System. This new system delivers more precise engine management and seamlessly communicates with the new gearbox. There was not a lot wrong with the previous car, but this new one is just perfect.
The Carbon is based on the standard Vanquish but adds, as the name suggests, quite a bit of carbon fibre to the car, to make it lighter, and even more agile. It has carbon fibre side strakes, roof, door mirrors, and it has a black front grille and window surrounds to make it look even more sinister, and show off its dark-side.
This superb car is powered by a 5,935cc V12 48 valve petrol engine that produces 576ps, and a pretty unusable top speed of 201mph. The combined fuel consumption figure is 22.1mpg, and during the time we had the car, it achieved, on average 19.8mpg according to the on-board computer, which we thought was not a bad result for such a powerful sports car.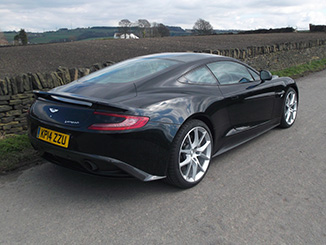 Wherever you drive in an Aston, it attracts so much attention, everybody seems to like this British built sports car, it is just one of those cars and brands that makes people smile.
The Vanquish is no exception, the design and styling of every body panel is stunning, it all fits together so well, and the lines are so pleasing to the eye. It's a car you can sit and look at for hours, from any angle, and you see something new, every time you look at it – a car or a work of art? But this is nothing new, as Astons have always been a bit different, and very special. The James Bond films certainly had a hand in making these cars household names.
The biggest problem we had with the Vanquish was noise from the engine and exhaust. Don't get me wrong, it's absolutely fantastic during the day, but it could make you unpopular with your neighbours if you try to leave early in the morning or late at night as it will wake the entire neighbourhood. When you press the button to start it, it automatically blips the throttle revving the engine, you don't do anything, but your neighbours think you are pressing the accelerator for effect, or just simply showing off even though you're not trying to. But then if you're buying an Aston, you're probably separated from your nearest neighbours by a long gravel driveway.
It laughingly has two rear seats that are so small on the 2+2 version, they might as well have not bothered, you couldn't squeeze in the smallest child, let alone an adult.
The one down side to such a distinguishable car is the fact that while the Aston was parked in the supermarket car park, someone stood looking at the front grille and came up and asks if it was a new Ford – you know Ford have their new family grille right when somebody asks that, joking or not!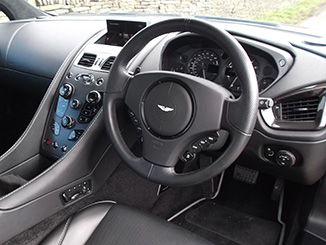 The interior though is oozing with luxury, the fit and finish and materials used are exquisite, it is such a nice place to sit, a great touring sports car, comfortable and spacious in the front, it really is something very special. 
Driving the Aston was a real pleasure, there is nothing really to dislike about it - except maybe the loud exhaust at night, but other than that detail it is superb. On public roads, it is impossible and would be irresponsible to drive this car to its full potential, but just tootling around town, going to the supermarket, any every day journey however tedious and mundane became so enjoyable. Despite its power, it was just as happy doing 30mph, as it would be at some super-high speed around a track, it felt docile and at no stage did it feel as though it wanted to go any quicker. It drove as you wanted to drive it, whatever the speed or conditions.
The cost of the excellent, competent super-sports coupe isn't cheap at £202,995.00 OTR, but what a machine…
Martin Ward, Manufacturer Relationship Manager

Skoda Superb – Florence – said Zebedee...

SEAT Leon X-Perience - in deepest, darkest Cotswolds 

Volvo XC90 - Richmond, Yorkshire - just around the corner

Vauxhall Viva, will it be Viva Las Vegas, or Viva Las Luton?