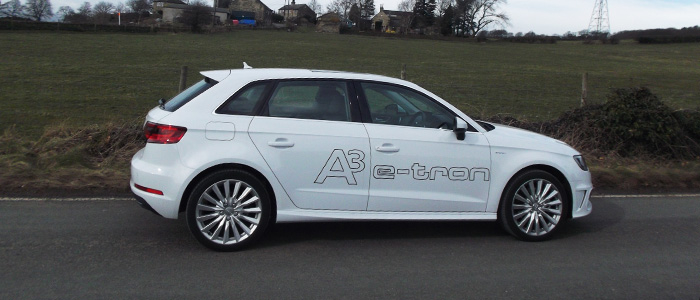 There is no doubt that the Audi A3 is a splendid car, in any form: the 3 door hatch, the 5 door Sportback and the wonderful Cabriolet, it is one of those cars that most people cannot fail to like. But recently another model has been added; or rather some new technology has been added to the A3 in the form of the e-tron, although it is only available in the Sportback.
The e-tron is fairly easy to explain: it is a Plug-in-Hybrid that has both a 1.4 litre TFSI 150ps petrol engine, and an electric motor and battery to power it. The two can work separately, or in harmony, and most of the time, the driver can decide which, for example if you are asking it to only use the motor and the battery is almost flat, then the car decides for you.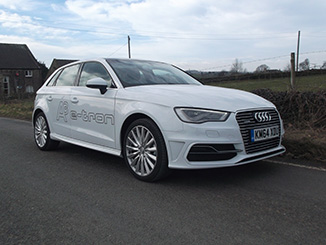 We had an e-tron to test drive recently so we could see just how easy it is to use around home, and how quick and easy it is to charge the battery. On local journeys it is possible to cover around 23 miles on electric from a full battery. Audi quote a range of "up to 31 miles" but in reality 23 miles is about the limit. We opened the cover at the front of the car by pulling the Audi 4-ring grille badge to one side and attached the cable to a home 3 pin socket. It had around 5 miles range left at this point, but after leaving it on charge for around five hours it was fully charged with 23 miles range showing on the gauge.
In reality, if you covered 20 miles every day, went home, put it on charge for five hours, and did that day in, day out, you technically would never use any petrol and your miles per gallon would be sky high, over 1000 mpg would in theory be possible, a great breakthrough for the motor industry. But once you have used your 23 miles worth of almost free electricity, you are back to using a 1.4 petrol automatic car that is now having to lug around some extra weight.
We went up and down the M1 quite a bit while testing the e-tron, and generally pressed the button to save the battery power, and just used the petrol engine and on average the car achieved around 31mpg, according to the on-board computer, so not a great result, compared to the equivalent diesel model, which will regularly manage over 50mpg. So to get the best results, the best mpg, the answer seems to be to use it very little, so it is somewhat of a paradox in terms of cost saving. The car costs nearly £30,000, even after receiving the Government Plug-In Car Grant, and to save money on fuel, you have to run it mainly on electricity. The battery is only good for short journeys, and if you are only making short journeys, you would not be using much fuel anyway. So you need to look very hard at the journeys you make and the cost of the fuel you would use to see if the fuel saving can offset the price of the car itself.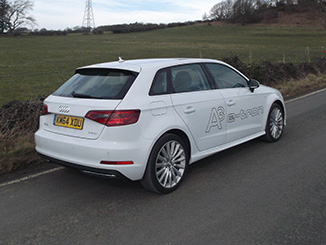 The interior quality is up to Audi's usual high standards of fit and finish, with all the switchgear being almost perfect, the exception of the round air-vents on the dash, which are just not Audi, the plastic looks and feels cheap, but other than that, the cabin is up to a very high quality.
If you have to leave home early, or are getting back late, the e-tron is perfect: you simply set off in electric mode and not a sound comes from it, the same when approaching home, push the electric power button and glide silently up your drive without disturbing anyone (just like the electric milk float from a bygone age), much better than all that noise a diesel can make. When in traffic it is so much nicer to sit in a quiet, peaceful car, no engine noise, it is a lovely feeling and experience, just push the accelerator and you move forward in compete silence.

The e-tron is a great car for company car drivers, as the BIK is very low due to the emissions being as low as 37g/km, but when these sorts of cars, Plug-In Hybrids, hit the used car market, the demand may not be quite as good. Although depending on the position of the second hand values, the possibility of driving 20 miles for a few pence may generate interest amongst economy conscience motorists whose commute or driving activates can fit in its 20 mile range.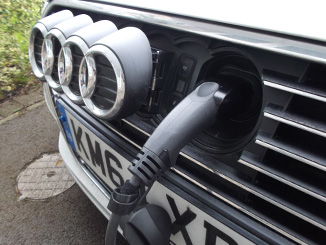 This car is certainly cheap to run, if you don't go far in it, which can be said for most cars. But if the buyer is aware of how to use it, and the disadvantages of using it on longer journeys, and the relatively poor fuel consumption, then all is well.  The buyer really needs to do their homework and calculate if spending nearly £35,000 on a very nice Audi hatchback will save them money, a difficult calculation to work out, but during the time we used the car, and the sort of journeys we did, then a 1.6TDi, that costs a lot less money would have been the better option.
This type of technology is the future for now, and we could see many more manufactures producing similar systems to reduce CO2 emissions and help them to keep within Global Emissions Legislation over the next 10 years or so. It is very clever technology and can be a very cheap and clean form of transport. But it is up to the driver to decide whether to actually plug it in or not, and I guess many company car drivers will just get the advantages of low BIK, and then use only the petrol engine. The future is here now, and available to buy, and isn't just something to talk about. 
Martin Ward, Manufacturer Relationship Manager
COMING SOON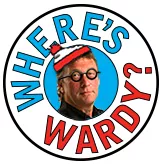 Skoda Superb – Florence – said Zebedee...

VW Golf Alltrack, Golf GTD Estate and Golf R Estate – Malaga - more estates than the Royal Family

SEAT Leon X-Perience - in deepest, darkest Cotswolds 

Volvo XC90 - Richmond, Yorkshire - just around the corner

Vauxhall Viva, will it be Viva Las Vegas, or Viva Las Luton?