Bentley Continental GT V8 S Convertible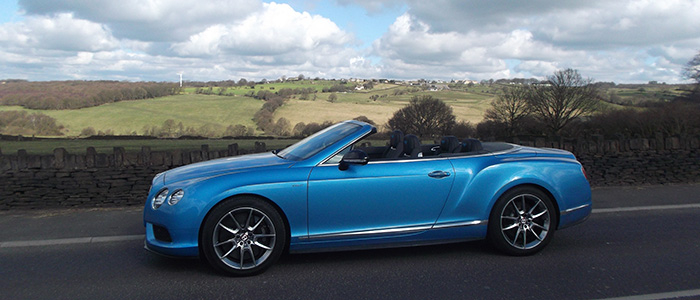 We have driven the Bentley Continental Convertible before, near the factory in Crewe, south of Munich, and up in the Highlands above Glasgow, and every time we thought what a pleasure it was to drive. But how would we get on with it for a week driving on the familiar roads closer to home?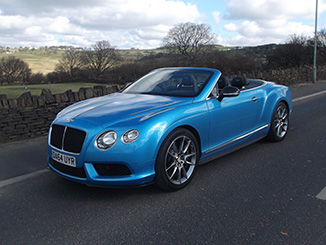 The Bentley Continental GT has been on the market now for some 12 years as a Coupe and approaching 10 years as a Convertible, and even at this point in its life it is still in demand and attracts as many looks now as it did when it was new in 2003; it still sets the heart racing. The Continental GT has transformed Bentley into a major global brand, this car has done for Bentley what no other Bentley has done before, and has proved to be very successful – Volkswagen must be delighted with their purchase.
The car we had on test had the "small" engine fitted to it, only a 4.0 litre twin-turbo V8 that produces 528ps, which accelerates from 0 to 60 mph in 4.5 seconds, and has a top speed of 191mph. This engine is coupled to an 8 Speed ZF automatic gearbox that is so smooth you hardly feel it change up or down. 
The Continental has permanent all-wheel drive as standard, with a 40:60 torque split so maximum grip of the road can be achieved, whatever the weather; sun, rain, snow or ice, and of course it has maximum grip on road surfaces that are not perfect tarmac, such as gravel and loose stones. You get the impression when driving this Bentley that it can handle any type of surface, and although is a super sports car, it is capable of going off-road too, and you just know it will get you out of any type of difficulty.
The interior is quite exquisite, with its high quality fixtures and fittings. The leather is the finest money can buy and the crafts-people in Crewe really do know how to make the finest, even better. A bit disappointing to see the car we had did not have any of that gorgeous wood that we have come to love and admire in a Bentley, but instead it had carbon-fibre embellishment trim, this would not be everyone's choice but nevertheless did look pretty good and modern, but not classic.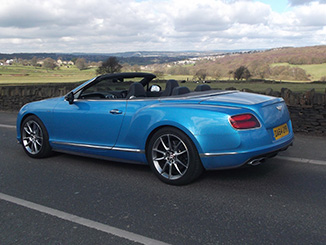 Much of the switchgear, knobs, levers and buttons are reminiscent of some other Volkswagen Group product, and as good as it is, it maybe needs to be a bit more different in the next generation car.
The electric roof goes up and down in a few seconds, although not as quick as most two-seater sports cars, but this is, after all a four-seater, so has a much larger roof. It folds away nice and neatly, and when down it still retains its fantastic lines.  The roof is very thick and well insulated, coupled with the double-glazed glass, you really cannot tell that it is a convertible when driving; it's so quiet and refined.
The engineers at Bentley must have spent so much time and money developing the exhaust system, and in particular the exhaust note, it is superb, the sound is fantastic.
The official Combined Fuel Consumption figure is 25.9mpg, but during the time we had the car, we managed to achieve just over 20mpg, according to the on-board computer, a good result we thought for such a heavy, large engine sports car. The CO2 emission figure is 254g/km, not exactly low, but well down on where this sort of car used to be, even the Supercar is going green… or green-ish anyway.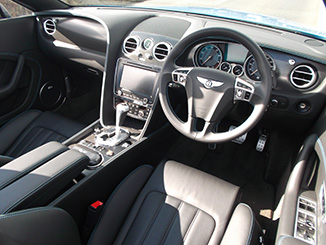 This car is great fun to drive, whatever the weather conditions, road conditions or how fast or slow you drive it, it is as happy going 10 miles per hour around town, as it is at over 120 on the autobahn in Germany. This is the sort of car you would happily drive to the South of France in, then feel at home driving it around Monaco; what a pleasure that must be.
The car we had on test cost £160,500.00 as a "base car", but add on a few options that cost £40,770.00, yes options that cost £40,770.00 and it adds up to an on-the-road price of £201, 270.00. Some of these options were: Special Kingfisher Blue paint at £4,285.00, contrast stitching £1,485.00, Adaptive Cruise Control £2,125.00, NAIM Premium Audio £5,695.00, TV Tuner at £920.00 and a very nice Bentley glasses case at £480.00, to name but a few.
The Bentley Continental Convertible is a work of art in terms of style, design, quality and engineering, it is simply a masterpiece. It is such a great car, and one that only the rich and famous can afford new, but on the positive side a very nice older one can now be bought for reasonable money, one day perhaps eh…?
Martin Ward, Manufacturer Relationship Manager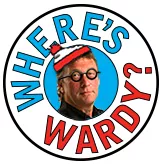 COMING SOON
Skoda Superb – Florence – said Zebedee...

VW Golf Alltrack, Golf GTD Estate and Golf R Estate – Malaga - more estates than the Royal Family

SEAT Leon X-Perience - in deepest, darkest Cotswolds 

Volvo XC90 - Richmond, Yorkshire - just around the corner
Vauxhall Viva, will it be Viva Las Vegas, or Viva Las Luton?