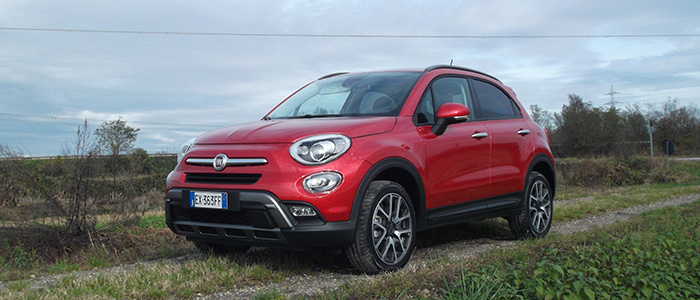 We drove some left-hand drive Fiat 500X a few weeks ago in Turin, but now we had the first chance to drive the first right-hand drive cars into the country on home-soil.
The 500X sits fair and square between the small, cute and sexy 500 3 door hatch, and the not so pretty, yet very functional 500L.
This is quite a complicated model range, and not that easy to understand. First of all there are two "looks" to the vehicle. There is an "off-road look" which is the Cross and Cross Plus models, these are the only versions which are available in 4 wheel drive. Then there are the "city look" versions; the Pop, Pop Star and Lounge. Then there are a number of option packs available, but not all packs are available on all models, these packs are: safety, comfort, comfort plus, visibility, winter, electric, and nav plus. Then there are three different drive types: 4x2, 4x2 with Traction+ and as mentioned before, 4x4 on some models.
The 4x4 is a front wheel drive under normal driving conditions. There is a rear axle disconnection system that does not drive the rear wheels unless 4x4 is required, in order to save fuel. The rear axle disconnection smoothly switches between two and four-wheel drive without the driver having to intervene.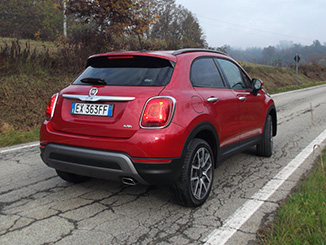 On the press launch we took some 4x4 models on a small off-road course, which consisted of driving across some fairy slippery long grass, and then into a wooded area with some fairly steep inclines, both going downhill and uphill. A couple of times, because of the lay of the land and some large lumps and bumps in the wood, we had only three wheels on the ground, with the fourth at least 18 inches in the air. To say we were surprised with its capability is an understatement; it performed more like a large 4x4 than a small Crossover. It certainly felt rock solid on all surfaces, although the course we used was challenging in parts, the car felt as though it would have been confident in even more challenging conditions. I would imagine that this car with winter tyres fitted, would get through the worst snow drifts and icy roads and would get anywhere you want to go.
We then took a 2 wheel drive  car out onto the UK roads and it was so smooth and quiet and handled some rough, pot-holed, weather beaten roads with ease and its handling was remarkably good.
The available engines are: 1.6 E-Torq 110hp petrol with a 5 speed manual gearbox, 1.4 MultiAir 2 140hp petrol with a 6 speed gearbox, 1.6 MultiJet 120hp diesel with a 6 speed gearbox, although not all are available at launch.  The 1.6 Multijet has a combined fuel consumption figure of 68.9mpg and CO2 emissions of 109g/km. The second diesel is the 2.0 litre MultiJet 140hp with either a 9 speed automatic gearbox or a 6 speed manual and CO2 emissions of 144g/km for the auto and 130g/km for the manual.
We mainly drove the 1.6 diesel on the road route and it felt to have more than enough power, was quick off the mark and has a 0 to 62mph in 10.5 seconds and a top speed of 115mph.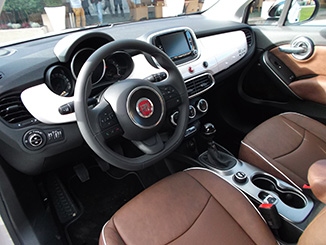 The Fiat 500X is a good looking Crossover, and looks good from every angle, it all works well, and looks in proportion. This car will appeal to a wide audience, from young or old, male or female alike. It will undoubtedly be bought be current 500 owners who like the idea of driving a Fiat 500, but need something a bit larger and more practical and flexible. There is plenty of room for rear seat passengers, but although there is much more room than on the 500, the centre passenger would still find it a bit uncomfortable on a long journey. The boot area is adequate, and although not huge, you will be able to fit in a few bags of shopping or a couple of large suitcases.
The 500X has come at just the right time for Fiat, as this sector of the market is expanding, and popularity of this type of vehicle, the affordable Crossover, that has lots of style and charm, is growing and so are the numbers and choice of offerings, so the 500X has plenty of competition. But with its design and high quality it should hold its own. Prices start from £14,595.00 OTR and go up to £25,845.00 OTR
Martin Ward, Manufacturer Relationship Manager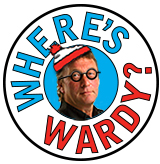 COMING SOON:
VW Sharan, Hanover – will there be a hangover in Hanover?

VW Touran, Amsterdam – a drive amongst the tulips 

VW Golf Blue Motion, Amsterdam – not a hill in sight

R

enault Kadjar, Spain – an old codger in Kadjar

Hyundai Tucson, Nosovice, Czech Republic – check this out

Volvo XC90, Richmond, Yorkshire - just around the corner

Vauxhall Viva.. Is it Viva Las Vegas, or Viva Las Luton