Mercedes Benz C 220 BlueTEC AMG Line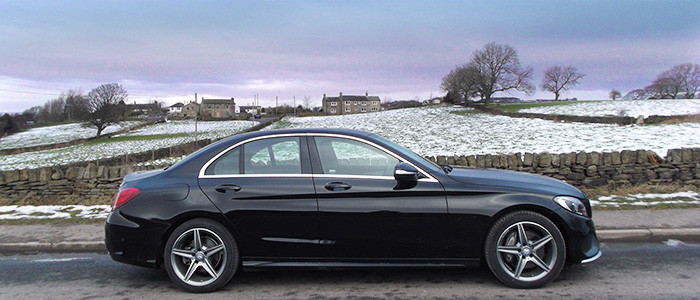 S Class looks and specification for C Class prices?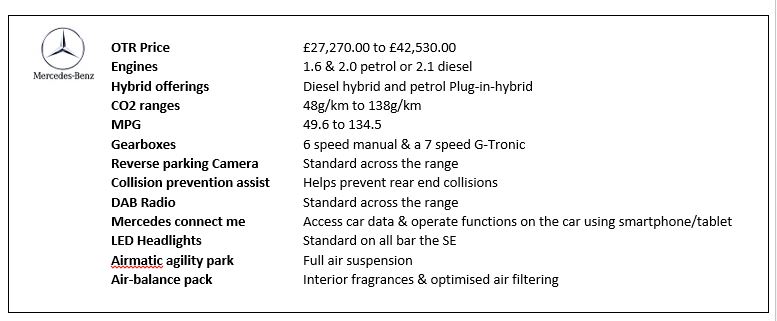 It is a while since we have driven a Mercedes Benz C Class, the last one being the previous model, and while it carried the three pointed star on the bonnet, it did not have the quality feel of the three pointed star throughout the car. It was a touch disappointing and not what we have grown to expect from this premium German manufacturer, so is the all new C Class a bit of an improvement, or a massive one?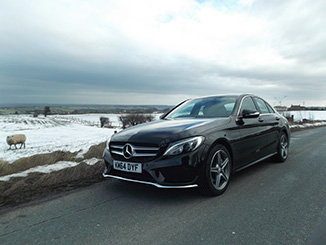 The car we had on test was a bit of a mouthful; Mercedes Benz C220 BlueTEC AMG Line, but does describe exactly what it is. This car is powered by a 2143cc common-rail diesel with twin turbocharges, and coupled to a very smooth 7G-Tronic 7 speed auto gearbox. It produces 170hp and accelerates to 62mph in 7.4 seconds; the manual achieves it in 7.7 seconds. Its CO2 emissions figure is a fairly competitive 117g/km. The official combined fuel consumption figure is 64.2mpg, but like anything else, it is unlikely to achieve this ambitious number. Although this figure is not as daft as it first appears, as no matter how you drove this C Class, it would not go lower than 50mpg, and on a good steady long motorway journey it regularly achieved 56mpg.
The list of standard equipment on the test car was quite amazing. Until you read the specification sheet it genuinely felt as though this car had been loaded with options, and would prove to be very expensive. It had more goodies than a Christmas tree. This list of standard equipment includes: Bluetooth, climate control, collision avoidance braking, cruise control, DAB Radio, electrically adjusted drivers and passenger seat, front armrest, front parking sensors, heated front seat, Artico leather upholstery, LED headlights, sat nav (more about this later) rear park assist camera, self- parking system and sports seats. It is as though Mercedes Benz have asked what can be put on it, what is available, and said go on, put the lot on it.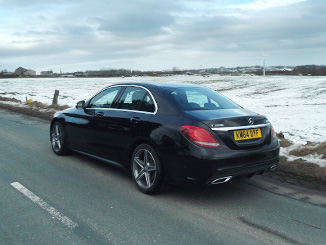 The exterior styling has changed dramatically compared to the previous C Class, leaving you in no doubt which is the new car. The improvements in the design are obvious and very well executed. The lines are so crisp, fresh and modern, so modern in fact that they may just upset the older customer, who has become accustomed to a rather bland looking car. But for every older customer they may lose, Mercedes Benz will certainly gain many younger buyers. This new C Class design is light years ahead of the previous model; it looks outstanding and is so classy.
The interior has also improved dramatically; the quality is back to where it should be, and in some areas has surpassed what you would expect from this sector of car and its price range. There are some really nice touches throughout the cabin and it all seems to work well. There are one or two little niggles with the interior, such as the system for the infotainment and sat nav seemed a bit over complicated to begin with, and not as intuitive as other cars on the market, from either the premium sector, or those below it. It just seemed a bit messy, and not that easy to understand or use. But once you got used to it, it was fine. The heater controls were also a bit confusing at the start, but again once you had worked out what did what, it too was relatively easy to use.
The parking brake has now gone from that silly foot brake, that was never a good idea, to a much simpler, and safer electronic park brake, which is situated near the gear selector.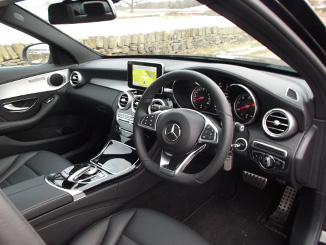 The sat nav proved to be worth its weight in gold, as on one journey the M25 was closed near Rickmansworth, and we had to get to Heathrow, with not much time to spare. Sally traffic told us it was closed, the overhead signs told us it was closed, and the nav system told us it was closed, so what next?
The system asked if we wanted an alternative route – yes please we said. Unfortunately everyone else also wanted an alternative route, but the system recognised that these "obvious" alternatives were being used, so it took us down some very narrow country roads, through small villages, on some twisty minor roads, and avoided any hold ups; ending up near Denham, back on the M25 after the road closure. It was plain sailing down to the airport, with a bit of time to spare. It proved that the system was excellent; you have to trust it, and go on a route you would never even think about, let alone try and find. To someone who didn't know the area that well it was very impressive, and that system is standard on this car.
The cost of the test car was £34,920.00 OTR, which did seem good value, for such a well-equipped premium saloon. Prices start from £27,270.00  and go to £42,530.00, with the high performance AMG versions north of £60,000.00. 
It would appear that the people at Mercedes Benz in Stuttgart have sat down in a room with a piece of paper and listed all that was wrong with the previous C Class, taken that list to their Chiefs, asked how much can they change, alter and improve, and the Chiefs have said, "do it all." Welcome to the new C-Class, not a small improvement, a massive one.
Martin Ward, Manufacturer Relationship Manager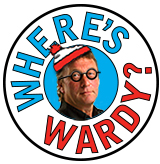 COMING SOON
Infiniti Q70  – Belgium, won't be going up many hills here 

Geneva Motor Show – Full report on what's new, and what's happening

Mazda2 – Exeter – yes Exeter

KIA Sorento in Malaga, not Sorento

JEEP Renegade – up in Edinburgh