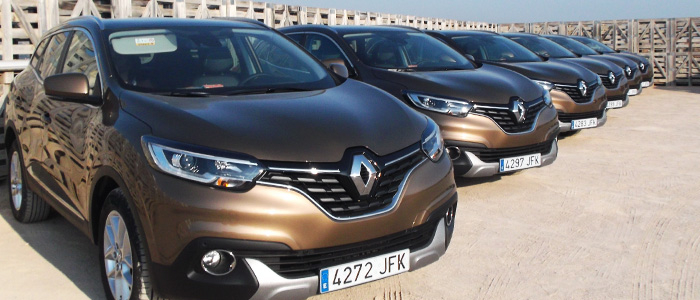 "So what does Kadjar mean?" I hear you ask.
Well it is in fact a made up word. It's an amalgamation of two things – "Kad" is from the word "quad", a term for something driven by four wheels or legs. In France the letters "Qu" are pronounced as a "K". And then "Jar" is a reference to the French word "Jaillir" which means to emerge quickly.
It seems Kadjar is a four-wheel vehicle which is very agile - well that's their explanation anyway. It does make you wonder how many glasses of red their marketing team had whilst coming up with the name: I bet they had a good old French laugh while doing it. Let's just hope the car is better than the made-up name.
The Kadjar sits fair and square in the C-Sector Crossover, and its main competition will include Nissan Qashqai, Volkswagen Tiguan, Hyundai ix35/Tucson, Ford KUGA, Peugeot 3008 and many more. This sector is growing as buyers want a bit more for their money: style, room and practicality, all of which these cars offer.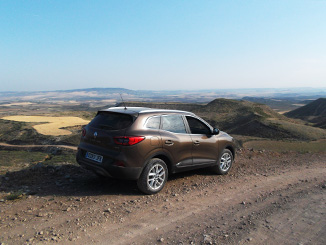 The Kadjar scores highly on style, it is a great looking Crossover that looks good from every angle. You cannot fault its design. The large front grille and those strong side swage lines are stylish and very clever; hats off to the design team. The interior is also good in terms of style and quality, the plastics fit and the finish is up to a very high standard.
The Kadjar is on sale now, with first deliveries due in the UK in September. The engines available at launch will be: 1.2 TCe that produces 130hp and accelerates from 0 to 62mph in 10.1 seconds. It has CO2 emissions of either 126 or 130g/km, depending on which wheels and tyres are fitted. A 1.5dCi diesel is also offered that produces 110hp and is available with either a 6 speed manual gearbox or an EDC dual-clutch automatic gearbox. It has CO2 emissions of 99 or 103g/km. The third is the 1.6dCi that produces 130hp and is available with either 2WD or 4WD and CO2 figures that range from 113 to 129g/km.
On the first day in Spain we drove the 1.2 petrol with a 6 speed manual gearbox on normal roads. We were very pleasantly surprised just how quick and quiet it was, we even asked the people from Renault if it actually was a 1.2 - they confirmed it was.
It didn't feel underpowered at all. It has combined fuel consumption figures ranging from 48.7mpg to 50.4mpg, again depending on which wheels and tyres are fitted. Everyone on the launch remarked just how good this small petrol engine was.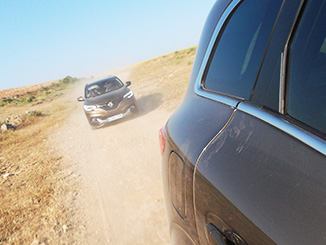 On the second day we drove the 1.6 diesel 4x4 on what can only be described as barren countryside, there was nothing around for miles. We left the "hotel" - which was a portable building in the middle of nowhere - and set off on the route, which was already programmed into the satellite navigation system. In just under 3 hours of driving we did not go on one single stretch of tarmac. All we drove on was rough terrain, sand and gravel, throwing up plumes of dust as we went. 
The scenery though was simply stunning, although a bit scary in places. Most had never been to this part of Spain before, and to say it is different is a complete understatement.
But Renault must have had confidence in us, and more importantly the Kadjar, to go off-road for such a distance and know it would get safely to the end of the route without any problems. And it did. 
There are three driving modes for the 4x4: Auto, 2WD and Lock. We kept it in Auto for the whole journey, and it goes from front-wheel drive to front and rear when needed. There is a small symbol in front of the driver to show how much power is going to the front and rear, such as 90:10 or 70:30, and this is constantly changing as the road surface changes. It proved beyond any doubt that it is very capable and very stable in off-road conditions.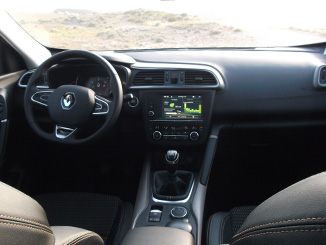 The exterior design was overseen be Renault's Senior Vice-President of Corporate Design, Laurens Van Den Acker (not a made-up name). His team have created a robust looking off-roader, with its large Renault Diamond logo set against a black background. It looks pretty mean and purposeful especially when covered in dust and sand.  
In the UK there will be four trim levels: Expression+, Dynamique Nav, Dynamique S Nav and Signature Nav, with a few options on all trim levels. Even the base car has a good level of equipment as standard, but the one to have will be the Dynamique Nav which has a superb list of standard equipment.
The rear seats fold down really easily with just one hand, and when folded down they are completely flat. The boot has a false floor so the panel can be moved up or down to give easier access to put goods in such as shopping or luggage.
Rear leg, head and shoulder room is more than adequate and much better than a regular C-Sector Hatch, and that is just one reason why this type of vehicle has become so popular.
This all-new car is built on the versatile Renault-Nissan Alliance platform and is assembled for Europe in Palencia, Spain, up to a very high standard. It comes with a 4 year warranty and roadside assistance package.
The Kadjar is a really good Crossover. It looks great, drives well and the 4x4 system works really well too. But if customers choose the 2WD 1.2 petrol, then they are getting an economical car that drives well and looks such good value.
Prices start from £17,995.00 OTR and go up to £26,295.00 OTR. Our choice would be the Dynamique Nav 1.2 TCe costing £19,695.00 OTR.
The Renault Kadjar - a great car, but still not sure about the name... 
Martin Ward, Manufacturer Relationship Manager
Global Press Launch, Zaragoza, Spain.
COMING SOON:
VW Sharan, Hanover – will there be a hangover in Hanover?

VW Touran, Amsterdam – a drive amongst the tulips 

VW Golf Blue Motion, Amsterdam – not a hill in sight

Hyundai Tucson, Nosovice, Czech Republic – check this out

Volvo XC90, Richmond, Yorkshire - just around the corner