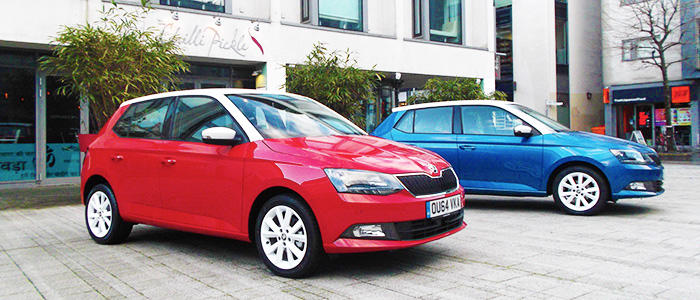 Skoda Fabia UK Press Event, Brighton.
Is it Czech-mate for the new Fabia's competitors? 
To say the weather in Brighton in mid-January was "changeable" is an understatement, although it didn't spoil the fun of driving the all-new Fabia. With the weather changing from torrential rain, to high winds and then to clear blue sky in the space of minutes made for an interesting drive.
The first generation of Fabia was launched in 1999 and was on sale in the UK in 2000, the second generation arrived on our shores in 2007, and in total over 250,000 have been sold in the UK, and over 3.5 million worldwide in saloon, hatch and estate variants, so quite a success story for Skoda.
The dimensions of the hatchback have changed, it has been reduced in length by 8mm, it is 90mm wider and lower by 31mm, so it does look more in proportion, and sportier than its predecessor.
The hatchback is on sale now, and the estate is due in March with a good choice of engines and standard specification in both. The new Fabia benefits from having the Volkswagen Group's innovative MQB architecture under the skin, and this well tried and tested system works well on this Skoda. There are a few engines on offer, the petrol versions are: 1.0 MPI 60 & 75PS, 1.2 TSI 90PS and a 1.2 TSI 110PS. The diesel offering is a 1.4 TDi with either 90 or 105ps. The trim levels are S, SE and SE L, although not all of the engines are available in all the trim levels. There are 3 gearboxes, a 5 or 6 speed manual and a 7 speed DSG.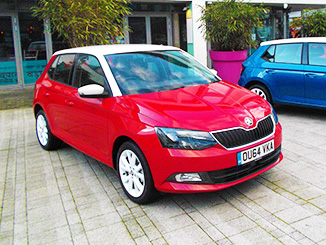 We drove two cars on the event; the first was a 1.4 TDi 90ps SE L, which is virtually top of the range. The basic OTR price is £16,240.00, but this one had a few options fitted which took the price up to £17,290.00.
The 90ps version accelerates from 0 to 62mph in 11.1 seconds, has a top speed of 113mph and the combined fuel consumption figure of 83.1mpg, but according to the on-board computer we achieved just 55.9mpg during our drive which was on a variety of roads on the South Coast, from Brighton to the lunch stop in Littlehampton, so not the best roads for optimising fuel efficiency.
The CO2 emissions on this car are very low at 88g/km. It is a small powerful engine which had plenty of get-up-and-go, as much as you need really. It was very pleasant to drive, quiet and refined, as you would expect from a Volkswagen engine. 
For the drive back from Littlehampton to Brighton, we switched cars and took a Fabia 1.0 MPI 75ps SE instead. The basic OTR price for this was £12,760.00, but again this car had a few options fitted which bumped the price up to £13,735.00 OTR. This small 3 cylinder petrol engine accelerates from 0-62mph in 14.7 seconds, which sounds a bit sluggish, but in reality was not bad at all. It has a top speed of 107mph, but I guess you would need a long run up to get there, and hope the wind is behind you, but who wants to go that sort of speed anyway, even if you could? It did however cruise nicely at 70mph on the dual-carriageways in West Sussex.
The official combined fuel consumption figure is 58.9mpg, and we achieved 50.9mpg during the afternoon test drive. After driving both the 1.0 petrol and 1.4 diesel, our preference was definitely for the petrol. It just suited the Fabia, costs less, and in real life driving, there's no big difference in fuel consumption.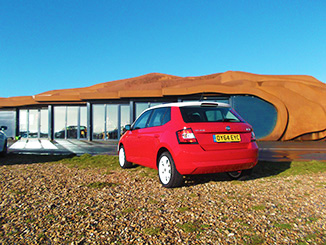 The main option on both cars was "Colour-Concept" which is a different coloured roof and door mirror caps. On the SE version there were also colour coded 16 inch alloys. These two options cost £250.00 each, and really set the car off, making it look sportier. They are well worth the extra £500. 
As mentioned already the new Fabia is slightly shorter in length than the previous generation but rear leg room and boot space have grown, making it feel bigger than it actually is. It's a clever use of space, and that MQB Platform has helped improve the packaging of the car.
The interior is up to a fairly high standard, with all the buttons, switches and levers as good as you will get in any other brands at this level. Most of the plastic is nice to touch, feel and look at. The door plastics are a bit hard and look slightly dated, but the rest of the car looks and feels premium. A lot of attention to detail has been applied by the design team. 
The exterior design is very modern with some very strong lines that run from front to back, there's also a new grille, lights and sharply contoured bonnet which makes it look quite bold and dynamic. It is quite eye-catching and there could be many people who have never considered a Skoda before, starting to show interest when they see the new Fabia. Gone are the days of the cheap and cheerful Skoda, yes they are still good value, well built, but no longer cheap.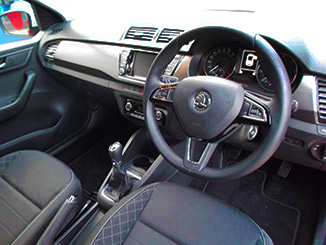 The new Fabia is full of new technology, well new to Skoda anyway, as some of it has been available on other Volkswagen Group products before.
There are plenty of safety features and the infotainment systems can link to your smart phone, which almost makes Sat-Nav redundant. The new Fabia is certainly full of some great new features.

It was enjoyable driving the new Skoda Fabia down South although it was a bit of a pain to get to, but well worth it once you were at the coast. The weather was pretty awful at times, and the car proved it could go through some fairly deep flooded roads, but it didn't dampen our spirits while testing the car. It did not leak, the windscreen wipers worked perfectly and the cabin was very quiet, even from water splashing around outside.
The Fabia is a good solid and safe, family car from the Czech Republic.
What do you think: Will the new Skoda Fabia be on your shortlist?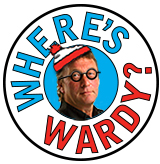 Driving Impressions: Coming Soon
• Audi TT Cabriolet in Majorca – hope the sun shines in the Balearics
• Honda CR-V in Barcelona – didn't know there was a new one coming
• Jaguar XE in Lisbon – Looking forward to this drive….
• Kia Sorento, not in Sorento, but Malaga 

Martin Ward, Manufacturer Relationship Manager