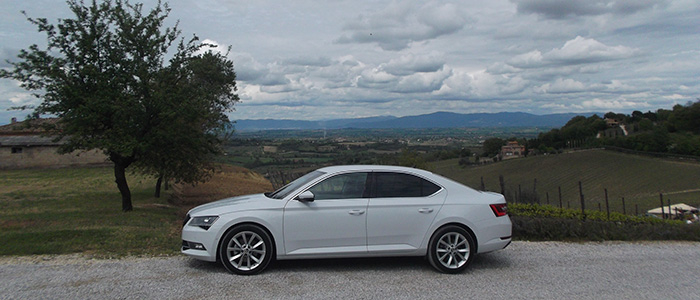 Global Press Event, Florence, Italy
You can always use a play on words, and the natural one here, is to say the Superb is superb, it has been said many times before, and in this case it is actually true, so very true. Now that phrase has been said, I'm hoping not to say it again…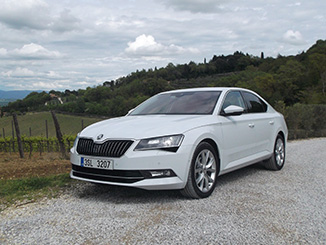 Skoda chose Tuscany to launch the all-new car to the world, over a four week period in late April early May. Most of the countries it will be exported to are invited to Italy to drive it on some splendid, and some not-so-splendid roads. The people who know this part of Europe will be familiar with the variety of road surfaces we encountered; one minute you are on a nice tarmac surface, and the next you are on gravel without any real warning. Sometimes there may be a small sign that shows gravel being thrown up, but you may easily miss it or it could equally not be there. You drive for a few minutes, throwing up plenty of dust, and then all of a sudden you are back on tarmac, very odd. But these differences did give the Skoda a good test on various road-surfaces. 
This is the third generation Superb, and has a significant increase in standard equipment and technology across the range when compared to the current model. All cars feature alloy wheels, air-conditioning, LED rear lights, Bluetooth, DAB digital radio and a touchscreen infotainment system. It also has Multi-Collision brakes included as standard; this system triggers automatic brake intervention upon detection of a collision. There will be five models available at launch: S, SE, SE Business, SE L Executive and Laurin & Klement.  
Whilst on the launch we drove three different engines, first was the 2.0 litre TDi that produces 150ps and has CO2 emissions of 108g/km for the 6 speed manual and 118g/km for the DSG automatic. The DSG accelerates from 0 to 62mph in 8.9 seconds and the combined fuel consumption figure is 68.9 mpg. This car drove so well, was quick and quiet and will be the fleet favourite.
The next was the 1.4 TSI 125ps, CO2 emissions of 125g/km that accelerates from 0 to 62mph in 9.9 seconds and has a top speed of 129mph. We initially thought this one was going to be a disaster as it just doesn't seem right that a 1.4 petrol engine would be powerful enough in such a large car. Very surprisingly it was completely on top of the job, and a real pleasure to drive. Everyone we spoke to on the launch remarked just how good it was. It had enough power and felt so agile and lively; the engineers at Skoda have certainly got this car bang-on in every respect, a lovely car to drive.
The last car we drove from the hotel back to Florence airport was the 2.0 litre TDi DSG 4x4 that produces 190ps and accelerates from 0 to 62mph in 7.6 seconds and has CO2 emissions of 132g/km. Other engines that we did not have chance to drive include a 1.6 TDi that produces 120ps and has CO2 figures ranging 105 to 108g/km, and no doubt this engine will be a popular choice too.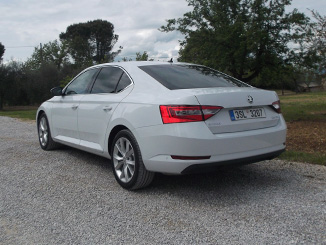 The new Superb has grown in length and width, it is now 4,861mm long, which is 28mm longer than the outgoing version and it is 47mm wider too. Also the wheelbase is 80mm longer, allowing for even more space in the passenger compartment.  
The Superb is well known for its interior space, but the new one takes it to a new level, it is huge, with so much leg room for rear passengers, some hotels have less room than this Skoda. When you sit in the front it is really obvious just how much shoulder room you have, even when sat next to a large person, it is just so spacious. But having loads of room doesn't stop with passenger space, the boot is massive too, it is 30 litres larger, and is increased to 625-litres with the rear seats up, and 1,760 litres with the seats folded down. Putting the seats down is really easy, just one hand is needed. The rear seats don't fold completely flat, as there is a small lip where the base of the seat is positioned, but even so, still a lot of space. When you sit in the rear it feels so limousine like, you can stretch out your legs, it would be such a nice car to travel many miles sat in the back of. 
The current car does have an over-complicated rear hatch/boot system, where you can use it as either a hatch, or press a button, and hey-presto, it becomes a boot, making it into a four door saloon. Skoda in their wisdom has quite rightly decided to abandon this idea, and just have it as a hatch, which saves weight and probably a bit of money too.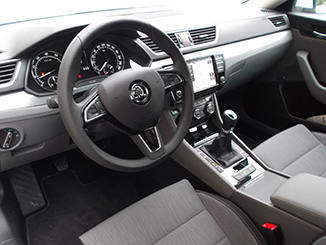 The quality appears to have improved also; the plastics used are all up to a very good standard, with soft-touch on the dash and upper panels of the doors. The knobs, buttons, switches and levers all feel so good, and look expensive, the cabin gives a real feel of luxury and finesse, and such a comfortable car to drive, or be driven in. 
As mentioned earlier, there are SE and SE Business versions which are oddly priced identically. The SE has as standard: dual-zone air-conditioning, front fog lights, adaptive cruise control, trip-computer, start-stop, and a great long list of safety and security systems, along with rear parking sensors. The SE Business adds: sunset glass, three spoke leather multi-function steering wheel, front and rear parking sensors, Amundsen satellite navigation system and Drive-mode selection - all at no extra cost. But this car will only be available to business users, and not all engines are available with this specification. 
Prices start from £18,640.00 OTR, and go up to £34,740.00 OTR. The two to consider would be the 1.4 TSI SE 150ps at £21,190.00 OTR or the 1.6 TDi SE 120ps Business at £21,590.00 OTR, which does look amazing value although the 2.0 TDi is only £500 more than the 1.6 TDi. 
First deliveries of the all-new Skoda Superb hatchback start in the UK from September 2015. The estate version will be shown for the first time in the early summer, ahead of sales starting in the second half of this year. Skoda did say that there may even be a Plug-In Hybrid due in the future, but no dates were given.  
I am going to say it again, the Superb really is superb – sorry…. 
Martin Ward, Manufacturer Relationship Manager

COMING SOON: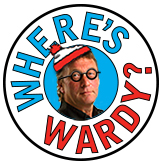 SEAT Leon X-Perience - in deepest, darkest Cotswolds 

Volvo XC90 - Richmond, Yorkshire - just around the corner

Vauxhall Viva, will it be Viva Las Vegas, or Viva Las Luton?