Volkswagen's new Golf and Sharan


'A round of Golf with Sharan' –  It's a double whammy from Martin Ward and VW this week


First up - Volkswagen Golf 1.0 TSI Match BlueMotion – European Press Event – Amsterdam

When you think about an economical, low CO2 Golf, the first thought in your mind is a Golf diesel, but now that's all about to change.
The new Golf BlueMotion basically looks and drives like any other Golf although it does have a different more aerodynamic grille, a rear spoiler and 16" Dover alloy wheels. Other than that, it is a Volkswagen Golf through and through.
This Golf though is powered by a 1.0 litre 3 cylinder turbocharged petrol engine which produces 115 PS and feels like it has more than enough power. The same engine is used in the 'Up!' range but without a turbocharger, meaning the power is down at either 65 or 75 PS.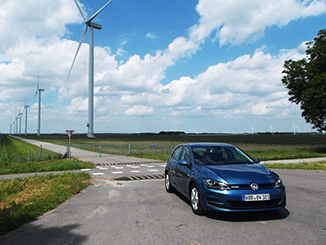 Now it seemed odd that Volkswagen decided to have this event - a first drive in Holland where there are no hills, very few corners and just a few roundabouts to test the steering and handling. Even though we couldn't fully test the drivability of the Golf on inclines, it was clear that it wouldn't have any problems going up the hills. It felt lively and definitely on top of the job. The 0 to 62mph time is acceptable at 9.7 seconds.
If you're not technically minded, then look away now: To help aid economy Volkswagen engineers have designed an ultra-rigid crankcase made of lightweight die-cast aluminium and with it having 3 cylinders it is 10% lighter than a comparable 4 cylinder engine. The exhaust manifold has been fully integrated into the cylinder head and fitted with a cooling jacket to make best use of exhaust gas energy during the warm-up phase. The TSI BlueMotion is also fitted with a toothed camshaft drive belt, which compared to a chain drive, reduces friction by around 30%. There you go, techy stuff done… that wasn't too painful, was it?
As with the other Golf Match models it gets a good level of standard equipment including: Air conditioning, bluetooth, cruise control (it is adaptive cruise control on the rest of the Match models, but just regular cruise control on the Bluemotion), automatic headlights & wipers, along with a good level of safety equipment, including a Pre-crash system, automatic post collision braking, ESC, XDS and seven airbags.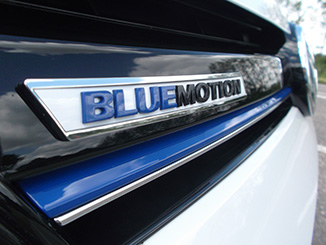 The Golf 1.0 TSI Match BlueMotion is available to order now, with the first UK deliveries due in September. Three and five door models, estates and SV's will be available and a 6 speed manual gearbox is standard, with DSG automatic also offered as an option on the 5 door.
We didn't get the chance to test the true miles per gallon, but it seemed to be pretty good on fuel: the official combined figure is 65.7 mpg and the all-important CO2 emission figure is 99g/km, but this increases if you take an alloy wheel upgrade.
Prices start from £19,740.00 OTR and go up to £21,810.00 OTR
This 3 cylinder Golf was much better than expected, though it would be good to test it on home-soil to see how it performs going up and down hills. First impressions indicate it would be okay. This Golf will certainly take sales from diesel cars, its numbers all add-up, especially for company car drivers.
Now moving onto the all 'new' Volkswagen Sharan – European press launch, Hanover.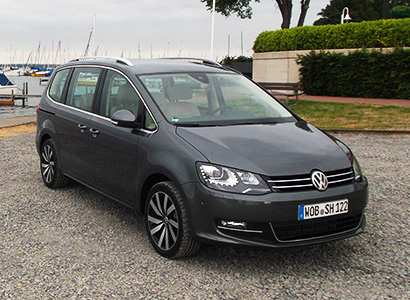 Normally it is good writing about new car launches and you get a bit enthusiastic about them. But I have been dreading writing about the "new" Sharan (as Volkswagen describe it), as it is hardly even a minor facelift.
Admittedly the front grille has changed a bit and is now more in keeping with the rest of the Volkswagen family, especially the front grille. It has new LED rear lights and optional alloy wheel design, plus new upholsteries and steering wheel, which add up to a few minor, but important improvements.
The original Sharan made its debut in 1995 and since then over 800,000 have been sold globally, with just under 67,000 finding homes in the UK.  This new Sharan continues to be built at the AutoEuropa plant in Pamela, near Lisbon, Portugal.
There will be four trim levels from launch in the UK: S, SE, SE Navigation and SEL, with prices starting from £26,970.00 OTR and rising to £36,280.00 OTR.
All four new engines fitted to the Sharan meet Eu6 standards and are up to 15% more fuel efficient than the engines they replace. The engines available are: 1.4 litre TSI petrol that produces 150ps and CO2 emissions from 150g/km. A 2.0 litre diesel that produces 115ps, 150ps and 184ps, with CO2 emissions as low as 130g/km.
We drove all four engines whilst in Germany on a variety of roads and it was the 1.4 petrol that stood out - it was mightily impressive. The diesel with the 184ps was very competent too, with more than enough power.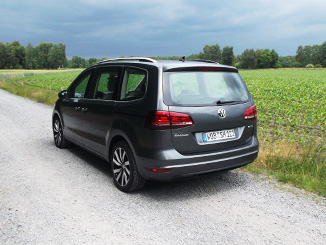 In the UK all Sharan's will come with seven seats as standard and the rear seats fold flat very easily. The third row will be a bit tight on space for adults, but for two kids it's no problem.
A brand new second generation colour touchscreen MIB infotainment system is now standard across the whole range. Also standard on all models are an automatic Post-Collision Braking System, BlueTooth and three-zone climatic air-conditioning.
The Volkswagen Sharan was already a great people-carrier and very difficult to improve. It does have a few tweaks here and there and Volkswagen have managed to make it even better. It's a great car to drive, very high quality and with these new more efficient engines, better standard equipment and more safety features, it should continue to sell well - both new and used.
Martin Ward, Manufacturer Relationship Manager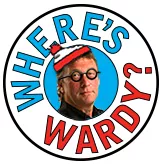 COMING SOON:
VW Touran, Amsterdam – a drive amongst the tulips 
Hyundai Tucson, Nosovice, Czech Republic – check this out
SEAT Ibiza facelift in Barcelona - not Ibiza
Honda HR-V in Lisbon - do I need to ask our HR department if I can go?
Volkswagen Passat in Holland - not many hills to go up
Honda Jazz, Frankfurt - will it be frankfurters for lunch in a Jazz Club?