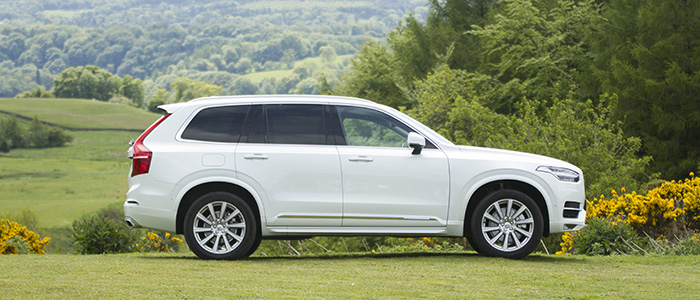 UK Press Event, Richmond
The first generation Volvo XC90 was launched in 2002 and since then over 55,000 have been sold in the UK. It has had similar success in the rest of the world too, it's a great achievement for the company. And profitable too.
Therefore the new one definitely has a hard to act to follow - is it up to the job?
Volvo has traditionally been regarded as a manufacturer of the safest cars in the world; their reputation established on building safe cars and inventing new safety features, then implementing them into their cars. They have been pioneers for decades now, and this new XC90 represents everything Volvo stands for.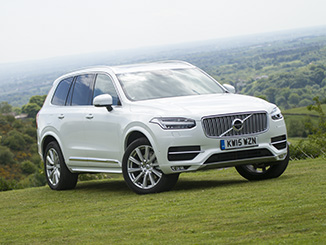 This is the safest Volvo ever built offering the most comprehensive and technologically advanced standard safety package in the car industry.
Fitted as standard are Volvo's raft of City Safety technologies which include: autonomous emergency braking, pedestrian and cycle detection and front collision warning. All of these are enhanced from previous versions and all work just as well in the dark as they do during the day.
The XC90 also has other safety options including a lane keeping aid, blind spot information system, cross traffic alert and rear collision mitigation.
So all in all it seems Volvo have tried their hardest to protect the driver, passengers and even people on the outside. All of this new technology is just fine - but is the way it drives or the way it looks affected by all these safety features?
There will be a choice of three engines, all of which are 2.0 litre 4 cylinder units. These are: D5 diesel 225 hp with CO2 of 149g/km, a T6 petrol 320 hp with CO2 of 179g/km and T8 twin engine, which is Petrol/Electric plug-in hybrid, and has 407 hp and a CO2 figure of 49g/km.
All XC90's will have seven individual seats as standard, and the seats in the second and third row are very easy to fold down and up. All the rear seats fold flat to the floor meaning that the load area is "van" like. The third row of seats are reasonably easy to get in and out of, with just enough leg room for adults, although you probably wouldn't want to travel for a long time sat in them.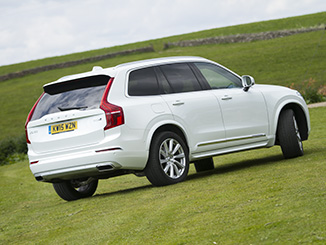 The interior is quite exquisite and certainly adds a lot of luxurious touches which are more akin a large executive saloon than a seven seat off-roader.
The whole of the car feels solid and looks great too. The cabin is simple, elegant and uncluttered, and not at all fussy. The interior uses premium materials, including soft-leathers, Scandinavian wood and stainless steel embellishments. It is a very nice place to sit for a long time.
There are three trim levels: Momentum which will account for around 50% of sales, Inscription 20% and R-Design 30%. The entry level car has a good long list of standard equipment, so much so that you can understand why the Momentum will take half of the sales - it's impressive. Volvo UK expect to sell around 5,500 XC90s in 2016, its first full year.
We drove the XC90 around the countryside in North Yorkshire and it was a lovely car to drive, it didn't feel as big as it actually was when out on the road as it was nimble and certainly held the road well, and it went round corners like it was on rails. It did not lurch from side-to-side on bends, or feel top-heavy or soft on the suspension. The engineers have got the set-up bang-on right (that's a technical term).
The exterior is a classic design and although you can still tell it is a Volvo XC90 from a distance it is substantially different to the previous car with plenty of improvements made all around. This new car looks great from every angle and much more in proportion. It is an elegant looking large 4x4.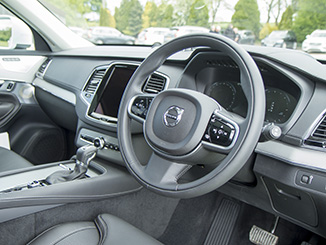 Pricing for the new Volvo XC90 starts from £45,750.00 OTR and goes up to £63,705.00 OTR for the T8.
The pick of the bunch would be the D5 Momentum, the base diesel car; it has all you need, so why pay any more?
This new XC90 is a huge improvement on the previous car, which was already a good car, and it should continue to sell well, if not even better. It looks great, has all-new engines, lower CO2 and lower fuel consumption. The standard equipment list is extensive and the car is well priced.
This car could steal some customers from the German premium brands and even some buyers from a good British brand too.
This new car is not only very safe, but a good looker too. So it is possible to blend the two together after all.
Martin Ward, Manufacturer Relationship Manager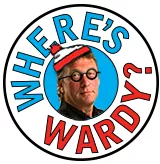 COMING SOON:
VW Sharan, Hanover – will there be a hangover in Hanover?
VW Touran, Amsterdam – a drive amongst the tulips 
VW Golf Blue Motion, Amsterdam – not a hill in sight
Hyundai Tucson, Nosovice, Czech Republic – check this out
SEAT Ibiza facelift in Barcelona - not Ibiza
Honda Jazz, Frankfurt - will it be frankfurters for lunch in a Jazz Club?