HGV Editorial January 2015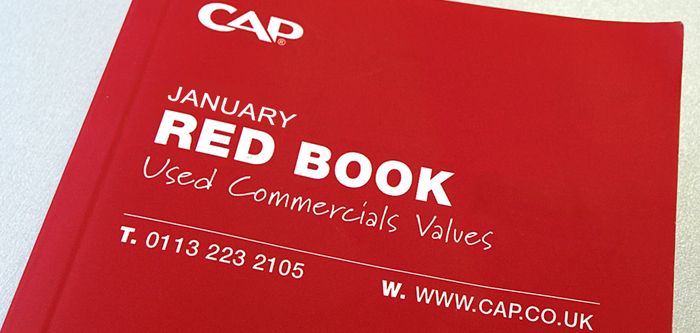 HGV Marketplace
As we enter a new year we look forward to what we hope will be a busy and successful year. With the election looming in May and the possibility of a new government, potentially another coalition, people are beginning to wonder what direction the country will take to sustain the economic recovery whilst at the same time cutting the national debt. 
There are too many influencing factors to confidently predict what will happen to HGV values this year, the election being just one. Considering that vehicles are now one year older and with a plate change due in March a drop in values is likely but not inevitable. Euro 5 values look as if they will remain buoyant for the foreseeable future providing that supply remains at current levels. Large re-fleets are now a stronger possibility than at any time in the past twelve months. Operators who were once sceptical of Euro 6, being told they would cost much more and use more fuel, realise that the cost of a Euro 6 vehicle is not substantially more than a Euro 5 vehicle was and that Euro 6 are actually more fuel efficient. However, Euro 6 maintenance costs remain a concern and such concerns will only disappear once vehicles prove themselves in service. So will operators now take the plunge and start re-fleeting? , If so supply of Euro 4 and 5 vehicles will increase and values will inevitably be pressured. First life late Euro 4 vehicles remain useful but older vehicles which depend on export activity are beginning to struggle and dealers are often making very low offers in the hope of acquiring a cheap vehicle for a quick profit. 
The lack of three or four year old vehicles continues, however, there has been an increasing number appear in the market recently. This may be coincidence but it may be the sign of things to come. Such is the current demand for these vehicles that often values bear no relation to their potential value two or three years down the line. 
The average number of auction entries decreased again last month but on-the-day sales for trucks rose by 6.2%, whilst for trailers it rose 1.2%. As always it should be remembered that these are 'hammer sales' on-the-day and any number of provisional bids may be converted post sale. 
Research indicates that values have changed little, if at all, within the last month. Apart from a minimal decrease in all values to reflect ageing and the addition of over 1,500 13 plate vehicles into this edition, there have been no other significant changes.
Dealer sentiment currently is that nothing exciting is expected and they are happy to keep ticking over until the second quarter, when traditionally buyers appear in tandem with the weather improving. Manufacturer sales remain steady; one exception was a busy month for MAN who appears to have disposed of the vast majority of their stock of TGX 26.440's as well as a good quantity of other vehicles.
SMMT data to the end of November shows that October appears to have been a one off as November registrations resorted to form. This may have been partly as a result of any stocks of derogated Euro5 vehicles being finally registered. The only sector which has flourished this year is the 4 axle rigid, which reflects the used market for such vehicles.
Details of HGV registrations up to the end of November 2014 compared to the same period last year are illustrated below.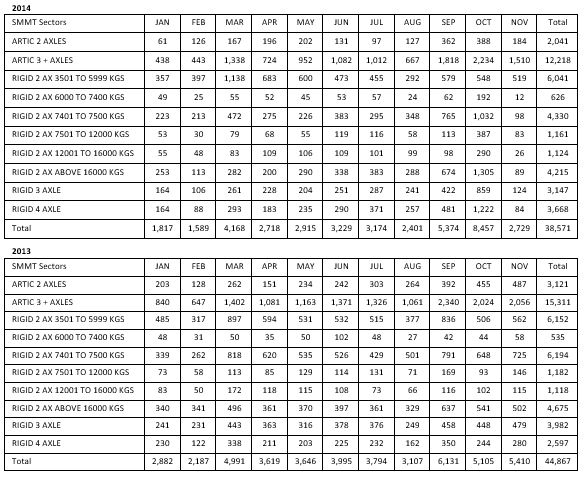 7.5t to 12t Vehicles
Activity in this sector remains but only the tidiest vehicles are attracting attention. As mentioned last month good quality 7.5t dropsides remain scarce and when a number of twelve year old ex MOD DAF FA LF45.150 examples with canopies appeared at Manheim Colchester all sold well, despite all requiring re-registration. Good condition and exceptionally low mileage no doubt added to their desirability. 
Large numbers of 7.5t fridges on Mercedes chassis continue to appear but only the best ones are selling. The number of tippers appearing has dwindled of late but they still remain popular. 
13t to 18t Vehicles
A surprise auction entry was a small batch of Iveco Eurocargo ML180E25 chassis cabs from derogated Euro 5 stock and freshly registered on 64 plates. Whilst they did not sell on the day, despite offers being in the region of the cost of a new chassis, they certainly drew the crowd at Manheim Leeds and we'll be surprised if they didn't sell post sale.
As with 7.5t market there are plenty of 13t, 15t and 18t fridges available mainly on Mercedes chassis and mostly from the same source. Tidy 18t boxes and curtains, especially with sleeper cabs, are selling but anything substandard gets left behind. Tippers are still popular despite the season, as are gritter/ploughs, particularly ones with Econ equipment. A trio of such on 2006 Volvo FL240 chassis sold easily at auction. The vehicles in their obligatory yellow livery were helped by the fact that they were well presented and had few miles on the clock.
Several 18t skip loaders have appeared recently. 2006 Volvo and MAN specimens appeared at CVA and both attracted good interest, as did a 2007 DAF example at Manheim. Good condition and extendable arms helping them along.
A few sweepers have appeared of late with buyers being selective based on age, condition and specification. A very clean 2010 60 plate Euro 4 DAF FA LF55.220 Scarab Magnum with under 40,000 km proved a popular auction entry attracting a substantial final bid from a telephone bidder.
As ever anything non-standard or with a crane attracts additional interest especially when in good condition and with reasonable mileage. 
Multi-Wheelers
The numbers of available 6x4 and 8x4 tippers have slowed a little, possibly due to the time of year, but those that do appear still attract strong interest. Refuse trucks remain a problem and most are struggling to find new homes. Multi-axle low entry cab examples are so plentiful that they are attracting bids less than those for comparable aged two-axle refuse vehicles on traditional chassis. More car transporters, in varying combinations, have appeared. Being met with little enthusiasm, all failed to sell on the day.
An unusual vehicle sold at auction was a 2002 02 plate Scania P124 6x6 with Sennebogen crane. Despite the vehicle not being on site for viewing a well respected dealer of municipal equipment finally purchased it for £65,750 after a long dual with another potential buyer.
Tractor Units
Research indicates that there is still positive interest in Mercedes and Volvo vehicles, but this time it was the 4x2 Axor 1840 with sleeper cabs from a well known rival to the Royal Mail that provoked most attention. Several appeared recently, being either six or nine years old with mileage commensurate with age. Plenty of bidding activity resulted in all finding new homes. Similar 4x2 DAF and Renault examples from the same source did less well, although a selection of tidy 6x2 Renault Premiums and Magnums of between six and eight years old from a different source had a much better day.
A number of DAF XF105.460 Space cab units have appeared recently from a variety of sources and of varying ages. As always, when large batch of similar vehicles appear supply often exceeds demand and whilst most were in a tidy condition and with reasonable mileage the majority failed to meet the reserve value and resulting in no sales on the day. A singular TGX 26.440 XXL fared better at the same sale; what a difference a few months make.
A 2013 13 plate Scania R420 6x2 Highline with auto gearbox, full air kit, twin tanks, air con, wet kit and a fridge with low warranted mileage provoked strong bidding but it also failed to sell on the day. A vehicle that sold easily after considerable bidding interest was a 1996 Foden 4380 6x4 sleeper cab tractor unit. The vendor will have been happy with the return it made. An unusual vehicle last month was an Iveco Eurocargo ML120E28 4x2 sleeper cab unit on a 2005 55 plate. The fact it was unusual made it quite desirable and it sold following some strong bidding.
Trailers
Research suggests that the trailer market remains steady. A number of 13.6m tandem axle stepframe boxes on air with BPW axles failed to hit the spot despite the fact they were all ready to work. Perhaps they hit the market too late for the Christmas rush and with dealers not buying for stock bids were at best speculative. 
A trailer that did surprisingly well at BCA Measham was a well presented 2002 13.6m tri-axle PSK flat, straight out of the MOD, but as we stated last month such trailers are currently attracting strong interest. A number of short single and tandem-axle brewery specification curtains struggled to find new homes with bids only reaching levels to make the trailers breakers. 
Rob Smith - Red Book Editor, HGV's