Green Book Editorial December 2014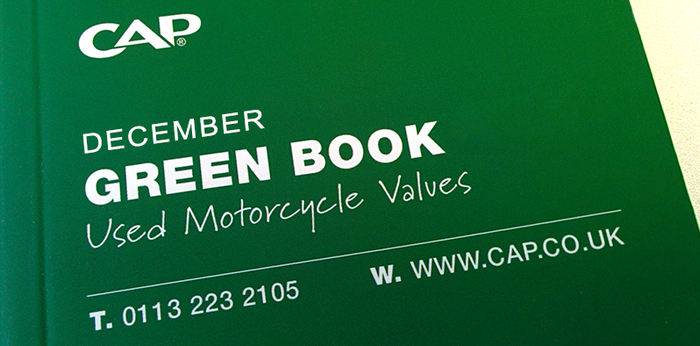 Oct 2014 and Year to Date - New Registrations by style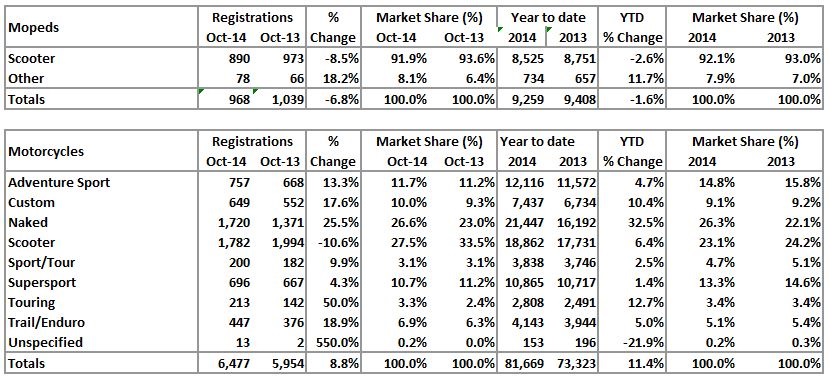 Oct 2014 and Year to Date - New Registrations by Style Summary


*excluding Scooters
New Market 
The scores are on the doors and they are up again and it's not getting boring saying it. October's numbers are up 6.5% for the month overall, ok a bit behind the YTD 9.9% but the positives we have enjoyed all year are continuing. The only blip is yet again Moped, but only by 71 units or percentage terms -6.8%, but this sector has remained reasonably stable with only a 1.6% drop over last year. Motorcycle sectors are still on the up at 8.8% improvement on the same month last year and the only sector having a little dip is Scooters, but they are continuing on a positive for the year, as are the other motorcycle sectors. Touring has had a particularly good month and is also in the majority of styles that are showing a gain in market share for the month. Naked is still ruling the roost selling a quarter more this month than last year and an even better performance, selling a third more YTD than in 2013. 
Oct 2014 and Year to Date - New Registrations by Engine Band


Oct 2014 & Year to Date - Highest Registering Model by Style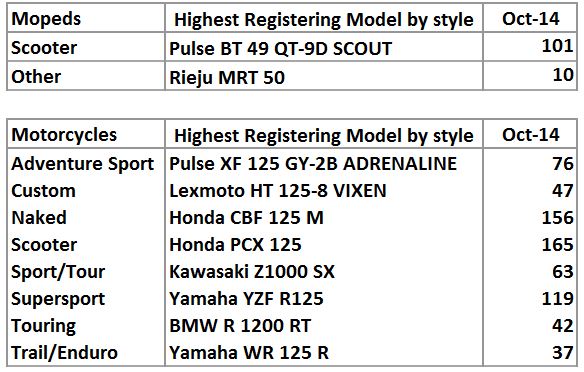 Oct 2014 - New Registrations by Brand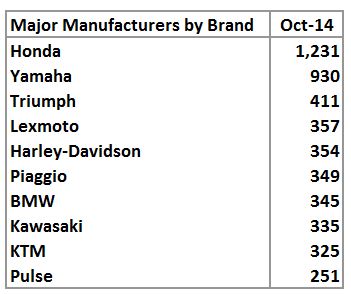 All Tables Registration Figures Courtesy of MCIA
Oct 2014 - Highest Registering Model by Engine Size


The 16 year old sector as seen above is down, so it's not really necessary to point out there were less 50cc's put on the road, but it is the only blip in the hopefully continuing revival in the industry. The good news we can take from the engine size table is the continuing increase in both bands over 651cc The larger machines that cost more fall into these two bands and therefore suggest more disposable income is getting spent on the boys' toys. If the registration figures aren't enough to cheer the industry up, the more money being spent should help. By the time you read this the 2014 Motorcycle Live at the NEC will be well under way and there has been a lot of activity building around some of the new models on social media sites. Much has been written about the Continental shows that have already been and gone. Perhaps looking a bit closer, there are perhaps no more new models than normal, its just that more information is pushed in front of us, making it appear like more models are on the horizon. There are a couple of sports models that are in the headlights, including  an all new R1 launched with help from the two factory GP riders, a revamped S1000RR and probably the maddest offering for next year from Kawasaki with the H2. But as with the changing face of the industry, a lot of models where the older rider can sit up a bit are getting plenty of air time as well. 
Used Market
As could be expected with the onset of dark nights and colder weather, the used sales discussions had during research this last month are pointing to slower times. That said the quieter start for the first weeks of October compared to the previous months, does not appear to have increased in intensity through November, but there has still been a reasonable –for the time of the year - flow of bikes through shop doors. Questions as to prices have not thrown up many major concerns to lowering of values in general, leading to little change in most models in this month's edition. As the shortest day passes this month and a new year is ready to start, expectations and predictions going into next year are positive. 
Auction
With only the remnants of Black Horse's from the previous sales and a large entry from a police authority padding out the Peterborough sale, the quality of entries was very mixed. Limited numbers of dealer entries in a retailable condition led to only half of the 60 entries being sold. West Coast entries were similar to previous months and again a mixed bag of ages and condition led to prices as expected with little deviation to reported values. The Bawtry sale continued the success it has enjoyed through the year, with 82 entries and an enthusiastic trade audience resulting in 55 sales and 98% of CAP reported prices. One thing apparent from the auction circuit and conversations with dealers present is that similar to opinion in dealer outlets, that as the much discussed depletion of available stock, there is little sign of the historic major lowering in winter prices as next years stock is already being sought. This state of affairs is evident across all styles including custom and sports models. 
End notes
Some good and some not so good news around the manufacturers recently. 
Half year financial results for Suzuki Motor Corporation show it's motorcycle division still isn't out of the woods. Bike revenue fell 10.9% (to £675m), in a large part blamed on to shrinking South-East Asia sales. Operating loss was £1m, an improvement from the loss last year of £5m. 
Piaggio Group, (Europe's largest PTW manufacturer) has an improved position in Q3  as revenue has increased by 6.5% year-on-year (to £238.2m), net profit up by 92.6% (to £4.3m). But for the first nine months of 2014 the numbers are still in decline. Consolidated revenue was down by 2.5% (to £734.6m) and operating profit fell by 2.4% (to £54.9m). Net profit dropped 21.2% (to £17.3m). They have shipped 417,200 units worldwide so far, 3% down year-on-year, (including both PTWs and light commercial vehicles).
Better news from Yamaha's motorcycle division first nine months are fairing better with net revenue from bikes growing by 4.1% (to £3.96bn) and operating profit up by 188.4% (to £97m). Developed markets unit sales (mainly Europe, USA and Japan) increased 14% helped by new products such as the MT-09 and MT-07. South-East Asian markets were down but India made up for that with a 28% increase.
KTM continues it's growth with its best ever sales volume and revenue in it's nine month to end of September results. Sales of 115,731 units (29.1% up). Raised revenue by 20.4% (to £504.3m) and operating profit up by 34% (to £47.9m and pre-tax 41% (to £44.1m.) The company claims an 8.4% share of the total European market.
Polaris owned Indian and Victory motorcycle brands, sales revenue rose by 28% (to £39.5m) in Q3 and is up by 62% (to £153m) for the first nine months of 2014.
Half-yearly financial results to end of September for the Kawasaki motorcycle show a 1.4% drop in sales revenue (to £790m) and a massive 60% per cent decline in related operating profit (to £6m). European wholesale shipments rose by 10.5% (to 21,000) but global volume was static at 267,000 units. The backwards movement is blamed on falling bike sales in Latin America and Thailand. 
And to finish on a perhaps more light-hearted note, racing legend, Carl Fogarty, is in Australia. Not to rip up Philip Island in a WSB race but as a "competitor" in something about eating strange bits from animals amongst a load of other people who haven't raced motorcycles so are not on the favourite list around these parts, (even if we had heard of them). Let's hope it brings a bit more attention to the industry. 
Alan Elsworth, Green Book Editor