Green Book Editorial January 2015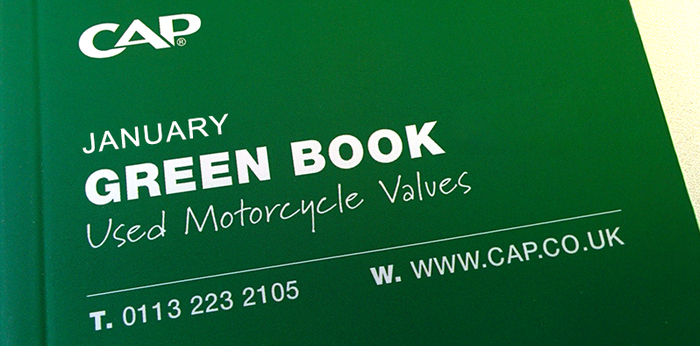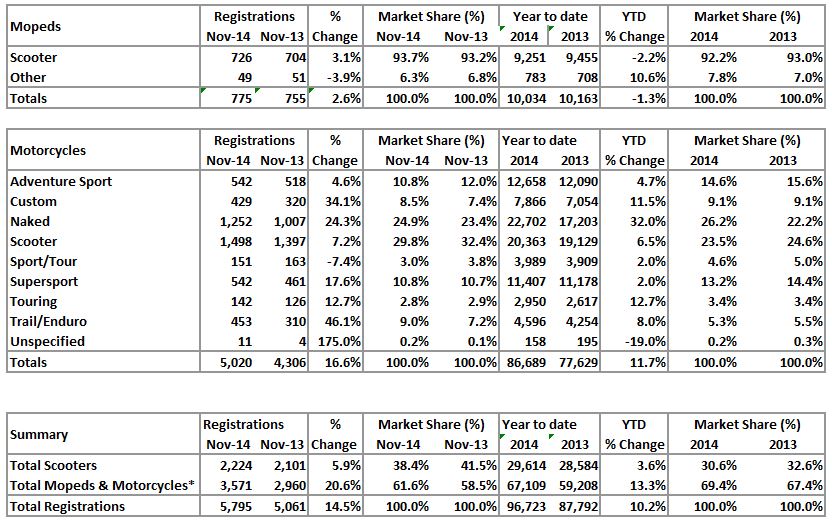 New Market

With the penultimate month of the year's scores in, yet another good result to report. The total month registrations of 5,795 is better than last year's by 14.5% and with the total PTW registrations only 3,277 short of the magic six-figures not seen since 2009. The NEC motorcycle live show last month exuded positive vibes, with new models getting lots of attention and column inches in print and tinterwebs, with manufacturers and dealers smiling like not seen for some time. All a good indicator as reflected by opinions around the industry that it will continue into next year. The show visitor numbers were up 10% on last year with over 117,000 visitors. And if social media is anything to go by the public were as positive as the industry. 
Nov 2014 and Year to Date - New Registrations by Engine Band

Nov 2014 & Year to Date -  Highest Registering Model by Style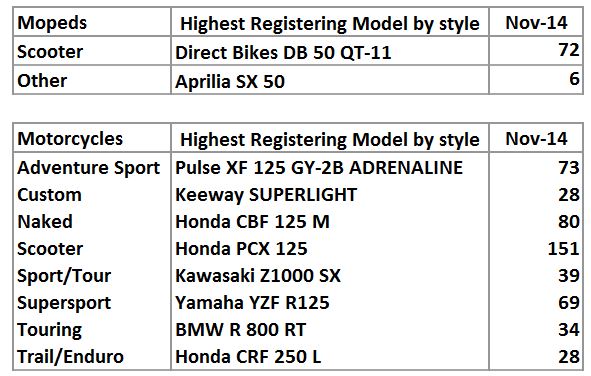 Nov 2014 - Highest Registering Model by Engine Size
 


Nov 2014 - New Registrations by Brand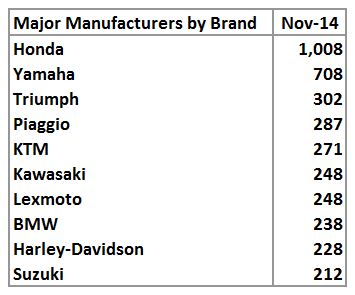 All Tables Registration Figures Courtesy of MCIA

Naked sector is continuing to rule the roost with the largest market share for the year and every sector –except Sport Tour- has yet again shown growth over the same month from last year. The 126-650cc engine band is worth pointing out as having a big win for the month at 44% up after a not so sparkling YTD change nearly two thirds below the overall market growth. As the big boy toy weather is at its lowest ebb it should come as no surprise that the best sellers in the styles are dominated with smaller capacity machines.  
Used Market

The word on the street is as it can be expected with things a bit quieter in the lead up to Christmas but still there are deals to be done and a good positive attitude is still detectable out there. But as you read this we are at the beginning of another new year and the question of what will happen always gets asked. Well, after putting loads of opinions together and looking at recent performance of the market, it's positive. Loads of new models on the horizon, that once they hit the market will generate increased showroom traffic if not to buy immediately, but through the year as they start to work their way through the system. Ok, the changing face of models in the new market will take time to filter through to the used market, but what it will do is hopefully attract a bit of new blood onto smaller bikes, return riders back onto two wheels and more importantly for this section of the editorial, current riders will change, releasing some much needed used stock into the market, that is still proving to be difficult to source, if quality and lowish mileage is a priority. So to this month's edition and its changes. There has been little evidence of the historical lower prices usually seen in the last quarter, so into the new year the thirst for stock has led us to a general increase in reported prices. 
Auction

the lack of stock in the auction system has continued again with the upcoming new season being blamed for dealers not releasing stock into the trade system. Entries were at a all year low in all the latest sales. Weather affected the West Coast auction with rain and wind probably the cause of accidents in the local motorway network making a sale of two halves as some late entries and buyers arrived after a mid auction tea break fro the ones that made it on time. Bawtry had better luck and entry levels were higher than the same time last year, but still their smallest sale of the year. The initial feeling with dealers was of  "end of term bring a game to school", but the quality of entries soon had buyers waving their hands. Both sales sold in excess of 60% of the entries and prices were still very strong. 
End notes
A report commissioned by the Government into the effectiveness of Compulsory Basic Training has recommended a number of changes be implemented in order to make motorcycling safer for new riders. CBT tests can be taken from 16 years old they then have two years of unaccompanied riding with 'L' plates. The study comes after statistics showed there were between 7,000 and 8,000 road collisions involving motorcyclists or moped riders aged 16-24 each year from 2009 to 2012. 58% of these incidents involved riders aged between 16 and 19. 
A survey was conducted among learner motorcyclists and CBT trainers, on numerous subjects including things such as perceived experience and understanding of riding motorcycles before taking the test, whether one day is enough to learn how to ride a motorcycle, on-road experience and reactions to alternative ways of running the CBT test process. Recommendations from the report's findings included: Introducing a theory test. There is currently no theory test element to CBT, unlike when going for a full motorcycle or car licence. One suggestion is that introducing a theory test, or simplified element of it, would introduce a better understanding of the Highway Code and hazard perception particularly if a rider has no road experience. Once the CBT runs out (after 2 years), the CBT has to be taken again to be able to continue riding if a full motorcycle test is not taken. Some trainers suggested repeat CBTs should be better suited to the level of the rider, who should not have to repeat certain basic elements. Concern is that a two-tier CBT system could hold people off taking their full motorcycle test. Some learners said they felt like they could have done with on-road training further to the two hours compulsory to pass CBT however didn't feel like they could as it would increase the cost. The report suggests it should be made easy and not overly costly for those who want extended training to be able to come back for another two hours on the road if they so wish. Those who have not reached a satisfactory level of competence should not be rushed through the course in one day, says the report. They should be offered further training with perhaps extended on-site training on the first day before moving onto the road on day two. Currently if a rider passes the CBT on an automatic they can ride a manual 125cc motorcycle. Most trainers agreed that training on an automatic does not prepare you for riding a manual and therefore it is suggested that those trained on an automatic vehicle be restricted to an automatic vehicle. One suggestion to discourage repeat CBTs and encourage riders to take their full test is to reduce the time a CBT certificate is valid for from two years to just one. Four in ten trainers think this would work but almost half think it wouldn't. There are concerns this would increase the cost of the course and deter some learners from taking up motorcycling. This is just a snippet of what the report contains and recommends, but in our opinion it does sound a sensible step forward to raise road skills and reduce accidents in younger new riders and make two wheel transport more acceptable to the general public, while encouraging more much needed new blood to riding. 
And this months final smile: Who would have though the blunt, outspoken multi World Champion superbike rider would win a prime time fly on the wall "entertainment" TV programme? It can only do good to bring the sport to more people. Does anyone know which one is Dec and/or Ant by the way?
Alan Elsworth, Green Book Editor