Green Book Editorial March 2015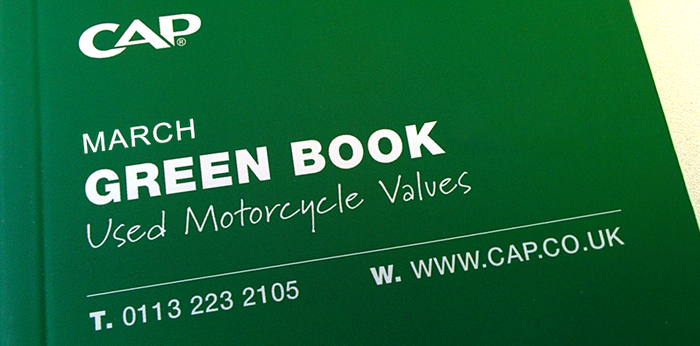 Jan 2015 and Year to Date - New Registrations by Style


Jan 2015 and Year to Date - New Registrations by Style Summary


*excluding Scooters
New Market
The year has kicked off in the way everyone was hoping and is in line with the feedback that we have been getting. Although as we say every year, it is difficult to judge the pattern of the year in the first couple of months until the numbers start to mount, this is a clear indicator of what to expect on the back of 13 months of positive growth, so we have to be positive that it will continue. The total number of new bikes registered in the first month of the year crept just over 5,000, resulting in 511 more than last year, up 11.3%. The 16 year old section of the market has again had a bad month with close to a tenth lower than the same period last year and continuing a trend seen for some time. The motorcycle part of the chart sees a 14.7% improvement (572) with Naked sector carrying on the growth seen for some time, now up 43%, with Adventure and Touring also having a good month. 

Jan 2015 and Year to Date - New Registrations by Engine Band

Jan 2015 & Year to Date - Highest Registering Model by Style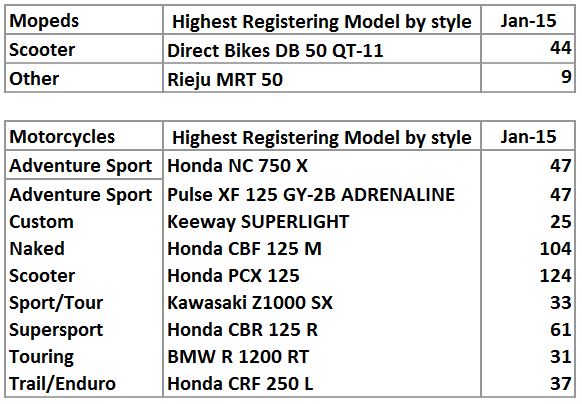 Jan 2015 - Highest Registering Model by Engine Size

Jan 2015 - New Registerations by Brand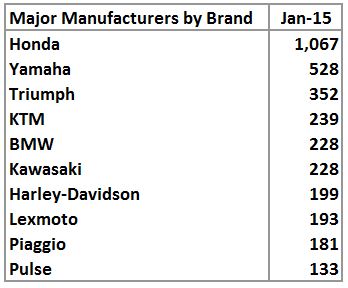 There has been little change in the size of bikes being sold with 40% of the market still consisting of the learner legal 125cc band. But as we have mentioned before, although in smaller numbers, it is pleasing to see the larger price and engine sizes continuing to grow, both increasing by over 20% and with market share also growing. 
Continuing the better news in the wider market from our continental neighbours, according to the latest data available, in 2014 a total of 1,099,000 PTWs were registered in the EU and 57,550 PTWs were registered in EFTA countries. 2014 was the first year since 2007 in which the number of PTW registrations remained stable on a year-on-year basis. Although the difference between 2014 and 2013 registrations is of less than 1.1% for the EU and less than 0.5% for the EFTA data for some countries is not available yet, it is possible that PTW registrations have actually increased on a year-on-year basis. France recorded the highest number of registrations (251,500), then Italy (184,800), Germany (175,800), Spain (126,200) and the UK (102,100). Breaking the numbers down a little further, 798,300 motorcycles were registered in the EU, compared to 739,880 in 2013, an increase of 7.9%. By country the numbers were, Italy 156,400, France 153,300, Germany 141,600, Spain 111,460 and the UK 91,490. But as we are seeing in the domestic market, the moped segment continued to decrease. 340,400 mopeds were registered in 2014, compared to 380,700 in 2013. Moped registrations were led by France (98,170), the Netherlands (62,940), Poland (40,700), Germany (34,200) and Italy (28,300).
Used Market
It goes without saying that as with the new market, interest is being shown in the used section of the market and to cut a long, much told story short, there is not enough stock, so trade are paying more and consequently we've increased reported prices. 
Auction
With a small auction at BCA pre the big end of February Black Horse disposal and West coast moving their date to just after this editorial is written, only Bawtry is getting a mention in this section. 69 sold from 101 with a lot of trade attendance, so it looks like things are carrying on in a similar manner to the last year or so. Quality of entries in general was high and attracted plenty of bidders. After the wild start with high prices, it looks like things have settled at least a little and comparing the results to the prices we are reporting this month, nothing has stood out as worrying. 
End notes
Some good and not so good news from around the manufacturer world as the year results start to appear. 
Kawasaki Heavy Industries motorcycle division, for the nine months of its current financial year to 31 December 2014, revenue fell slightly by 0.1% (to £1.19bn). This was attributed to falling sales in Latin America and Thailand but helped by increases in Indonesia and Europe. A positive though, operating profit from the sector grew by 2.5% (to £23m). In Europe, bike and ATV sales volume was up by 14.8% (to 31,000), the US flat at 60,000 units and emerging markets totalled 294,000 units, down 2.6%. Japan was down by 14.3% at 12,000 units. Another possible positive though is for the 12 months of its full fiscal year to 31 March 2015, Kawasaki is forecasting a rise of about 2%, as Q4 surge in new-season production kicks in.
Despite only modest motorcycle sales volume growth in 2014, Harley-Davidson's full-year financial results saw revenue over the 12 months increased by 5.6% (to £4.12bn). Motorcycle sales only rose by 2.7% (to 267,999), with parts, accessories, apparel and other merchandise added in, the total sales were £3.69bn, up by 5.9%. Overall operating profit was up by 11% (to £848m). Net profit up 15% (to £559m). Retail sales grew 1.3% per cent in the USA, 11.8% in Asia Pacific countries, 6.4% in Europe (plus the Middle East and Africa) and 2.1% per cent in Latin America. Canada declined by 10.8%. Total wholesale shipments into its worldwide dealer network increased by 3.9% (to 270,726 bikes). They are looking to ship between 282,000 to 287,000 motorcycles to dealers worldwide in 2015. 
Honda's global motorcycle and ATV business had a good Q3 (to 31 December 2014), with unit sales volume, revenue and profitability, all up. Honda-badged machines supplied to dealers increased by 4.3% (to 4.432m), revenue from bikes rose by 15.8% (to £2.61bn). Operating profit was up by 55.1% (to £302m). European sales had an excellent time with 32,000 units (up 18.5%). North America added 9.5% (69,000), Asian markets an extra 5.3% (to 3.872 million), but as with Kawasaki Japan's domestic market fell by 5.8% to 49,000. During the nine months of Honda's current fiscal year to date, motorcycle and ATV divisional revenue has grown by 7.8% to £7.38bn. Worldwide bike sales are up 5% (13.15 million units). Operating profit has risen by 10.6% (to £764m). 
Suzuki's global motorcycle and ATV business has not improved, in fact got worse in the first three quarters of its current financial year. Net sales revenue (bikes) to 31 December 2014 fell by 6.5% (to £1.01bn and operating loss of £26m in the previous year has increased to a loss of £28m. Global wholesale shipment volume was down by 12.6% (to 1.349m). Suzuki blame this fall mainly to falling Asian markets, which reduced by 13.5% (to 1.075m units). Worst performer was Indonesia with a 35.3% down (to 192,000), China down by 6.8% (to 425,000) and India suffering a 6.8% downturn (to 257,000) Europe performance didn't really impress either, decreasing by 7.3% (to 52,000 units). North America virtually stood still at a 0.6% fall (to 31,000).
The largest motorcycle manufacturer in Europe, KTM, has claimed a fourth consecutive record performance for its 2014 financial year. Revenue to 31st December rose by 20.7% (to £648.8m). Operating profit grew by 37% (to an estimated £56.3m). Wholesale shipments worldwide increased by 28.2% (to 158,760).
Over at Yamaha, operating profit from bikes rocketed by 174% (to £126m) for 2014. For its 2015 financial year, Yamaha is forecasting an approximate 8% growth in its worldwide motorcycle sales volume to 6.28 million units and associated revenue growth to £6.03bn.
The MCN show down in London village has seen very good attendance and on the back of last year's larger NEC Motorcycle Live punter interest is a good sign the numbers of bikes going on the road will continue to rise. 
Well last year we did think the new Circuit of Wales was a positive for motorsport in general but something like this project has to get you thinking of possible problems with both money and planning pitfalls. Well delays in the planning process when local Governments are involved are virtually guaranteed. So the plan after winning the rights to host the British MotoGP in a five-year with Dorna was to hold this year's event at Donington Park and for whatever reason of the different one you believe after both parties press releases, it's now called off at the East Midlands circuit and a deal with Silverstone has been made to host the race for two years while the Welsh venue is built. It could be seen as a bit of a debacle, but at least the circus is still coming to these shores. 
As race fans we are pleased that by the time you see this editorial the WSB season has kicked off, so Sunday son hold until November again. But as at CAP towers we are always in favour of attracting the female rider into the hobby it's good to see that Honda (UK) has signed Jenny Tinmouth to compete as part of its official British Superbike Championship team. Surely the industry can use this to attract more lady riders. She is the first and only female to have ever ridden in the series and is the current record holder as the fastest female around the IoM TT course. 
And finally in a similar vein, one Green Book subscriber has a daughter also flying the female flag and racing against the men. Good luck for the season to Georgina Polden
Alan Elsworth, Green Book Editor