Green Book Editorial November 2014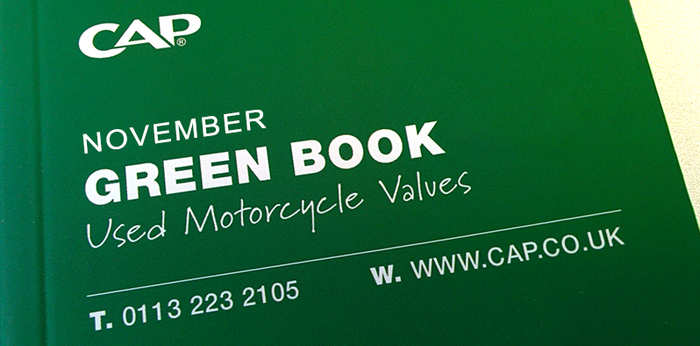 A combination of a summer weather extension, new plate and continued interest in two wheels has seen the latest September numbers release from the MCIA showing yet another growth over the same period last year. The total increase is 6.4% or 757 units more, even the long suffering moped sector has seen a bit of a positive leaving its YTD numbers very close to last year in the region of 10% of the total market. Last year the last quarter produced just over 16,000 registrations. If the same is achieved this year we will be at the magic six figure 100,000 for the first time since 2009, a positive and something to shout about.
 Only a couple of the sectors have seen a very minor decrease from last year's return for the month and that is only by a handful, in line with the year's performance and the slightly reducing market share in both cases (Custom and Supersport).
September 2014 and Year to Date - New Registrations by Style


September 2014 and Year to Date - New Registrations by Style Summary


*excluding Scooters
Engine capacity tables show little change worth a mention apart from the continued rise in the 651cc and over brackets, still producing close to a third of the total new numbers. In the manufacturer stakes Suzuki has made a showing that has been an increasingly rare occurrence for some time, but the money off list price they widely advertised looks like it hit the spot with buyers. Suzuki has had a lot of "airtime" around the media and social networks with introductions of 2015 models pointing to some development work starting to happen, as have many others. As we are in the middle of the bike show season the internet is a in a virtual quiver with pictures and write-ups of the delicious creations to be unleashed onto the public. It's a good sign of confidence in the global economy's recovery, when money is being spent by manufacturers after some have virtually stood still for a few years. And while on the subject of social media and new bikes, have you noticed the change in how these things get to market? Back in the day the odd leaked and fuzzy picture would appear in the popular press with much speculation around the specification. These days we get bombarded with very professionally produced taster videos with little snippets of various close ups of bits of the bike with a backing track of loud engine and rock music.
September 2014 and Year to Date - New Registrations by Engine Band 

September 2014 and Year to Date - Highest Registering Model by Style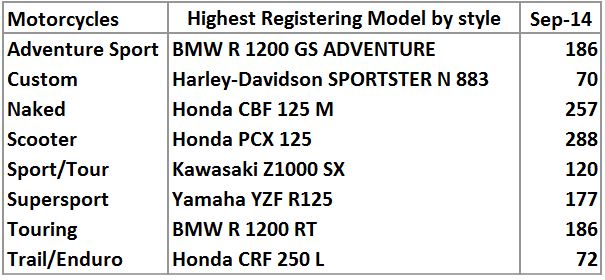 September 2014 - Highest Registering Model by Engine Size
September 2014 - New Registrations by Brand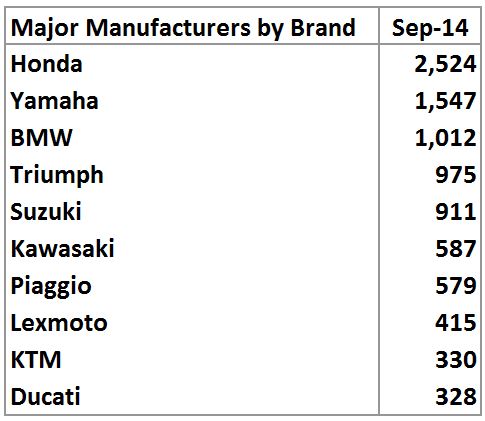 Used Market
After the above mentioned longer than has been seen for a while extension to the riding season helped along by the driest September since records began, it should come as little surprise that virtually all the feedback we have received has been of a good old time by most. Then suddenly it goes dark and cold, so no surprise the feedback is of a slowing retail footfall, but this year we have had a longer chance of activity than we have had for a few years. The consequence of lower stock levels, a selling season that is overlapping with some of the trade starting to look forward and trying to beat the next season's rush by buying earlier than historically has been seen, has had less of a negative impact in the low ebb of seasonal used prices. This has resulted in very little general change in this month's reported figures apart from some (few) market led alterations. One thing you might notice if you still use the paper book is we have undertaken a "mileage re-write". That is added a thousand onto the majority of mileages, more on the higher usage touring models and have altered pricing proportionally –very little - down as a consequence.
Auction
As the reduced stock levels have hit dealerships the release of part exchanges or unwanted surplus stock into the trade has slowed. The continued trend noticed around all the dedicated motorcycle auctions for quite sometime is continuing with a larger proportion of higher mileage entries. Quality is remaining similar, but low mileage quality stock is rarely making it to auction. The last Black Horse disposal for this year at Peterborough boosted the site's entry number to just short of 90. The finance house entries were a bit better quality than the previous sale but as with all the auction sites there was a noticeable increase in learner legal entries. A reduced buyer attendance resulted in less than 70% sold, a good number for the time of year and helped on by on-line bidding activity. Over at West Coast a similar stock pattern with again fewer entries saw the selling of three quarters of the available lots and although less trade and much less private attendees, the ones there went to buy, resulting in prices very close to reported values. Bawtry was the exception to the rule this month with 92 entries and a higher quality with a large trade attendance, not afraid to bid with many comments on the higher than expected prices and three quarters selling. Again as with all recent auctions, noticeably higher mileages. A point of note throughout the sale halls, Sports and Customs are still selling well and returning good prices.
End notes
Global retail sales for BMW Motorrad rose by 7.8% (to 9,991) during September. They have worldwide YTD up by 7.6% (to 100,217). In our market registrations were also up, increasing by 6.2% (to 1,012). Amongst accolades received at the recent MCN awards, the brand had the Best Tourer, Best Adventure, Best Retro and Manufacturer of the Year.
Another partnership with a manufacturer on the Indian sub-continent has recently been announced with PSA Peugeot Citroen confirming that it is to dispose of a majority stake in its Peugeot scooter subsidiary to Indian manufacturer Mahindra & Mahindra who will purchase €15million worth of shares to finance strategic projects' also acquiring shares in Peugeot Scooters held by PSA. The result will be that they have a 51% interest in the business.
The end of the racing season is unfortunately upon us again for another year. It's strange how things change in a short period of time. GP's have become interesting again, WSB appears to be occasional and mediocre. BSB as always, stunning but a bit of an anti-climax this year. The best bit of it all is we have Brits making a good showing in all the series and some good rides already secured for next year.
And finally in the last edition we mentioned a motorcycle not priced in our database that was up for auction. The Fonda ridden Captain America in Easy Rider was recently sold at auction for $1.35 million (£838,000). It's still not going in. 
Alan Elsworth, Green Book Editor