Green Book Editorial October 2014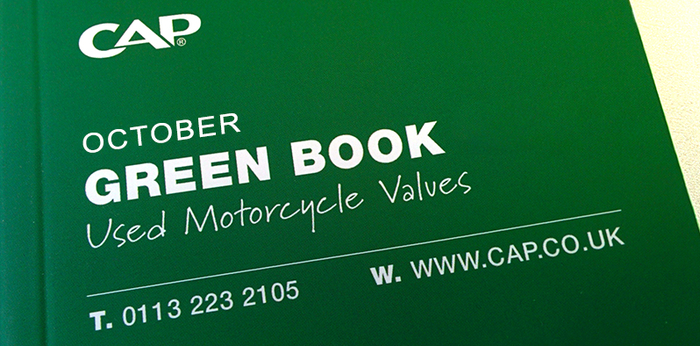 It's still going the right way, even with reports of a bit less showroom traffic, the numbers are still positive. Overall the bottom line for the last full month's new registration figures are 6.6% up on last year, slightly behind the year to date increase of 10.9%, making the increase in real numbers slightly under 7,000. An interesting point worth noting is the market share of a couple of the sectors and how they have changed over a very short period of time. Currently Naked sector with has well over a quarter of the market share and nearly twice the number of units sold this year to date, compared to Supersport with under 14%. Now look back only a few years to 2010 the numbers came in at 22.2% and 18.6% respectively for the year.  Perhaps it is now making sense to the outsider that the manufacturers  have changed the fuss and effort when designing and launching new models they have turned from "fast around the track" type advertising, to events like the recent "Dark Side" from Yamaha. 
August 2014 and Year to Date - New Registrations by Style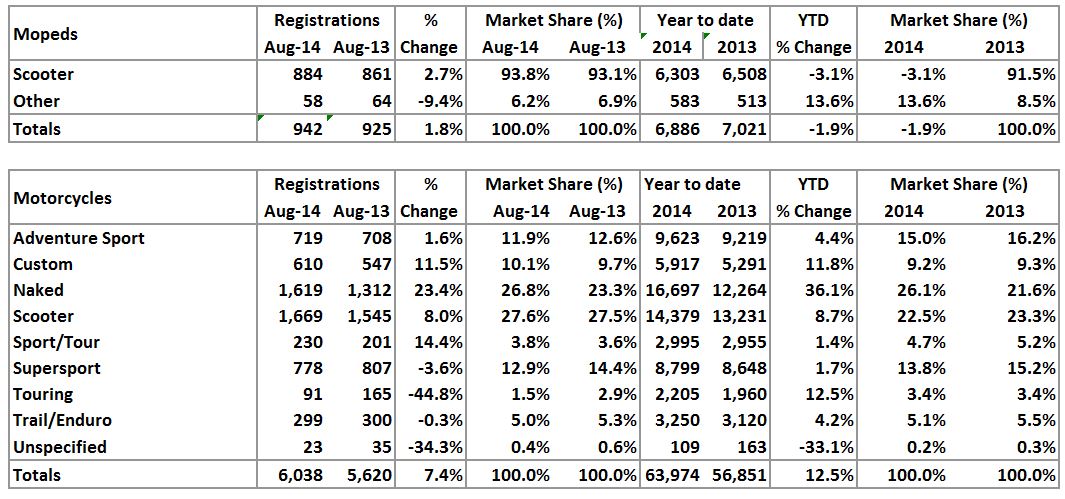 August 2014 and Year to Date - New Registrations by Style Summary


*excluding Scooters 
The 125cc engine band had a good month with 45.9% of the market compared to the 35.9% for the YTD, not much different to previous years really. Perhaps as we've probably mentioned before, it's school leavers buying transport to get to their new jobs? Do we as an industry target this market around this time of year sufficiently? There is a lot of focus on larger capacity schemes! 
August 2014 and Year to Date - New Registrations by Engine Band

August 2014 & Year to Date - Highest Registering Model by Style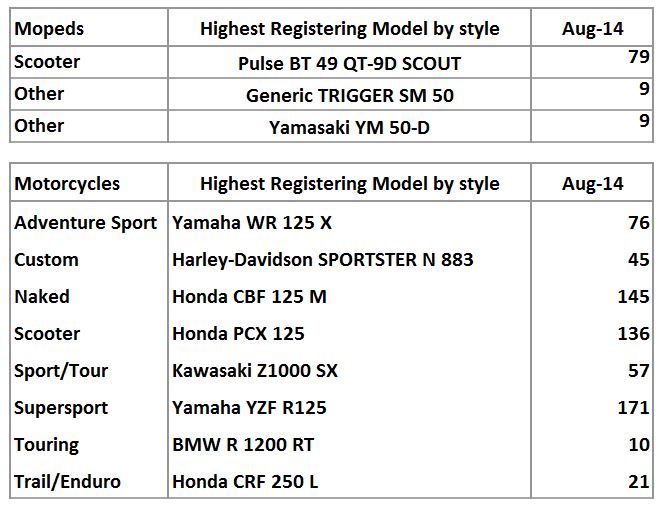 August 2014 - New Registrations by Brand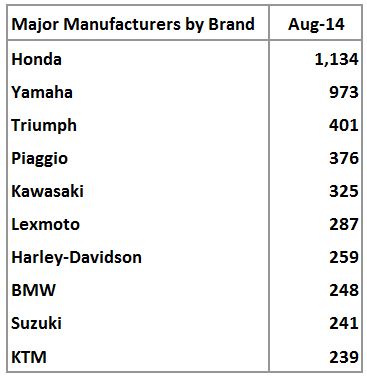 All Tables Registration Figures Courtesy of MCIA

August 2014 - Highest Registering Model by Engine Size 

Used Market
The feedback is still on the positive side for pre-owned bikes but as with new the latter days of the kid's holidays saw showroom traffic a bit sparse. Most conversations around the type, quantity and mix of stock appear to be positive, certainly a better position than earlier in the year. Although most opinions of current prices are erring on lower than last month and quite rightly so, there is one eye being kept out for the right time to beat the rush for next season's stock and anything looking remotely like good value for money is still getting snapped up where cash flow allows. Trying to reflect the behind (current) "book" type of sentiment and attempting a qualifying /quantify "how much", it will come as not surprise that prices in this month's reported prices have again been eased down. 
Auction
The sales over this last research period have seen a slightly different pattern to the early months of the year. BCA had a few leftovers from Black horse disposal the previous month but the quality was down with very few you could push from the van into the shop without some recon. West Coast had more entries than previous and even though attendance, like BCA, was low, the ones that did show up went to buy. Bawtry entry numbers were down on previous months, in the region of 70 but quality was much better. BCA got 50% of the entries out of the door and the other two did three quarters, both much better than the same period last year. All the sale results after mileage and condition adjusting showed realised prices in the very late 90%'s of Green Book and  in line with dealer opinion. 
End notes
As you read this the move from paper tax discs to online has started. If you have been off planet for the last six months here's a reminder. After October 1st , dealers will no longer be able to buy a bike with a current tax disc as they are not transferable, dealers can  use trade plates, or obtain new vehicle tax then the vehicle needs to be registered in a dealership's name. As with many Government money saving schemes the work gets placed  on someone else and in this case the onus is on the used bike seller, including dealers, to inform the DVLA when they sell their vehicle. Un-expired road fund tax (with or without a tax disc) will have no value and is not transferable to the next owner or user of the motorcycle. The DVLA will refund any full months left on the vehicle tax. Dealers who fail to inform the DVLA could be fined and they will still be liable for vehicle tax on a bike they don't own anymore. One help to the trade over the transition period, the trade has been granted a small dispensation. Any trade or part-exchange motorcycle that currently has an unexpired tax disc that goes beyond 1 October will still be considered legal, as long as the motorcycle was put into trade (yellow section of V/5) before 1st October, but only until the bike is sold to a new owner and then it will need to be taxed with a keeper change notified to the DVLA.
Good news of the industry's revival on a global platform, is this month down to KTM who In the first half of its current financial year to 30 June have had the highest sales volume and revenue in the company's history. Total global bike sales, including KTM-branded products sold in India with partner Bajaj, were up by 27.8% (to 70,469 units). Revenue (excluding India) increased by 17.6% (to £324.7m). Operating profit was up by 82.6% to £26.6m and pre tax profit increased by 107.6% (to £23.8m). 
The world's second largest PTW market is growing rapidly again, according to latest sales data from Hero MotoCorp, India's largest producer, reporting August sales up by 21% (to 558,609). Second place Bajaj a smaller 2% increase (to 284,302). And a brand we see in our market, Royal Enfield, 66% up (to 26,643).
And a shout out for domestic manufacturing, Triumph has reported strong year to date sales figures seeing the brand retain its position as Britain's best-selling large-capacity motorcycle manufacturer. The latest numbers from the manufacturer reports sales of 5812 bikes between January and August, a 19.4% share of the UK market. T100 YTD sales increased by more than 44% over the same period in 2013, Scrambler increased 58% and America up by 20% and Thruxton numbers up 76%. Triumph are putting a lot of this success down to their widely advertised PCP deals. 
Good news recently for Brits in the racing world include Scott Redding and Cal Crutchlow on factory Hondas next year. Hopefully success will help the industry gain more attention and sales. 
And finally in the cold light of day Easy Rider might not really be the best film in the world, but late at night after a beer or two the DVD comes out and we all want to grow our hair, stop shaving and ride across the states (don't we?). The only remaining motorcycle from the film, the Fonda ridden Captain Americas', is being auctioned. Sorry it's not in this month's Green Book and being honest we haven't a clue what its worth, but the auction house putting it under the hammer is estimating between $1,000,000 and $1,200,000.