Green Book Editorial September 2014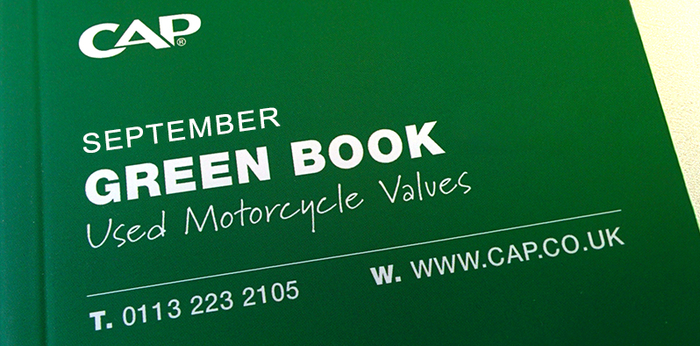 The latest MCIA numbers (July) yet again make for pleasant reading and it's not getting boring saying that. 
Total new registrations for the month increased 13.9% over last year with 9,886 units, 1,205 more than last year. Motorcycles are up 14.6% and for the first time for quite some time even the Moped sector has sold a few more than last year and showing a positive 8.7%. Naked style is continuing its growth of recent times with a large 39.2% for the month continuing the YTD 37.7% increase.
Perhaps a mild surprise – or is it the weather - is in the Custom sector increasing by just over 20% on the month so far into the season and having 10% of the total market. 
July 2014 and Year to Date - New Registrations by Style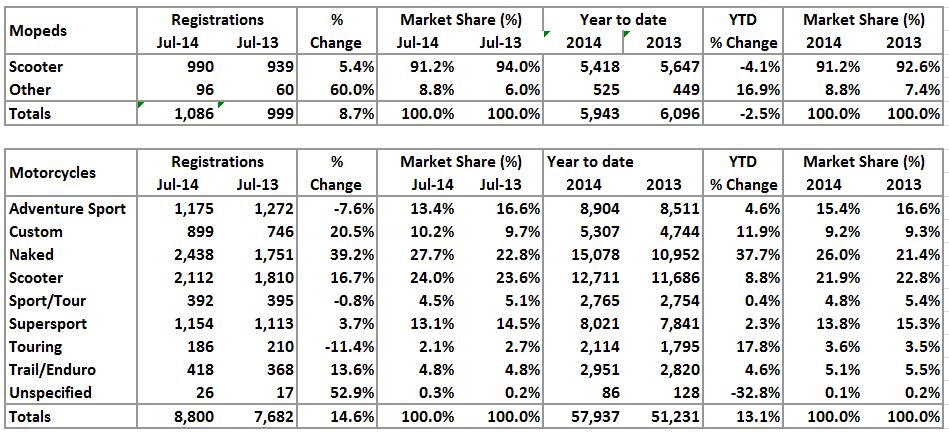 July 2014 and Year to Date - New Registrations by Style Summary

The 51-125cc continues its dominance in the engine size table with apart from the better performing Moped size, the only band to have a larger market share for the month when compared to the YTD performance. No big surprises have surfaced in the best model by style stakes really with Yamahas learner legal sports machine again outselling all others. The manufacturer league is continuing in a similar way to the rest of the year so far but one interesting thing we look forward to is how much influence the widely advertised £1000 off many models in the 7th placed Suzuki line-up will have in the next two month's numbers. One thing you will notice is the temporary influence it has had on the marque's reported used prices.
July 2014 and Year to Date - New Registrations by Engine Band

July 2014 & Year to Date - Highest Registering Model by Style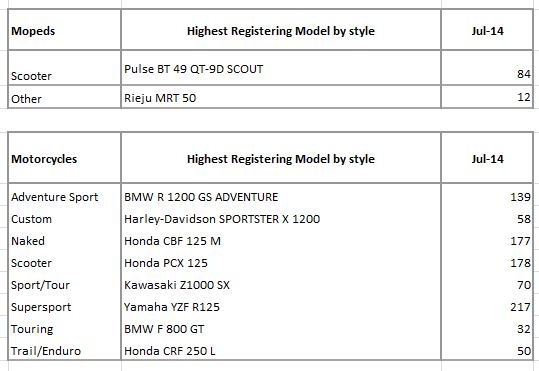 July 2014 - New Registrations by Brand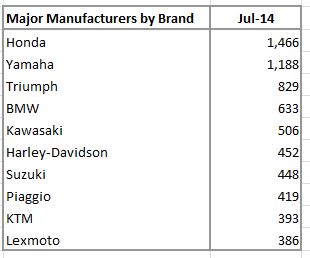 All Tables Registration Figures Courtesy of MCIA
July 2014 - Highest Registering Model by Engine Size


Used Market 
Bubbling along nicely with little complaints could be a description used for virtually all of the editorials this year and there is no difference this month. The latest round of research has brought up comments of slowing sales and lower showroom traffic. This is no different to the same time every year though, start of the kids' holidays and people grabbing their annual week in Benidorm has the same influence on serious buyers, leaving the tyre kickers, as observed by many retailers, in the majority. As the trade has seen higher prices paid for the lesser available stock, in a market showing increased demand as we have experienced over the first part of the year moves to quieter times, opinion on prices can vary significantly. A dealer presented with a model he currently has, but taken into stock through the summer, is likely to bid lower for a duplicate. Whereas a model presented that is currently not available on site, is looked upon more favourably. This thinking has been seen in conversations with dealers who have entered very clean bikes into auction due to duplicate models in stock. We are approaching the end of the season and accordingly and in the feedback received through research, prices in this month's edition have been in general, eased back slightly. 
Auction
As with trade research, the auction scene this last month has seen the easing of prices as preparations are made for the quieter times. The possibly last dedicated Black Horse disposal at Peterborough saw an unusual situation where they didn't all sell, about 75% fell under the hammer. That said as with all the sales around the country, the quality was decidedly lower as dealers cleared out the overage and less desirable stock. Several conversations have been had around the retention of quality machines targeting the opening of next year's season. BCA had 120 or so entries with 65% sold and falling behind "book" by an average of around £100 per sold unit. West Coast suffering from holiday absences saw a depleted audience and an entry list of around 40 with 70% sold. Bawtry entries of 102ish again saw– mainly private punters - empty seats and the better presented selling just under 80 lots.
End notes
A couple of reasonably high profile recalls have popped up in the industry lately. 
BMW's R1200RT 2014 models 500 owners have been instructed not to ride their bikes, with rear suspension unit concerns. Why mention this you may ask? It's the way it's been handled that is worth a mention. By the time you read this new parts should have arrived the UK dealer network and have been fitted. Owners will receive £500 to spend on BMW products. Bikes are returned valeted and topped up with fuel. We've even been informed that loan bikes or full refunds have been offered by the manufacturer. Ok the motorcycle industry is not the size of the car industry, but when it happens in the latter the popular press has a scare mongering field day. Things sometimes hit the fan with machinery, but it is how it's reacted to that defines customer reaction and you would suspect there will be few complaints from the few RT riders affected. 
Some Harley-Davidson Touring ABS models may have a chance of the front brake line being squashed between the fuel tank and the frame. Three hours of work sorts this out and there has been no mention in the popular press of killer bikes. No doubt H-D will handle it with little fuss, keeping their loyal customers, well, loyal. 
A few bits of good news to add to our domestic lift in two wheel business is the profit made by some of the manufacturers, a reasonable indicator things are improving. 
Yamaha's half year financials saw a jump in profitability. Revenue from its motorcycle business in the first six months grew by 3.1 per cent to £2.78bn, returning a massive 208.5% per cent increase in operating profit (to £65m). Global unit sales decreased slightly, due to declines in some lower margin emerging markets, but higher-priced volume in developed countries up by 23% in Europe and 17% in Japan largely attributed to the new MT models, just goes to show new offerings create interest and in this case if you get it right, profit.
BMW Motorrad's returns for Q2 and the first half of 2014 continue the growth seen over the past few years. In the three months from April to June, they increased revenue from motorcycles by 11.2% (to £420.5m). Operating profit was up by 19.6% (to £43.8m). Global retail sales increased by 5.1%, delivering 42,259 units. The first half of the year, revenue was up by 9.8% (to £796.4m), profit increased 22.7% (to £94.8m) and unit deliveries increased 9.3% with 70,978 units. 
Better larger capacity sales in developed markets helped Suzuki's bike business return to profit in its first financial quarter to the end of June. Revenue actually fell by 6.9% (to £378m), mainly due to a sales slump in some Asian countries, but higher margin models elsewhere helped them to an operating profit of £6m, improving from the loss of £16m in the same period last year. 
Although still profitable, Kawasaki's motorcycle division has reported a sales and earnings slide in the first quarter of its current financial year to 30 June. Revenue from bikes and associated products fell by 3.9% (to £374.8m). Related operating profit crashed by 89.4% (to £1.5m).
Europe's biggest manufacturer did not mirror the good results of the aforementioned. Piaggio's recent half year results have seen revenue for the period fall by 6.3% (to £497.3m). Operating profit dropped 11.3% (to £40.4m). Net profit was down by 34% (to £13m). The decreasing revenue was due to foreign exchange rates against the euro. In the first six months of 2014, overall Piaggio Group deliveries to dealers were down by 6.7% (to 278,500).The domestic European market increased by 4% but this is a slow down of the recovery which was up 13% in the first calendar quarter of 2014. There was a positive motorcycle performance, similar scooter sales and a negative 50cc market.
 For race fans, is it good news or bad news? It was recently announced that Dorna has done a deal with the Circuit of Wales to host the British GP 2015. One problem is the empty field –apart from the sheep- with work on a circuit a distinct absentee. The facilities development company now needs to strike a deal with either Silverstone or Donington to host next year's meeting. Positives are not just about track racing as well as training facilities, motocross, trials and enduro venues, an international kart circuit, plus a variety of leisure and cultural amenities. More importantly there will be a race academy to develop future UK talent.