Is PCP on bikes the best thing since sliced bread?


I was at an auction recently and speaking to a motorcycle salesman who thinks PCP is the best thing since sliced bread. Why mention this you may ask?
Well the interesting bit is he is a younger lad going from a used dealership to a franchised owned by a more experienced person and who does very little PCP. He wanted to know how much PCP really gets done out there and how does it compare to the car industry. 'Surely it helps sell more bikes?' he asks. 
This question was brought on by a recent car purchase and the offer of funding the new vehicle with a full explanation and comparison of the alternatives with pros and cons of various products. 
In some ways the motorcycle industry is years behind the car industry and PCP is one of the ways where we lag. 
Up to recent times PCP has not been necessarily important as the 'cost to swap' remained fairly level. Five years ago it would cost in the region of £3,500 for a customer to swap in his two year old sports bikes. As an example when introduced in 1998 a YZF R1 list price was £9199, ten years later £8,999!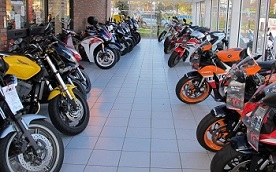 The downturn in the economy and manufacturers making big losses stopped this. In 2011 the same model list price peaked at £13,399 and the 'cost to swap' had suddenly increased by around £3,000. Double the money input and economic slump, of course we were going to sell less. 
We saw this happen over twenty years ago in the car industry with Ford introducing Options, a product first used in the USA to stir up sales. But until it came home to roost in our little world, apart from a couple of manufacturers – interestingly also car manufacturers – it was largely ignored. With the residuals available for the majority of manufacturers it was no surprise really. It was of no benefit to have a PCP. 
At CAP towers as we have lived through this in four wheels it made sense to introduce a product supplying more realistic future price predictions. Our Monitor product introduced to major finance suppliers increased the amount of PCP contracts sold tenfold within a year. 
Getting dealers to buy into the concept is a different kettle of fish though. The main reason a dealer will not sell on PCP is the lack of understanding of the product. Finance houses have made leaps and bounds in training to get the industry up to speed and coupled with extensive advertisements are in some cases selling close to three quarts of new bikes on a PCP, most with their own branded version. 
Interestingly the conversations we have with manufacturers involves people formally in the car industry! Any dealer not explaining or selling PCP is missing out on a large portion of the market. 
If you have not bought into the concept yet, or are unsure how it all works, if there is only one thing you listen to from CAP's in house ranter and that is - get it explained.
Alan Elsworth, Green Book Editor