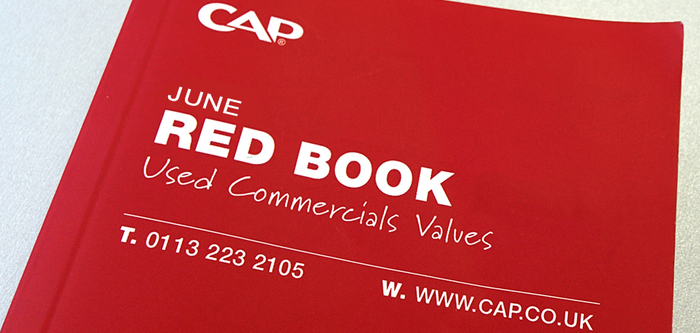 Last month auctions were no doubt affected by bank holidays as activity remained somewhat quiet. Some auctions were well attended but others were substantially less busy, without any real reason. Even auctions providing desirable stock have seen attendances fall.
Fewer vehicles were presented for sale but outright sales increased.  Auctions reported that conversions of provisional sales were not as strong as in previous months. The evidence of this being that some vehicles have appeared in more than one sale. 
The average number of auction entries decreased 54.4% last month but on-the-day sales for trucks increased by 16.9% in relation to total entries, whilst for trailers it decreased by 2.8%. As always it should be remembered that these are 'hammer sales' on-the-day and any number of provisional bids may be converted post sale. 
Dealers report business as being 'steady' at best, but traders are always reticent to say when they are busy. Most bemoan the lack of late stock and the large quantity of similar older stock. They are exercising increased caution as the market remains subdued. They are willing to buy but apart from the very cleanest examples, great care is being made when purchasing.
Just as last month, fleet vehicles, mainly tractor units, continue to appear for sale but only the best are attracting attention and selling first time.
Export trade is active but only for specific vehicles and trailers. It seems the days when exporters would clear up the vehicles unsuitable for the domestic market are over because such equipment is languishing, awaiting any reasonable offer to take it away.
Manufacturers are still seeing healthy sales values as they manage their stocks efficiently in order to maximise revenue. 
Research shows that pre euro 4 7.5t boxes have shown an increase in value and this is reflected in this edition. Values of 13-18t boxes and fridges have dropped and with the exception of Mercedes-Benz all tractor unit values have been adjusted downwards to reflect current trends. Trailer values have also seen a general drop this month to reflect current market conditions.
Analysis suggests that values across most other vehicle ranges are tending to show a slight downward trend. We will monitor this, conducting further research, before making any adjustments to ensure that such trends are not a result of the recent bank holidays. 
SMMT data for March 2015 shows that over 77% more trucks over 6 tonnes have been registered so far this year compared with the same period last year. The largest increases belong to tri-axle tractor units and multi-axle rigids.
Details of HGV registrations for 2015 compared to the same period in 2014 are illustrated below.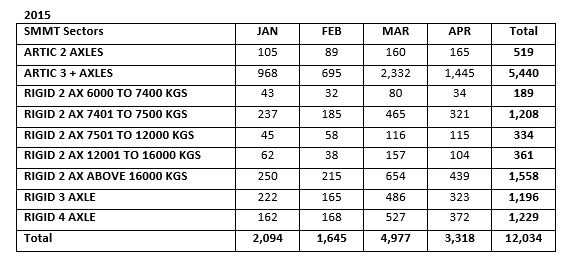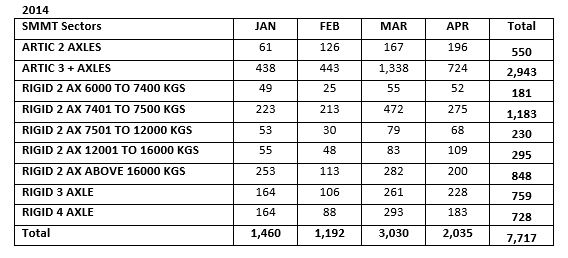 7.5t to 12t Vehicles
With most examples currently on offer being over eight years old with the exception of those with specialist bodies only the best examples are attracting bids, the exception being older boxes which have performed well recently. 
Late boxes and curtains are sparse and attract attention when they appear with the exception of boxes with alloy bodies which are proving much less desirable. Beavertails and other specialist vehicles always attract attention and subject to condition usually sell easily. 
The number of fridges available has reduced but only the best specification examples are finding new homes. Due to a lack of good quality dropsides, those and tippers continue to attract additional interest. 
One odd vehicle noted in auction was a 2006 Isuzu NQR 7.5t 22 foot curtain with manual gearbox, crew cab and a long rear overhang. Whilst anything out of the ordinary usually attracts additional interest, this vehicle did the exact opposite, attracting little interest. Perhaps the fact that it was entered by order of the DVSA didn't help matters.
13t to 18t Vehicles
Several Iveco Eurocargo 14t fridges from a collapsed bakery business have appeared at auction. Despite the fact that they carried hefty bodies with Frigoblok units and tail lifts, which will have compromised load capacity, most sold first time.
Boxes and curtains found varying enthusiasm as they appeared with newer examples being the most popular. Tidy examples, especially those sporting sleeper cabs and tail lifts are selling, but anything not suitable for immediate use is being shunned. 
Dropsides and anything non-standard or with a crane fitted are attracting additional interest, but not necessarily to the conclusion of a sale. 
Tippers are still popular and gritter/ploughs and refuse trucks seem to be increasingly popular.
Multi-Wheelers
Whilst supply has decreased multi-wheel tippers remain buoyant, especially those fitted with cranes and grabs. The type of tipper body does not deter successful outcome. 
Hook loaders are currently sought after, especially when carrying Multilift equipment. Surprisingly, from a pair of almost identical DAF's the 8x2 example proved more popular than it's 8x4 sister when they appeared at the same auction.
Several flats with rear cranes have been noted recently and whilst attractive to buyers they are not proving as popular as those with front mounted cranes.
Jet Vac tankers, gritters and refuse trucks are provoking increased interest but as ever it's the best spec tidy examples which garner the best offers.
Tractor Units
The number of 6x2 vehicles in the market continues to increase and 4x2 examples are also becoming more much more common as some large operators continue to refresh their fleets. Vehicles under five years old are much less common and usually attract strong bids when they appear, but not always resulting in a sale.
 
This was the case with a 13 plate Mercedes Actros 2545 Streamspace failed to sell. Despite the closing bid being strong the vendor possibly held a much higher reserve value in the knowledge that such vehicles are currently in short supply.
Both variants are selling but condition, mileage, specification and the badge on the grille are becoming increasingly important as increasing numbers of both come into the market. 
Numerous 4x2 examples of a similar age from the same fleet experienced varying success. Mercedes examples sold easily whilst DAF and particularly Renault examples didn't fare so well. 6x4 tractor units remain scarce and always attract attention when they appear for sale.
Mercedes-Benz tractor units remain in short supply and continue to be sought after by both domestic buyers and exporters. However, due to the wide choice available tractor unit values are being squeezed on anything over five years of age.
Trailers 
Research indicates that all is not well in the trailer market as more trailers come into the market and sales are few. 
Dealers have recently expressed concerns relating to volumes and values and there is little sign of any immediate improvement. Large numbers of most types continue to enter an increasingly saturated market; skeletals, boxes and short single axle brewery curtain trailers have seen a particular increase. 
In the last three months the average auction sales on-the-day has fallen from a little over 19% of entries to less than 9% and in some instances auctions have not sold a single trailer on-the-day. Whilst dealers have an ever increasing pool to choose from most are keeping their money in their pockets.  
Due to poor sales some auctions are beginning to store trailers off their main sites as growing stock produces storage problems. 
Rob Smith, Red Book Editor- HGVs