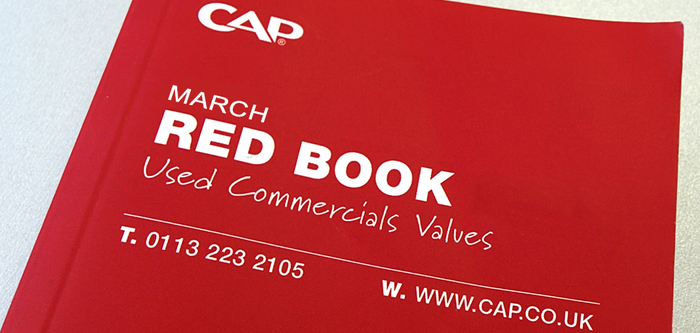 HGV Marketplace
Recent auction activity has been somewhat sporadic. There have been well attended, well stocked busy events together with some poorly attended sales, and everything in between. However, signs are optimistic as dealers are buying, albeit selectively. Where fresh stock appears the buyers are out in force and the best examples are often purchased. 
The mix and type of vehicles currently available at auctions is still not fulfilling the demands of most traders. There is plenty of old stock, including a large selection of specialist vehicles, but this is struggling to sell, whilst reasonably aged standard vehicles on which many dealers thrive are only available in limited numbers. 
Exporters who often purchase older vehicles that the domestic market deems as life expired are currently failing to buy them. Despite a number of foreign dealers present at most auctions, little of the old stock is of interest to them as they constantly seek newer types to export.   
Evidence of re-fleeting appears to be gathering pace with several major fleets placing plenty of used vehicles into the market. However, because large numbers of similar vehicles are appearing all at once it could eventually reduce values. One auction has a stock of fleet vehicles that are being auctioned selectively in order to minimise this effect.  
Many fleets have extended the life of their vehicles in recent years and the stock that is appearing from those fleets reflects this. Because most of it is seven to ten years old, later vehicles are less common and are attracting a premium when they are sold. At some point newer vehicles will start to appear and any premiums currently paid will doubtless diminish. 
Research indicates that values have changed little over the last month with a few exceptions. 7.5t values have seen an increase, particularly boxes and curtains. Multi-wheel hookloaders have also seen prices rise, along with 4x2 tractor units, whilst values of 6x2 tractor units have fallen. 
This month's edition provides adjusted values to vehicles and trailers where appropriate including some minor changes to some MAN rigid vehicles to remove some historic anomalies between chassis and cab types. 
The average number of auction entries bounced back last month and on-the-day sales for trucks rose by 6.8%, whilst for trailers it increased by 0.7%. As always it should be remembered that these are 'hammer sales' on-the-day and any number of provisional bids may be converted post sale. 
Manufacturers have reported healthy sales in recent months, not necessarily volume wise but in terms of value. Some cite the diminishing stocks of two or three year old vehicles as being a problem. Many vehicles are staying out beyond their return dates but those that do return sell easily and for a good return. One manufacturer suspects 2015 could be the year 2014 never was with decreasing stock and increasing values.
SMMT data for January 2015 shows a healthy start to the year with over 43% more registrations of trucks over 6 tonnes compared with the same period last year. Predictions are that last year's registrations will be comfortably exceeded this year. Time will tell if such predictions are true, but any rise in new registrations usually translates to an increase in used vehicles. Providing there is a good mix of vehicles coming into the market most dealers will be pleased.
Details of HGV registrations for 2015 compared to the same period in 2014 are illustrated below.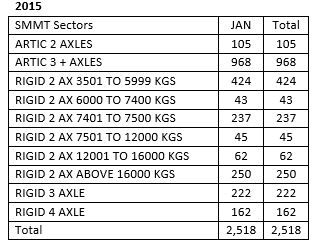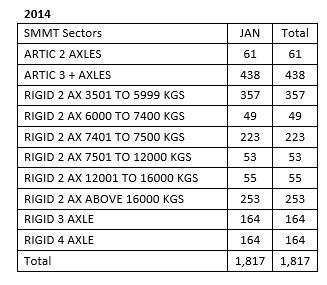 7.5t to 12t Vehicles
Generally in this range of vehicles those that have sold have seen a slight strengthening in prices recently, irrespective of age. A number of 11 and 61 plate 7.5t boxes have appeared on the auction circuit and whilst new enough to provoke interest mileage plays a big factor in prices. For those with mileages ranging from 58,000km to 150,000km the price differential was minimal but those in excess of 200,000km were registering bids of substantially less value than those with 150,000km. Older examples from a well-known delivery company are appearing at most auctions at present and values seem to be holding well despite there being sufficient around to meet demand. 
A couple of 12t 11 plate DAF FA LF45.220 fridges have appeared recently but have failed to provoke sufficient interest for them to be sold and there is an increasing number of nine and ten year old 7.5t fridges, mainly DAF and Mercedes, which have been met with similar disinterest. 
7.5t car transporters always provoke strong bidding whether they are tilt and slide or double decks. However, strong bidding doesn't always result in a sale. 
13t to 18t Vehicles
This sector is where the shortage of late vehicles hurts dealers most. A couple of four year old DAF FA LF55.220 curtains on steel suspension and with auto gearboxes provided much interest at auction. Bidding was frantic and both sold for exceptional money, well above their true value. Some dealers who were present were shocked at their sales values even when good condition, low mileage and good tyres worked in their favour. Late 18t vehicles are very much in demand and as can be seen from the above evidence they are being purchased for unsustainable values when they do appear.
Skips remain popular, whilst gritters that have recently appeared have had mixed fortunes and despite a recent cold snap, most struggled to find homes.
Large batches of Mercedes 13t and 15t fridges are still available and show little sign of being sold anytime soon. 
Multi-Wheelers
Whilst tippers are still performing best in this sector the demand for them appears to be decreasing. As previously stated there are plenty on the market and buyers seem to have had their fill. Bidding is not as brisk as it has been of late and many examples remain unsold. 
Hookloaders are always popular vehicles, especially newer, tidier examples and those selling are doing quite well at the moment. A 2001 61 plate MAN TGS32.360 with only 82,000km commanded strong bidding, eventually selling to a well-established exporter. 
Refuse trucks have been less numerous recently, however most of those that do appear fail to attract realistic bids. Some are selling but not for anything like their true value. One exception was a 10 plate Dennis Elite 2 N2430 Olympus RCV with domestic bin lift which sold to a well-respected dealer of such equipment for over £43,000
Tractor Units 
A brewery spec MAN 15t urban tractor unit appeared at auction a few months ago. It attracted strong interest and sold for exceptional money. Since then the brewery has flooded the market with similar examples together with a good selection of Iveco urban tractor units. The result being that values currently being achieved are around 35% of the initial entry. 
The large selection of 2009 DAF XF105.460 6x2 space cabs have been joined by similar aged FT CF85.460 4x2 space cabs. Sales of both types are proving slow.
A plentiful supply of nine and ten year old 4x2 vehicles has appeared, most from large companies. Mercedes Axor 1840LS examples are selling, but for less than the values commanded by initial entries. Other examples include MAN TGA18.350 and Premiums at 370bhp and 380bhp, both of which are finding difficulty finding buyers.
Stocks of 6x2 tractors units are also increasing. 2010 60 plate Mercedes Axor 2543LS are appearing in numbers as are 10 and 11 plate Renault Premiums. The trade, mindful of increasing stock are being savvy by bidding lower in the hope of getting a bargain. Mercedes Actros and Volvo FH remain popular whilst the number of Topline Scanias available, often on Irish registration plates, remains high. 
The increasing number of four to six year old 6x2 units and the comparative lack of similar 4x2 vehicles has resulted in 4x2 prices increasing, closing the gap on 6x2 values, where prices are currently in decline.
Trailers
Research suggests that the trailer market continues to struggle as the mix and age of trailers available fails to meet domestic buyer's demands, whilst the large stock of older trailers usually destined for foreign shores is failing to sell. 
In fact the trailer market currently reflects the truck market in terms of stock. There is little late stock, sufficient mid-aged stock to meet demand with only prime examples selling, and lots of old trailers attracting little or no interest, some of which will eventually pass for breaking. 
The exception is good quality tri-axle curtains along with tippers and low-loaders which continue to attract attention and generally sell as and when they appear. 
Rob Smith, Red Book Editor HGV's