HGV Editorials April 2015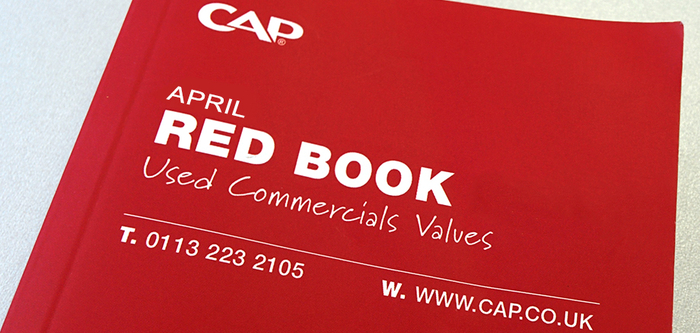 Auction activity has been fairly buoyant recently and with a few exceptions most sales have been well attended and well stocked. Dealers continue to buy and evidence suggests that some confidence is returning to the point where more are purchasing are for stock. As dealers are a mainly cautious breed no-one admits to being busy and the best response received to "how's trade?" was "busy treading water." One dealer seeking to buy a two to three year old Scania 18t chassis admitted defeat. With nothing suitable in the market it left him trying to convince his customer to take something older. This reflects the current market, plenty of older stock and little in the way of newer vehicles.
Old stock remains a problem as it struggles to find new homes. Fresh stock on the other hand is proving to be much more attractive and in the main it appears to be selling. Exporters are active but are being selective in their purchases, their current choice being vehicles sporting the three pointed star.
Major fleets continue to provide the auctions with stock but most of it is aged around eight years old, the exception being tractor units. Here the choice of marque, cab type, BHP and age appears to be expanding. 
Values of Euro 4 7.5t-12t boxes together with older variants have decreased, whilst values of other body styles remain steady. One exception being Euro 4 and Euro 5 tippers where values are moving upwards.
Apart from Euro 5 models 13t-18t values are generally on the slide with the exception of tippers and skips which remain unchanged. Three axle multi-wheel fridge values have dropped whereas 3+ axle tipper values have increased. 
Both 4x2 and 6x2 tractor unit values are in decline, possibly due to the increased stock. This does not apply to day cab variants which remain unchanged and Mercedes tractor units of all axle combinations have seen values increase. 
The average number of auction entries increased slightly last month. On-the-day sales for trucks remained the same but for trailers it decreased by 1.3%. As always it should be remembered that these are 'hammer sales' on-the-day and any number of provisional bids may be converted post sale. Auctions are currently reporting a high conversion rate for provisional sales. 
Manufacturers report continued healthy sales but reduced stock is a problem. Customers are seeking vehicle types which are not always available. This may affect future values as demand begins to exceed supply.
SMMT data for February 2015 indicates that the healthy start to the year continues unabated with almost 30% more trucks over 6 tonnes registered compared with the same period last year. The largest increase being triaxle tractor units where almost double the amount has been registered this year compared with the same period last year.
Details of HGV registrations for 2015 compared to the same period in 2014 are illustrated below.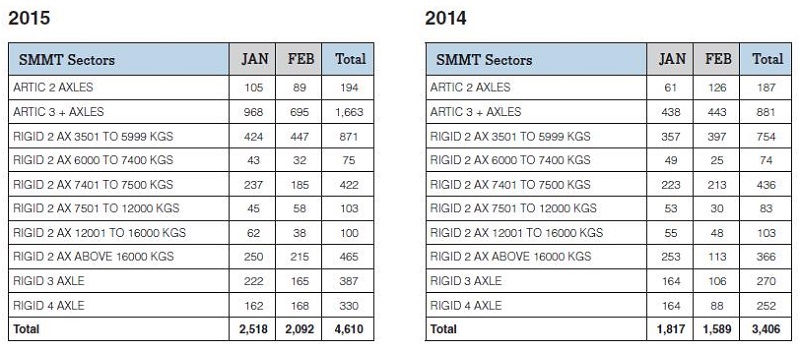 7.5t to 12t Vehicles
A well-known department store provided plenty of green DAF 7.5t boxes into the market adding to the many similar vehicles available. The choice of 7.5t boxes available at present is sufficient to meet demand provided that a vehicle over six years old is what is required. By comparison curtains and other derivatives remain scarce.
The nine and ten year old 7.5t fridges, mainly DAF and Mercedes, which struggled to provoke interest in previous months are now selling, but it is tippers that appear to be sought after at present.
13t to 18t Vehicles
A major distribution company has de-fleeted a mixture of DAF chassis all having short demount chassis with a box body attached and some being to drawbar specification. Interest was keen and most sold on the day. The same thing happened to a selection of ten to twelve year old DAF and Mercedes boxes from a provisions supplier.
Several pantechnicons have appeared recently, one being a drawbar complete with trailer. As is often the case with such vehicles their age is against them and there was little appetite to purchase them.
The large pool of Mercedes 13t and 15t fridges which have been around the auctions for a few months are at last selling, but as is often the case the first bids were the best and sales values were below the initial offers. A case of unrealistic expectations by the vendors?
Unusual vehicles are always in demand, so a 2007 57 plate 4x4 MAN TGM18.240 tipper was bound to provoke brisk bidding and it did.
Multi-Wheelers
A good selection of eight to ten year old Scania and Volvo fridges proved popular with buyers, almost all being sold as they appeared, but due to the quantity values were affected. Fridges always prove popular and the fact these were of good specification on desirable chassis did the trick.
Surprisingly, after several months of stagnation there was increased interest in refuse vehicles which are currently attracting offers more akin to their real worth. 
Tippers remain popular but buyers are being more selective than has been the case in recent months. Hookloaders remain sought after and as always so does anything unusual or fitted with a crane.  This was the case when a 06 plate DAF FAS CF85.430 Space cab cheesewedge beavertail sporting a Palfinger PK32080 crane appeared at auction. With only 109,000km it proved very popular and prompted strong bidding.
Whilst gritters have struggled recently, the same cannot be said for a 06 plate MAN TGA 26.410 6x6 example which proved to be well sought after.
Tractor Units 
With plenty to choose from, interest in tractor units has reduced recently and exporters seeking newer vehicles are in competition with domestic buyers to secure the best examples. Brewery specification MAN 15t urban tractor units continue to appear and whilst they are attracting bids, values appear to be decreasing.
The appearance of a fresh batch of well-presented 2006 DAF FT75.310 day cab tractor units from the same store chain that provided the 7.5t boxes was well received and attracted bids sufficient to see most sell the first time around. 
The availability of nine and ten year old 4x2 vehicles from a large parcel delivery company remains. Orange Mercedes Axor 1840LS vehicles are still selling but other examples including MAN TGA18.350 and Premiums at 370bhp and 380bhp, continue to struggle to find buyers.
Late registered vehicles of all wheel combinations remain scarce. There are odd batches of vehicles available, mainly up to 11 plate, but most are finding difficulty selling, possibly due to the vendor's high valuations.
When something different does appear bidding is often frantic. This was the case when an 11 plate DAF FTT XF105.510 Space cab 6x4 tractor unit with 278,000kms appeared. 
6x4 tractor units always generate interest and this was certainly evident last month when a selection was available at another auction. The prime example which provoked competitive bidding was a 05 plate Scania R580 Highline with STGO CAT3. 
Trailers
An influx of trailers into the market has done little to satisfy demand and has adversely affected values. Apart from a handful, much of the new stock is the same as what is already available, resulting in more trailers parked up and awaiting sale. 
Evidence shows that the values of boxes, curtains, fridges, skeletals and euroliners are decreasing whilst values of platforms and tippers remain strong.
Plenty of supermarket style fridges are currently available, but low height and rear shutters are preventing a quick sale. Exporters are looking for fridges but only if the specification is exact to meet their requirements, (being of the right age and having the right brakes, fridge unit, barn doors and internal height). 
Currently there is good supply of curtains and euroliners available but sales are infrequent and even tidy trailers are having difficulty finding buyers. A selection of fuel tankers of differing specifications resulted in strong offers when accounting for their age and condition.
As always it's the specialist trailers that provoke interest and there were plenty to provoke such interest last month. A variety of low loaders, machinery trailers and fork lift transporters attracted good bids and a 2014 triaxle walking floor trailer which looked like it had just left the showroom prompted a bidding war amongst those eager to purchase it.