Green Book Editorial June 2015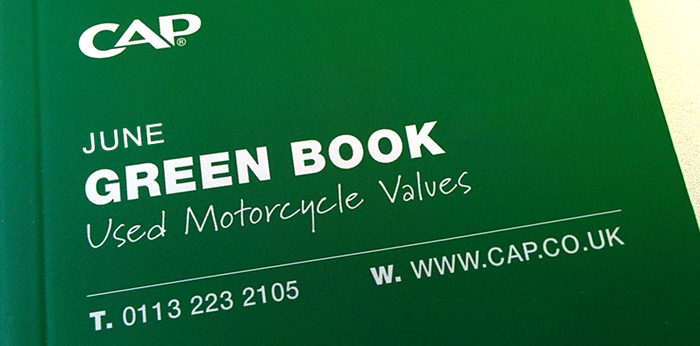 April 2015 and Year to Date - New Registrations by Style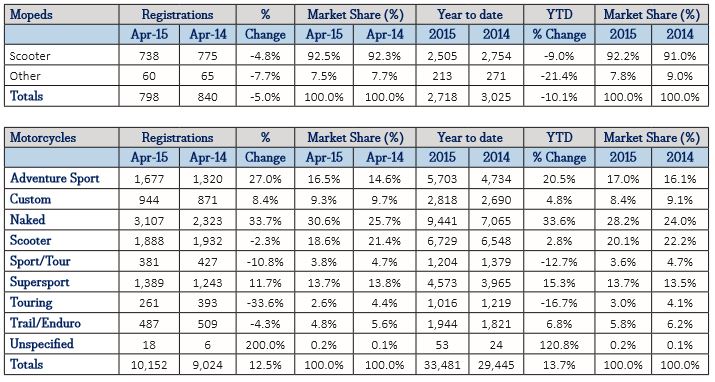 April 2015 and Year to Date - New Registrations by Style Summary


New Market
The latest MCIA numbers are again close to where this section could be a cut and paste from most months from last year. Again total PTW registrations continue with the double-digit growth as we ease into Q2 with 11% up on last April year and 11.5% up on the year to date (YTD). In number terms the month has increased by 1,086 to 10,950 and the year improvement 3,729 taking us up to 36,199 YTD. Big market share - yet again - for the naked sector at 30.6% and also a massive change of a third more than the same month last year with its YTD growth also continuing to impress at 4% more than 2014. Yamaha named twice with early takers for two new models helping them to make a showing in the battle of the classes, Tracer beating the usual appearance of GS and a litre sports bike winning out over the usual learner legal top dogs. 
Looking at the engine mix chart - with the exception of Mopeds – most are increasing in line with the general gains seen in the overall market. The stand out 651 – 1000cc band has seen an uplift well over twice the total market gains and this should come as no surprise as the majority of new model introductions fall within this band. 

April 2015 and Year to Date - New Registrations by Engine Band

April 2015 & Year to Date - Highest Registering Model by Style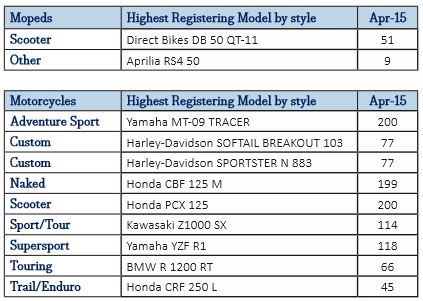 April 2015 - New Registrations by Brand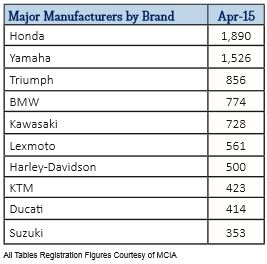 April 2015 - Highest Registering Model by Engine Size

The manufacturer bragging rights continue in a similar vein but a mention to Triumph with an overall podium and on the top step if in the over 500cc, bigger bike models. 
Every so often we try to give you an idea of how the domestic market is when compared to our close neighbours in the EU. A total of 250,080 PTW's were registered during the first three months of 2015 in the EU. Positive growth was seen in Spain (27,920 units, +18.1%), the UK (25,394 +11.8%), and Germany (47,590 +0.2%). They decreased in Italy (40,660 units, -4.6%) and France (49,260 units, -6.2%). This is a small decrease (-0.2%) compared to the 250,460 registered during the same period in 2014. Cumulative motorcycle registrations grew by 4% during Q1 2015 YTD. Snippets include, Spain (24,700 +19.1%), the UK (23,465 +14.3%) and Germany (40,050 units, +3.8%). Decreases in Italy (35,810 -1.5%) and France (33,475 -3.6%). The story is the same as our domestic market - the younger end of the market fared worse with a total of 60,510 mopeds registered during the same period in the EU, compared to 68,180 in 2014, this is a decrease of 11.3%. Only Spain increasing (3,220, + 11.4%), but other major markets declining, including France (15,790 -11.1 %), UK (1,930 -11.9%), Germany (7,540 -15.5%) and Italy (4,850 units, -22.4%).
Used Market
As we approach the peak of the trading year in the industry things are much as expected with things bubbling along reasonably well. After the rush for trade stock in the first month of the year, as time marches on and some early season new sales start to give access to an increased number of part exchanges, things have eased a little according to dealer feedback. There are as with life in general, always extremes and the stock situation is no different. Dealers who are proactive, spending time on actively chasing used machines in various ways are stating stock is available. Whereas trying to do it the "old" way of "waiting for them to walk through the door" is proving that not everything comes to those who wait. In general the feedback and discussions around pricing have pointed in the direction that they having peaked for the annual high and are expected to plateau for a couple of months as we move through the "season" with some of the opinion that the majority of riders looking for a new stead have in general already bought. Therefore prices in general in this month's edition have remained fairly constant except from the usual "one off" movement sometimes necessary to individual models. One point worth noting is we have noticed over a period of time that although newer examples of some types have remained in line with the market in general, older examples have been in the ascendancy. We have therefore been reducing the differences between plates and years. The result is the lifting of prices weighted more to the older end of a model life. Sports models have been receiving this adjustment for this month's edition. 
Auction
Activity around the sale rooms over the past research period has seen a mixed bag of entries, attendances and returns. BCA between Black Horse sales had a poor attendance and the delayed start after a long car sale only saw nine of the diminished thirty odd entries sell. West Coast after a change of date to the back end of the month looking to have improved entries with just short of 50 and of better quality saw over two thirds sell and an overall return just slightly behind CAP mileage/condition. Over in Bawtry the large entry list continue to attract a sizable audience with slightly more subdued bidding in general for May, compared to the start of the year, but the trade still showing a willingness to purchase the "right" stock. With a similar entry to April – around 130 – the 75% sold the previous month was only slightly more the May's sale and the prices again returned very close to reported CAP figures on average for the whole sale. 
End notes
The investment in new models at Yamaha looks as though they are continuing to prove that they can identify and give the market what it wants, which has shown its benefits. Q1 financial results from the brand show a jump in profitability from motorcycles. Their global bike sales revenue in the first three months of 2015 rose by 8% to £1.3bn. But more importantly associated operating profit increased a massive 164.2% to £53m. Overall unit sales volume was down, due to decreases in Asia and Latin America. But a large recovery in the US and Europe, led by higher-priced products, outweighed the losses in the East. The manufacturer says its European performance particularly benefited from the MT-09 Tracer launch.
Suzuki Motor Corporation's full-year financial results to 31 March 2015 don't paint a rosy picture for the motorcycle part if its business, which has returned back into the red after a brief profitable period over the previous 12 months. Revenue from bikes fell by 6% to £1.34bn, the reduction mainly pointing at reduced sales in Asia Pacific markets. The result was an operating loss of £4m, compared to a profit of £5m the previous a year. Last year was the only positive in six years of consecutive losses. Included in the results statement was a promise towards reconstruction of motorcycling operations, that basically says it will build new bikes for the markets that are buying them and do it quicker and better. 
According to Ducati, sales in the UK for April were up 50%, helping to set a new absolute sales record in April, delivering 7,309 bikes, this is up by 29% compared with April 2014. 17,881 bikes sold in the first four months of 2015 equates to a 10% increase on last year, another record for Ducati. Again the launch of new products – particularly Scrambler - contributed to the positive results. In April Ducati sales also showed steady growth in Europe. Globally Ducati sales volume increased by 1.6% to 13,278 units and revenue increased by 5.5% to €133m (£96.5m).
Financial results to 31 March 2015 saw global bike sales volume for Honda increase by 4.4% to 17.765 million units - 10.742 million units were manufactured by wholly-owned subsidiaries – rather than joint-venture partners, a 3.9% increase. They say strong sales performance in India, Indonesia and Vietnam more than made up for declines in Latin America and Thailand. Asian markets accounted for 15.504 million units up 6.7%. European growth where bigger ticket models are more prominent, rose by 15.7% to 192,000 units. North America increased slightly by 3.3% to 285,000 units. On the downside the domestic Japanese market sales fell to 199,000, a reduction of 12%. Worldwide the annual revenue from bikes climbed by 9.6% to the equivalent of £10.04bn and associated operating profit increased 9.5% to £998m.
Six-time World Champion and six-time TT winner also credited as the first motorcycle racer to wear one-piece leathers is an impressive line on any racers CV. Geoff Duke OBE has passed aged 92. A final lap of the TT course was accompanied by many fans on motorcycles. A true legend and massive contributor to the world of motorcycle racing. 
Alan Elsworth, Green Book Editor