Green Book Editorial May 2015

Mar 2015 and Year to Date - New Registrations by style


Mar 2015 and Year to Date - New Registrations by Style Summary 

New Market
The first couple of sentences in this section could be a cut and paste job over the last year or more. Yet again it's been a double percentage figure growth in the new registration figures recently published by the MCIA. The feedback from dealers is continuing to be positive and a buzz that accompanies the good times continues to be very obvious. It's nice to see happy smiling faces. Starting at the top of the table we see that the moped sector is shrinking yet again, with the accompanied worry about where the future big bike riders are going to come from. Adventure Sport had a better month when compared to the YTD, with continued deliveries of a new model in the MT-09 range, Tracer, still in the early model introduction phase with the early orders starting to be delivered. It doesn't seem like that long ago the industry and these pages were talking about the aging rider population and the increasing popularity of more joint friendly bikes. At that time the sector was approaching 10% of the market (although it was 7-8 years ago), but it's now nearly a fifth and shows little signs of getting any less. As the economy continues to shine on the industry with more disposable income being available for "boys' toys", the Supersport sector continues its resurgence.

Mar 2015 and Year to Date - New Registrations by Engine Band

 Mar 2015 & Year to Date - Highest Registering Model by Style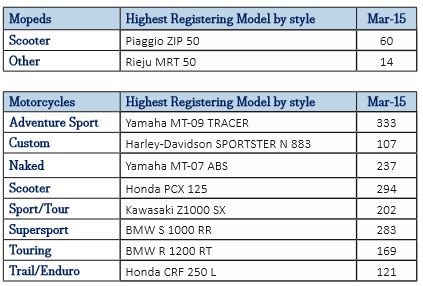 Mar 2015 - New Registrations by Brand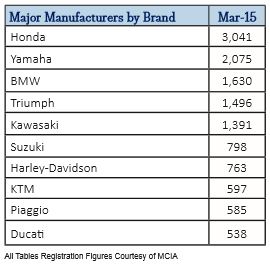 Mar 2015 - Highest Registering Model by Engine Size


Used Market
Again things have hardly changed from what has become the norm. But what has started to be heard in the odd place is that dealers are investigating going to EU for some bikes to be brought back to the UK. Ok it's not been discussed massively as something being done as yet, but the idea is in the back of the mind as a way to elevate the stock shortage concerns as we move into better times. The situation that put us in the position of exporting in the first place, low domestic demand and exchange rates looks to have reversed in the intervening five years. July 2011 saw a five year low of 1.10 Euros to the £ with a high in March this year of 1.41. In the region of 200,000 less used machines in this country, are we going to start to see the tide turn? Prices this month have in general received a positive lift where necessary in line with research, including a lift in Sports models. In line with research observations it's worth noting that all Bonneville models have been subject to a reduction in the difference between plates and years resulting in higher prices for older models.
Auction
The auctions continue as a source for more than the usual attendees, with good buyer numbers swelled by trade buyers who historically have not used the outlets in a search for much needed stock. BCA had a lesser amount in after the first Black Horse disposal, with only 10 finding new homes and prices as expected. The West Coast sale saw better numbers for entries, and 30 of the over 50 entries sold. Overall the prices for the sale came in very close to Green Book. At Bawtry another big entry attracted buyers from up and down the country. Of the 130 entries the sold count approached three quarters with strong bids on most models. In line with this months lifts, sports bikes were particularly strong and a stand out model being Gixer 750's.
End Notes
Continuing on its recent and continued performance, Europe's largest motorcycle brand, KTM, achieved another increase in performance for Q1 of 2015. Revenue in this period increased by 26.7% to £179.6m (€249.5m). Operating profit up by 46.4% to £15.6m (€21.7m), yielding an 8.7% operating margin. Bike sales volume grew by 26.9% to 41,858 units.
On a less welcome note, Erik Buell Racing, the US sports bike manufacturer launched in 2009 following Harley-Davidson's closure of the original Buell incarnation, has declared itself insolvent and ceased trading after a new capital injection failed to materialise. Buell invested using his own financial resources and then subsequently £16.9m investment by Indian motorcycle manufacturer Hero MotoCorp in 2013, who took a 49.2% shareholding. As well as producing the 1190RX superbike based around a Rotax-derived engine, and design work on smaller mass-market models for Hero, a presence on the World Superbike race grid – with little success - sponsored by Hero was also part of the brand's attempt at marketing the products.
On better news this side of the Atlantic, Britain's Triumph has moved up a gear to become the best-selling European motorcycle brand in North America after a record first quarter of 2015. This is calculated from unit sales in the 500cc-plus on-road and dual-sport categories for the US and Canada. Retail sales grew by more than 16% compared to 2014 in Q1 Triumph's American-market growth increased 13 of the past 16 quarters. The most recent quarter nearly doubles the units sold compared to just four years ago for the same quarter, quite a sizable growth.
Racing over the last month has been exciting to say the least. BSB was its usual action packed close fought battle, WSB has been an all Brit podium on several occasions and even on the GP stage riders have delivered the goods. Back-to-back massacre of the field by Danny Kent in Moto 3, Sam Lowes showing results from the promise we all knew he had and even the big boys showing promise resulting in a podium for Cal Crutchlow. Even everyone's favourite, Vale, is back to his best.  It's going to be a great season.
And this month's finish on a smile. There are loads of unusual objects that have been offered up in part exchange for vehicles over the years, but this is the first of a kind heard of around CAP towers. A punter who has just bought a house that has left him with little or nothing to offer as deposit as far as real money goes has requested the dealer takes a tortoise in swap. Or to be accurate, a pair of them, complete with a detailed explanation of their breeding habits, the amount of eggs per annum they lay and expected resale value of said eggs. The dealer declined the potential £700 deposit.
 Alan Elsworth, Green Book Editor