HGV Editorial November 2014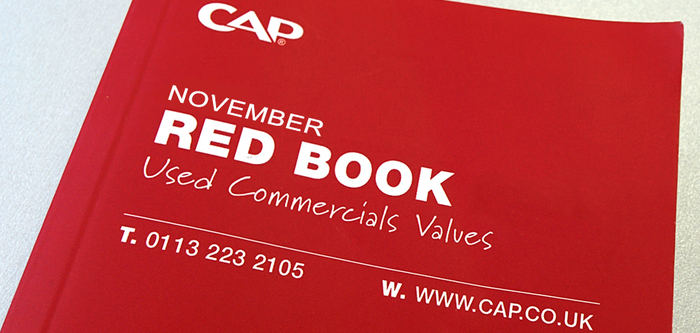 HGV Marketplace
With the Driver CPC now fully implemented, as predicted there is now a shortage of qualified HGV drivers. Over 40% of HGV drivers are aged over 50 and many older drivers have relinquished their licence rather than complete the Driver CPC. Add the fact that there is a lack of new recruits and one can clearly see a growing issue. A group of MP's, the Road Haulage Association, (RHA), and the Freight Transport Association (FTA), are all voicing concerns that the situation is so critical that Christmas deliveries will be affected. There may be a case for government sponsored driver training apprenticeships to encourage companies to recruit youngsters into the profession and train them to be drivers. After all, if there are goods to be delivered and insufficient drivers to deliver them it will not only affect Christmas deliveries but there is the possibility of a wider economic effect caused by driver shortages.
Paradoxically, that the Government is looking at approving trials of "driverless" trucks on the UK's roads, possibly as early as next year. "Driverless" trucks will run in convoy just a few feet apart with all vehicles in the convoy being controlled by the driver of the lead vehicle. The vehicles will not actually be "driverless" as each truck in the convoy will still have a driver, but he/she will not be in charge of operating the vehicle until it leaves the convoy. Despite how good the technology may prove to be, one suspects that it will be many years before public acceptance is gained, and we confidently predict that we will not be seeing driverless trucks appearing in the market any time soon.
Still on the subject of new trucks, the Renault Range T was recently voted the International Truck of the Year 2015 at the IAA Commercial Vehicle Show in Hanover, Germany. Whilst hosting many improvements on the previous Premium range it beat the competition by providing the greatest contribution to road transport efficiency based on several important criteria including technological innovation, comfort, safety, driveability, fuel economy, environmental footprint and Total Cost of Ownership (TCO). Despite all these attributes its biggest impact when it was launched was its distinctive cab design, clearly distinguishing it from all other trucks on the road. The DAF CF heavy duty distribution range was in second place and third was the Mercedes-Benz new Atego medium duty product.
Following the disappearance of so many truck and trailer manufacturers in recent years it is pleasing to see a new trailer manufacturer appear. Tiger Trailers, based in Winsford, Cheshire, started up business in spring this year and it has already designed, built and delivered its first trailers. 
Sales activity has seen a little improvement recently. The number of auction entries has not increased but on-the-day conversions have risen 9.9% over the previous period. This is probably due to the significant number of specialist vehicles that have been available recently. The anticipated trading upturn in the lead up to Christmas is likely to be smaller than predicted due to the lack of good quality late plate distribution-type vehicles in the market.
Manufacturer sales remain steady although in some cases it would seem the emphasis is on moving stock rather than achieving the highest possible transaction prices. 
SMMT data to the end of September shows a drop of 7,000 new vehicle registrations year to date compared to 2013. Manufacturers predict this year's new vehicle registrations to be in the region of 35,000. However should the economy remain at its current level they also expect increased registrations next year and in 2016. Much of this distortion is due to the rush to register Euro 5 trucks during the latter period in 2013.
Details of HGV registrations up to the end of September this year compared to the same period last year are illustrated below.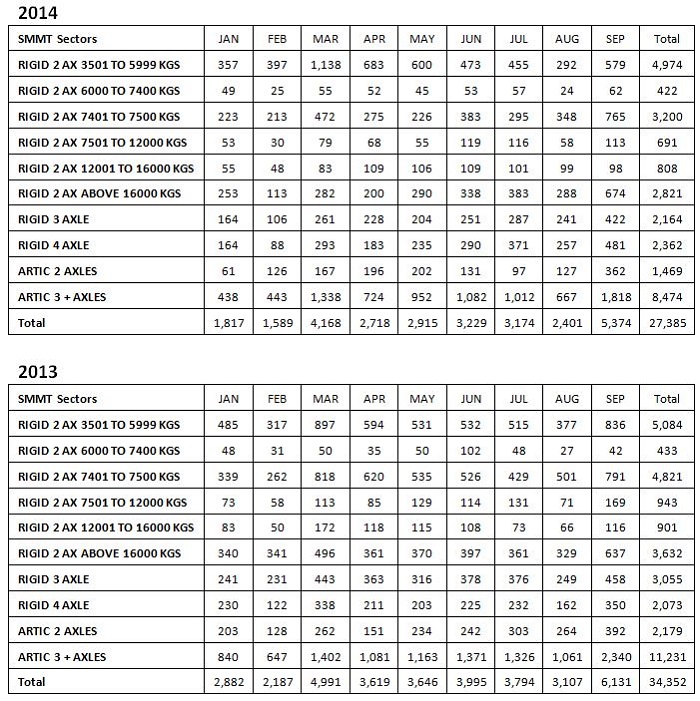 7.5t to 12t Vehicles
Tippers, while still selling, are seeing values weaken slightly, but this is to be expected at this time of year. Several refuse vehicles found new homes and a couple of late registered beavertail flats from a respected plant hire company also sold at auction. Due to their additional carrying capacity, Isuzu has been a popular choice for such purchases.
Several 2005/2006 11 tonne DAF FA LF45.170 fridges from the same source had varying degrees of success with only the better presented ones attracting much attention. A small batch of 2010 10 plate Mercedes Atego 818 alloy boxes sold. They were most likely purchased as chassis cabs because the bodies were in very poor condition. Generally DAF boxes and curtains have performed well and values have been increased to reflect this.
Protruck sold a 2012 62 Mitsubishi Canter 75C15, auto, Thompson bodied tipper with HMF 535 crane and grab with low miles and in good condition for a little under £30,000.
Manheim saw a 2006 06 plate DAF FA LF55.220 Day cab Street Lift car recovery vehicle with low mileage produce a bidding dual between two prospective owners. The vehicle eventually selling for in excess of £25,000
BCA sold a 2011 61 plate Isuzu N75.190 side Load Recycler refuse vehicle with only 27,000 km in excess of £17,500 and a similar 2008 58 plate Isuzu N75.190 with NTM Trade Lift refuse body and 63,000 km also sold easily at auction. 
13t to 18t Vehicles
A number of 06 plate Volvo FL220 fridges from a well know dairy are struggling to find new homes. Some are in much better condition than others and only the best ones are attracting any interest. Tippers and cranes remain buoyant at the moment whilst research suggests that curtains and boxes have shown an increase in value of late and a general increase has therefore been applied in this month's book.
A 2011 11 plate MAN 18.250 4x4 dropside with Palfinger PK27002 and low mileage sold for in excess of £75,000 at one auction whilst a 2011 61 plate Renault Premium 270DXI Privilege Sleeper cab box attracted strong interest due to its age condition and mileage and sold with ease.
Multi-Wheelers
As always it is tippers and crane vehicles that continue to shine. A good number of specialist vehicles from a well known utility company all sold recently at auction. We could fill these pages with examples of such sales, but here are just a few examples:
A 2009 09 plate DAF FAS CF75.310 6x2 Flat with Palfinger PK44002 crane sold for £69,000 whilst a similar 2011 11 plate with a Palfinger PK50002 EH crane sold in excess of £96,000.
A 2006 06 plate DAF FAS CF85.430 6x2 Space Cab Drawbar Cheese wedge beavertail with Palfinger PK32080 crane complete with Corus tandem axle beavertail trailer made a very good return for the vendor.
A 2001 Y plate DAF FTG.CF85.430 8x2 Sleeper cab beavertail with PM Series 37 crane did very well at one auction, but star of the month must be at Protrucks in the form of a 2010 10 plate DAF FAX CF85.410 Space cab, auto, 8x2 rear-lift drawbar flat with Palfinger PK60002 complete with Priden tandem axle  flat trailer. The auction hall was packed and   bidding started at £100,000; the vehicle eventually selling for £150,000 after some frantic bidding.
Tractor Units
The Swedish products and those displaying the three pointed star continue to sell. MAN values have fallen, mainly due to the large number of three and four year old MAN TGX 26.440 vehicles currently on the market. 6x2 variants remain the preferred choice with buyers and on a couple of occasions like for like older vehicles with manual gearboxes have outperformed newer variants with auto gearboxes. A sign of some export activity perhaps?
Research indicates that 4x2 pre Euro 4 values remain stable but Euro 4 and Euro 5 values have dipped slightly. A similar situation for 6x2 vehicles exists. As a result this month's values reflect this. 
CVA sold a 2000 X plate Scania R114.380 6x2 Sleeper cab tractor unit with tipping gear , full air kit, twin tanks after some strong bidding, whilst Fleet Auction Group easily sold a pair of 2011 61 plate Volvo FH460 6x2 Globetrotters with 500,000 kms.
Trailers
Well presented trailers in most guises and with the right specification are tending to find new homes. However, the opposite is true for trailers which look like they have had a hard life and appear uncared for. With a lack of specialist trailers, run of the mill trailers have predominated sales. Following data analysis Red Book values for boxes and curtains remain stable, with increased values for skeletals and tippers, but decreases for fridges and platforms. 
CVA saw a 2014 tri-axle MAX Trailers machine carrier in almost new condition and sporting SAF axles, drum brakes and hydraulic ramps produced some very strong interest but failed to meet the reserve on the day.
Rob Smith, Red Book Editor