HGV Editorial October 2014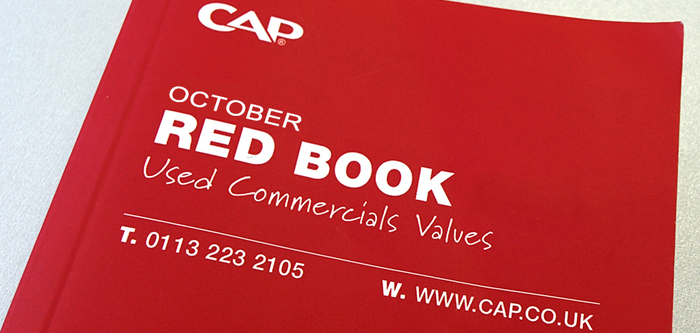 HGV Marketplace
During our recent auction visits it appears that there is a growing band of internet bidders. This can only be a good thing, saving those buyers' hours of travelling time, time out of their office and the cost of both; or does it? A couple of stories of successful internet bidders being unhappy with their purchases have been doing the rounds which led me to think if true, did the buyer first research the vehicle? All auction sales are 'as seen' and it is important that prospective buyers inspect the vehicle prior to bidding to ensure that it is correctly described and totally meets their expectation. It is also helpful to the auction. After all they do not want unsatisfied customers.
A few weeks ago whilst inspecting a fairly new and tidy looking vehicle I happened to open the back doors. The vehicle floor was shot, the roof panels damaged and it had a fair load of rubbish which may have required specialist disposal. A buyer who fancied the vehicle decided not to bid due to the cost of repairs and the hassle of disposing of the rubbish. An internet buyer would not have this information without inspecting the vehicle. I'm all for new routes to market, and on-line bidding appear to be largely successful, but buyers really should do their homework when thinking of buying through this method.
Sales activity has been only steady of late, generally auction entries and on the day conversions both falling during September. The reduced size of the catalogues must have saved hundreds of pounds worth of paper. However, as we now move into autumn with the holiday season well and truly over there is anticipation of the traditional upturn in trade at this time of year. Manufacturer sales have also held steady and I'm sure they are looking forward to increased activity in the used market during the next few months.
SMMT data to the end of August show a drop of new vehicle registrations year to date compared to 2013. As the final manufacturer stock of Euro 5 vehicles built under derogation is exhausted all future registrations will be of Euro 6 standard. With the new 64 plate appearing last month it will be interesting to see if new vehicle sales increase during the final months of the year. Whatever happens, less new vehicle registrations will impact on the supply of used vehicles in a few years' time.
Details of HGV registrations up to the end of August this year compared to the same period last year are illustrated below.
2014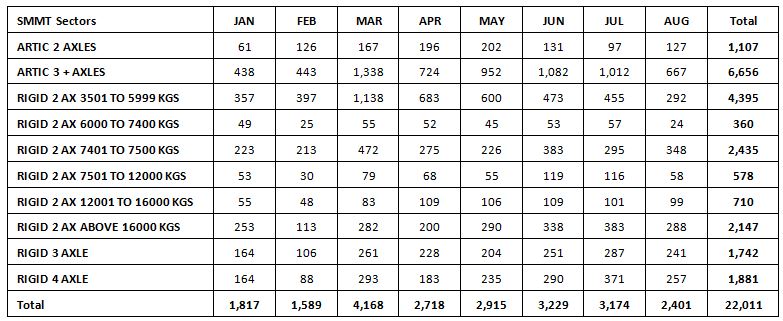 2013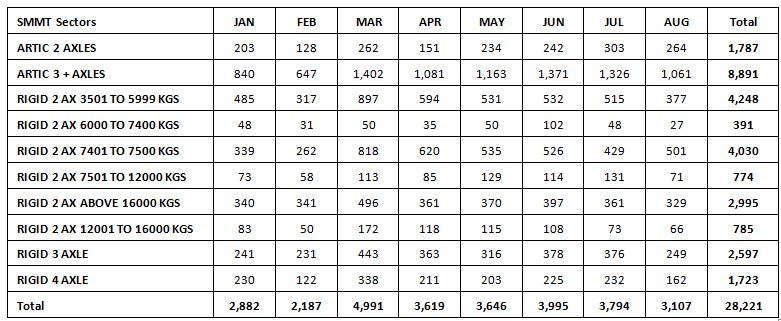 Finally, the result of the Scottish Referendum will no doubt present numerous challenges over the coming months, despite the no vote.  It remains to be seen if greater powers of devolution and the reconciliation of a currently divided nation will affect our industry.
7.5t to 12t Vehicles
A number of similar vehicles from the same operator have appeared recently, their well-kept appearance aiding the disposal of most of them. Research shows that Refuse vehicles at this weight are being purchased although they are not achieving anything spectacular price wise. Several Mitsubishi Canters have appeared with various body styles receiving a mixed reception. Several Euro 3 DAF Boxes sold at slightly less than CAP Average values, whilst similar Euro 4 vehicles did the same.  Tippers and Curtainsiders have performed well in this sector recently and this month sees a general increase in Tipper values. We will monitor the situation for the appearance of any trends relating to other derivatives.
There was plenty of interest in an 11 plate Mitsubishi Canter 7C18 Dropside with long test and only 105,0000km. Needless to say it sold well, the late plate and condition helping it away, however other Canters did less well during the period.
BCA Manchester sold a 09 plate Isuzu N75.190 Beavertail Dropside from a well-known plant company. A long test and low warranted mileage doubtless assisted its sale. 
13t to 18t Vehicles
Research reveals that this workhorse sector continues to fare reasonably well. Late examples in various guises, whilst thin on the ground sell well when they appear. Vehicles with plough attachments and Tipper / Gritter bodies have appeared in increasing numbers, most finding new homes. Refuse trucks have also been selling, unlike their multi-wheel sisters. Platforms and Curtainsiders have fared reasonably, whilst boxes are finding some difficulty finding new homes. Again it is Tippers that have performed well and this month sees a general increase in Tipper values.
A couple of older vehicle sales in this range were a  1999 T plate Iveco Cargo 180E23 Day Cab Cage Sided Dropside with Atlas 3500 crane supplied the surprise of the day at BCA Measham when a couple of bidders battled to buy it. A vehicle of similar age which sold very well at CVA was a 1997 R plate Mercedes 1820 Day Cab Flat.
Multi-Wheelers
At the risk of repeating ourselves, Tippers, Plant Carriers and Crane vehicles are attracting most attention and are selling well whilst the opposite is the case for Refuse Vehicles. A general increase in Tipper values is included in this month's publication. Like their smaller brethren, Boxes are struggling slightly but Platforms, Curtainsiders and Fridges remain steady. A handful of Glass Carrier Curtainsiders have had varying degrees of success. 
Protruck provided a 05 plate MAN TGA26.310 LX Sleeper cab 6x2 rear lift, auto Glass Carrier Curtain with air-con and cruise control, which was an example of this type that sold well. 
It was Protruck that also produced a reasonable return on several Tippers.  A 06 plate Mercedes Actros 3236 Day Cab 8x4 steel bodied Tipper with Atlas Crane and Grab, a 2007 57 plate similar Scania P380 Day Cab 8x4 steel bodied Tipper with Crane and Grab and a 2007 56 plate Hino FY700 Day Cab steel bodied Tipper being a trio of such vehicles.
Manheim provided further examples of DAF Plant Carrier beavertails, both with and without cranes; all attracted great interest and provided frantic bidding.
Star of the month was at BCA Measham. A very tidy 09 plate DAF FAT CF75.310 6x4 Day Cab with Hiab XS122 Crane and Grab, auto gearbox, RVC and tow bar with only 41,000 warranted kilometres. It doesn't take any imagination to guess how frantic the bidding activity was, and whilst not selling on the day the highest bid should be sufficient to make the vendor smile.
Tractor Units
There is a definite surplus of Tractors at present, with some proving harder than others to dispose of. There is willingness to purchase and sell on clean examples, particularly 6x2 models. Pre Euro 4 vehicles have performed better recently whilst Tractors from MAN and Scania have struggled; this month's book reflects such.
A 2001 1987 Scania R124.420 Sleeper Cab 6x2 Tractor with FAMK, twin fuel tanks, rear lift and side skirts provided some entertainment at CVA as buyers vied to be the owner. The same sale saw plenty of bidding activity before the sale of a 2007 57 plate STGO CAT1 Volvo FH16.660 6x4 Globetrotter XL with steel suspension, double hub reduction, auto gearbox and air-con.
The increasingly busy CVA auction at Hemel Hempstead produced a nice 2010 59 plate Scania R440 6x2 Highline Tractor with air-con, FAMK, twin fuel tanks and mid lift axle. Bidding was brisk and the warranted mileage helped it to reach only a reasonable value for something that would have sold much better just few months ago.
Trailers
Trailers continue to sell steadily, though some easier than others. Most types are finding buyers but not all. As always, anything slightly different which would be viewed as 'specialist' attracts strong interest. Numerous Skeletals of varying condition, age and specification sold but at less than CAP Average. Values of Boxes and Fridges have also dropped recently, whilst Curtainsiders and Platforms have seen an increase. This is reflected in this month's book.
The same leasing company provided CVA with numerous tri-axle Curtainsiders of varying makes and ages. With a variety of axles and brake types there was plenty to provide interest to the potential buyers and most sold on the day. 
Another trailer that attracted interest was a 1998 Lohr tri-axle Low Loader on air suspension with BPW axles.