Going once, going twice… sold! CAP's 2015 Auction Roadshow kicks off with a bang...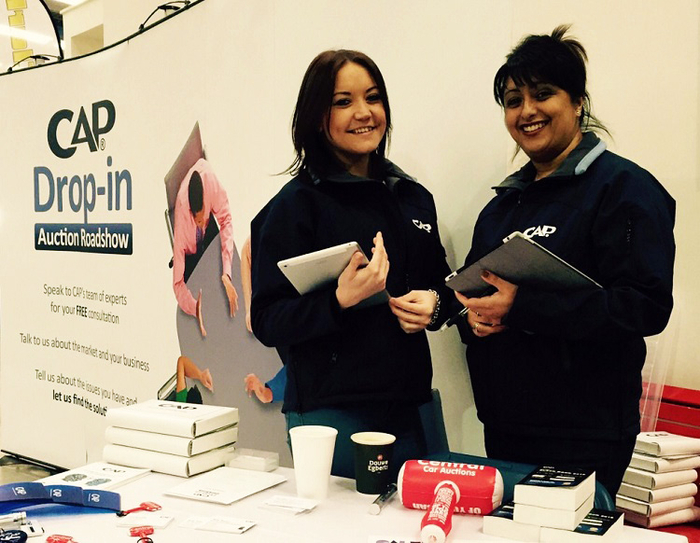 On the morning of the first CAP Auction Roadshow of 2015, glorious sunshine cast its rays across the Scottish hills as six of the team from CAP made their way up to Glasgow. Quite a treat considering our last trip to Glasgow was cold, cloudy and miserable… I think a little bit of snow even graced us with its presence, so needless to say we were feeling on top form, full of energy and brimming with enthusiasm at kicking off this year's auction programme at Central Car Auctions in sunny Glasgow. Central is an auction we regularly visit throughout the year and are always made to feel welcome, so it was fantastic that this is where we would begin our Auction Roadshow tour.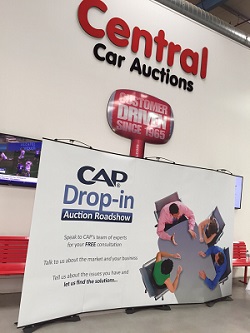 We arrived in plenty of time to get our exhibition stand set up and have a look at all the different cars that would be going through the auction on the day. Over 850 cars were lined up ready for the bidding and various dealers were already making their way round scoping out potentials, marking them on their auction catalogues, checking the details on their phone/tablets and making the necessary arrangements over the telephone.  
There was quite a bit of interest in the CAP stand from auction-goers who'd not seen us there in such a capacity before and a fair bit of recognition from those that had. Whether or not they'd seen us there before there was a good deal of interest in the giveaways we were offering, but also in the products and solutions we held in our repertoire of expertise.
As soon as the clock chimed 12 noon the auction was underway. With a wave of a hand, a nod of a head and a BANG of the auctioneer's gavel the first car was sold. Like a production line the cars made their way through the auction halls one-by-one. Central has two lanes running on a Wednesday so the auctioneers were quickly making their way through the sea of cars. Crowds of people gathered around cars of particular interest, gauging how much tyre tread there was, what condition the engine was in, checking out the bodywork and preparing their maximum bid.  
With such a busy auction competition for a particular car can be high, especially when you consider the online bidding capabilities too. One gent said that many of the online bids would be coming from across Europe, which just goes to show the quality of the vehicles at Central Car Auctions.  
One of CAP's Editors Mark Bulmer explained:
"With so many auctions presenting ex-fleet vehicles, Central has to be one of the biggest for part-exchange cars.  
"There is a massive selection of derivatives and it really is no wonder that this is such a busy auction with people coming from all over the UK and Ireland to get their hands on good quality stock".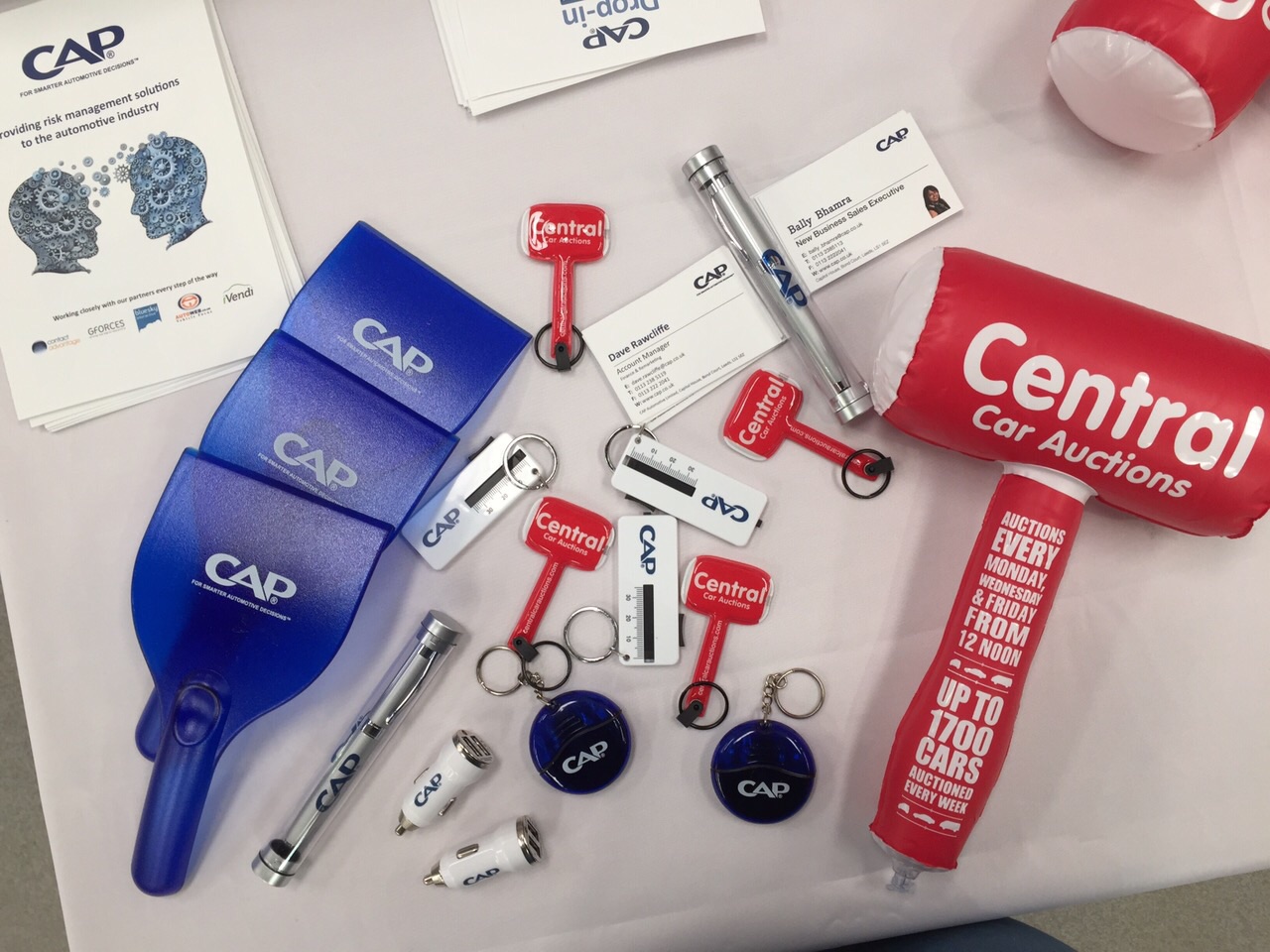 As the day started to draw to a close we had a look at the feedback given by those that had a demo of one of our products on the day, namely Valuation Anywhere, which was designed for dealers to be able to access accurate and LIVE values in situations such as being away from the office at auction. It's important for us to be able to gauge how our customers use our products, if there is room for improvement and what they feel is missing from what's available to the market.
There is no better way for us to achieve that than to get right in the heart of our customers' environment and have those conversations. As well as getting this invaluable feedback about what's happening in the market which we hope to then take away and act upon, CAP is seen to be personal, approachable and accountable, which is so important to us and highlights how the CAP values of openness and integrity underpin everything we do.
CAP's Senior Black Book Editor Derren Martin had the following to say about the Auction Roadshows:
"These are a great opportunity for the team at CAP to meet with the people who actually use our products.
"We have two Black Book Editors attending a roadshow once a month at various locations throughout the UK.
"The aim is to share our knowledge of the current used car market with the people who really matter – buyers and sellers of used cars.
"In addition to this, the Editors need to know what is going on at the coalface – whilst we receive over 1.4m individual sold trade records per annum, we also require market information from contacts on the ground.
"Whilst our editors regularly attend auctions throughout the month, the roadshows are an additional chance to speak with more than one editor and have an in-depth sharing of knowledge.
"As well as editors we have experts in all CAP products attending these roadshows – they demonstrate what CAP does and what we can provide to assist dealers with their buying and selling.
"It is an opportunity to discuss all things CAP, with no hard-sell. Informal public relations and maybe even the odd free gift, cup of tea or bacon sarnie!"
So far we have held roadshows throughout the country – from Bedford to Bristol, Surrey to Scotland – with great success for all concerned.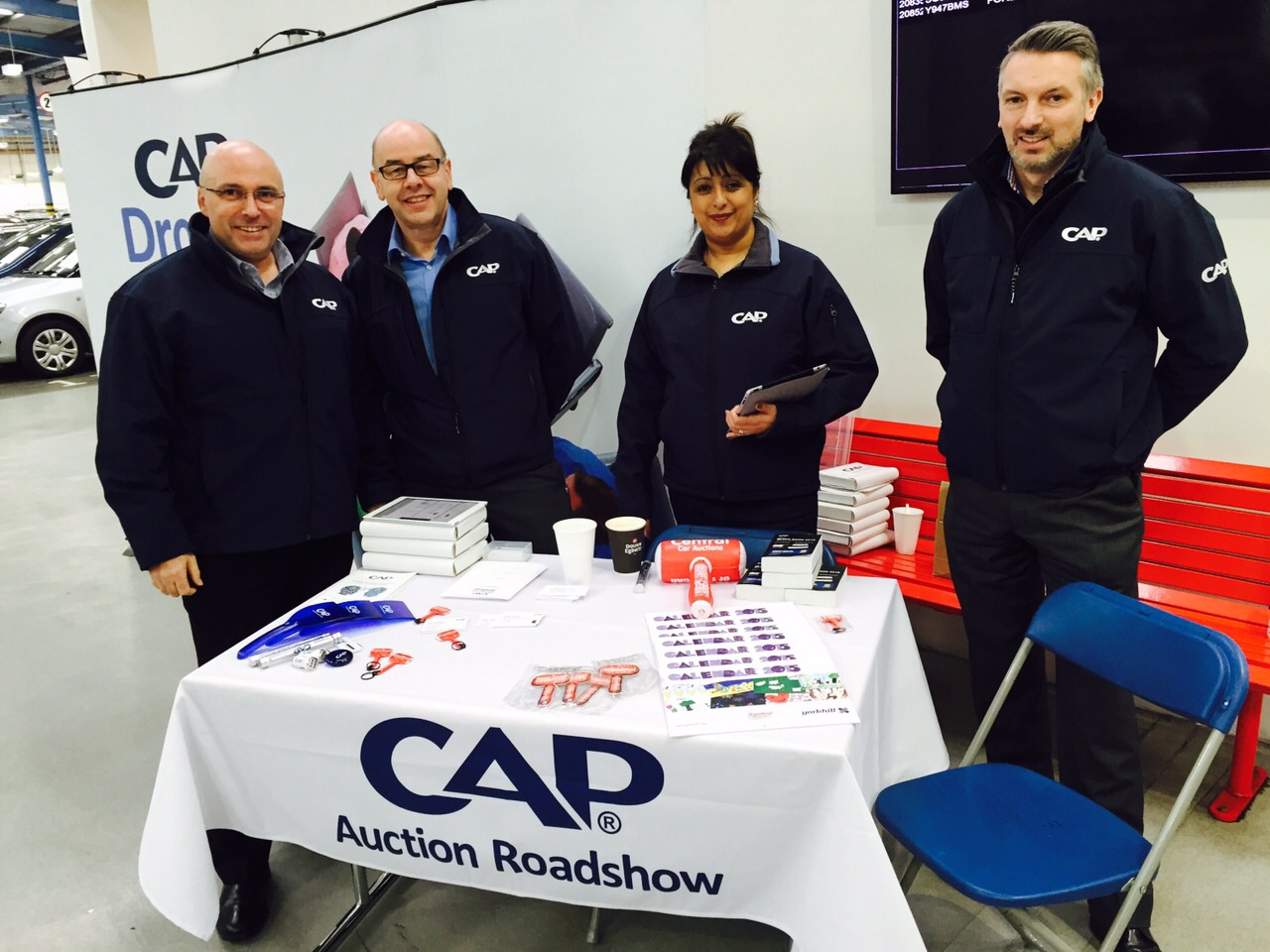 All-in-all the first roadshow of 2015 was a cracking success and so with the meat and tatties from the auction canteen still warming up our insides, we packed up and began our wee journey back home to Yorkshire.
Thanks to all the team at Central Car Auctions for making us feel welcome and look out for us as we make our way up and down the country on the CAP Auction Roadshow.
Next stop – BCA Nottingham on Wednesday 15th April. For a full list of the auctions we'll be attending please click here.
Going… Going… GONE!
Kirstie Morton, Marketing Consultant