Manheim Rothwell: vendors clear stock


On a cold, blustery, rainy morning Clive Wilson and I set off to Manheim Rothwell, for our last Auction Roadshow of the year.
We got into the hall and helped two of our dedicated sales team, Ross and Kate, set up the always-impressive CAP stand. The space we had for the stand was very nicely placed next to a Silver Bentley Arnage which was a great spot to catch people and speak to them about CAP.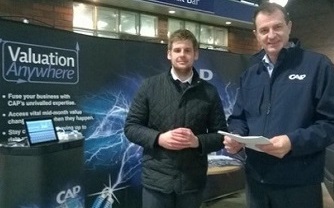 After putting the stand up Clive and myself walked around the hall, there seemed to be plenty of stock; about 820 vehicles were due to go through.
There was a wide variety of models in the sale ranging from a Rover 600 to a Bentley Arnage (the Bentley unfortunately wasn't due for sale until the 19th November).
At around 9.30am, before the sale, there seemed to be a few buyers mulling around the stock, but by the time the sale started there was a real buzz around the auction hall - a mix of both Trade and Private buyers. Online sales also seemed to be quite busy.
The sale had both lanes running, each with a mix of vendor's cars going through. Even though the cars seemed to be selling, prices were struggling. The Auctioneers seemed to be letting them go through for the money being offered, as the vendors seemed to want to clear their stocks.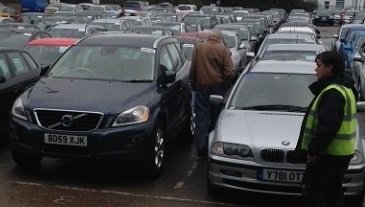 In CAP Black Book Live values are continuing to fall as this price-pattern seems to be replicated across the country. Convertibles seemed to particularly struggle, a not uncommon occurrence at this time of year. All in all both lanes were consistently busy with buyers and I would say that most cars sold with the exception of a few provisionals. 
CAP has attended various auction centres so far throughout 2014. Auction partners are pivotal to our success; every working day they provide us with vital data and a place for our experts to see the market in action and meet many of their professional contacts. 
Throughout 2014 we have been to:
The Fleet Auction Group, Coalville

Aston Barclay, Chelmsford

Aston Barclay, Prees Heath

BCA, Blackbushe

BCA, Enfield

Central Car Auctions, Glasgow

BCA, Bedford

East Anglia Motor Auctions, Norwich

BCA, Belle Vue Manchester

Manheim, Leeds

BCA, Brighouse

Manheim, Colchester

BCA Peterborough

Manheim, Bristol

Manheim, Rothwell
We're l
ooking forward to getting On The Road again in 2015. Our first auction visit of the new year will be Manheim Bruntingthorpe on Wednesday 14th January.
Follow us on twitter @CAPAutomotive