Motorcycles and the embrace of modern technology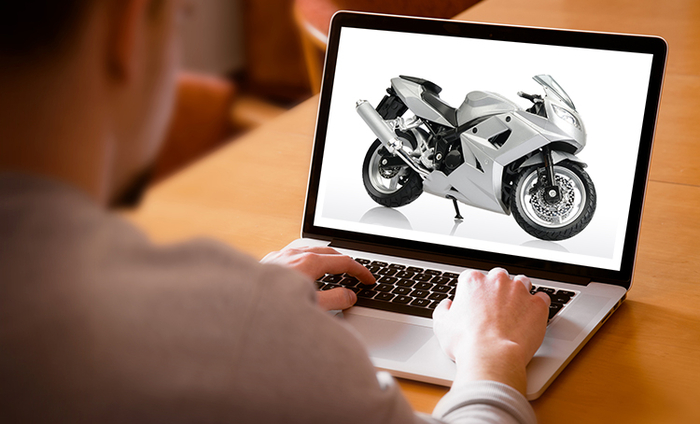 Over the years in all automotive sectors – as in general life - the increasing power and reduction in the price of computing has had its affect. It doesn't feel that long ago since we were using factor books to work out customers' finance payments, or using an actual pen to capture all their details and then having to ring them through to the local office of our preferred finance house.
Then it got easy and a Squarezone worked out the payments and a fax got the proposal to an underwriter, which reduced the time of sorting a deal to a matter of days. 
Next we filled blank documents in using the power of a black Biro, before returning the documents by post for paying (that's assuming we filled everything in correctly). What a palaver. 
These days you can do a deal online, type out the required information and press send, all on that little electronic pad that everyone has on their desk.
So the motorcycle trade has also embraced modern technology, making life easier and quicker. Hasn't it?
If I ask you to give me an idea of the value of a motorcycle, I will put money on the fact that the majority of you will still reach in the desk, or back pocket, and pull out a book.
If a negotiation with a customer is underway and a part exchange is involved, the same thing will happen. You will point to the line that fits their bike and start arguing.
I always carry one in my back pocket because that's what we've always done. So where does all this have a bad effect on the reason we all turn up? Profit? It's not a dirty word. It's why businesses open the doors every morning.
Well the "book" is good for most popular models but as space is somewhat limited, that's all you get. So what happens if it's a less popular model and not in the book? Do you ring a trader or another dealer with experience of that particular model?
The downside with that is, if you show the potential customer a book there's a chance he might believe you, but if you tell him what someone on the phone has just told you there's less chance they will believe you!
This means that the bike you're arguing about is very unlikely to have "book" mileage, so it's high and you take a bit off (quite rightly) but the punter has seen the price written down and has that figure in their head now. So how can you give them less when the deal's on the back foot already?
"So is there a better way to do all this?" I hear you ask.
"Of course there is" I reply, "or I would be in the pub instead of tapping away on this keyboard."
"So come on, tell me Al."
We see above that things have moved on when we finance bikes but we still value them just like we did in the olden days. The ones unlucky enough to see me as I research the market will no doubt have heard me, and in a lot of cases seen, the electronic desktop version of our pricing product, as I always carry a demo disc.
The reason I do this is because I am a strong believer that if used correctly, it will earn a dealership more profit. I have even had a dealer tell me he estimates that after listening to me rant and using a simple tip on its operation he earned £30,000 more in a year! 
So, here are a few advantages of using the electronic desktop version:
You have more chance of a customer accepting a deal if they see the price on a computer screen. 

Dealers can customise the mileage that reduces the price shown on screen. 

Check the trade opinion you get from the models not in "book". (2,835 models in print, 8,768 in electronic)

Larger range of plates and years.

An appraisal tool allows customisable price reductions for multiple fields affecting price.

Allows you to get the customer to the closing area to discuss the deal instead of wandering around the shop or outside, which puts you back in control of the negotiation.
That's just scraping the surface of the benefits and not mentioning that it looks much more professional.
So is it the answer to all your needs in the modern world, I hear you all scream? Well yes, it's good, but not yet perfect. At CAP towers we're always developing new products and improving our current products, to help the industry increase profit and save time.
One of the ways we're looking to improve the electronic proposition, whether that's on PC, internet or smartphone, is by the addition of a VRM search. Not that difficult a thing to do from an outsider's viewpoint you might think, but just because it's available in our car products, it does not make it that easy to transfer to the motorcycle products.
The main reason for the difficulty of transferring the VRM to motorcycle products is that we're not yet satisfied that the external data we use is sufficiently accurate enough to supply the industry with a system that will produce results for most enquiries. This data is derived from a DVLA licence we hold that's driven from original registration information, which is supplied by manufacturers/importers.
The problem being the first registration information is, at best, in many cases hit and miss and does not always match the information the manufacturers/importers supplied to us and the world.
One example (amongst many) of this is in the Harley-Davidson range. The majority of models are supplied in several colour variants, all with a different price point, for both new and usually when used. The problem that arises is that these models are reported to DVLA as just one model with no variants, meaning we have to match the one reported to all the different examples out there.
If registration numbers are used as the sole source of pricing information, it can cause real problems.
For example, at a recent motorcycle auction where both CAP and a competitor's figures were available in the trade sales catalogue:
CAP listed 97% 

mileage-adjusted figures

Our competitor listed only 47% 
So to answer questions that have been asked, there is a tool available to make life easier and more profitable. However, you can't have the full fat version because we're not happy it's good enough for you (yet).
Until then why not try what's available, click below and our subscription team will give you a demo.