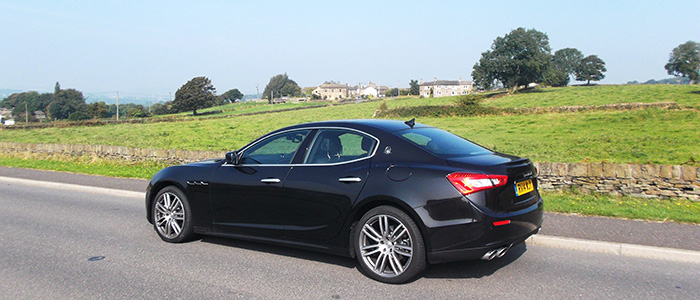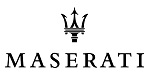 The first time we drove the Ghibli Diesel a few months ago, we liked it, but weren't overly enamoured with it. We drove it around some pretty tame roads in Surrey and then on a test track. The real test of this sort of car is in your own time, on roads you know and not just a couple of hours, but for a full week to really get to know it and find out the good and bad points.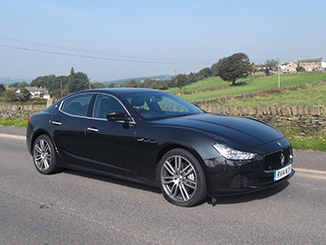 Just about everyone knew that it was a Maserati and in general the first thing they said was "what a stunning looking car" and "bet that's thirsty". They are right and wrong: yes the exterior design is fantastic, but they were wrong with their assumptions with fuel consumption. During the time we had the car, we achieved on average 42.7mpg according to the on-board computer, which for a 3.0 litre diesel is a pretty good result. 
The Ghibli is powered by a 2,987 cc diesel engine that produces 271ps. It accelerates from 0 to 62mph in 6.3 seconds and has a governed top speed of 155mph. The official combined fuel consumption figure is 47.9mpg.
The exterior design is fantastic and it looks good from every angle, the front end with that huge grille is a masterpiece. The interior is pretty good; it has some really nice touches. The quality of the materials used is excellent where you can see them, but not as good where they are out of sight, which sort of makes sense. The seats are comfortable and after many miles and hours of sitting in them, you get out as fresh as you got in. The analogue clock in the centre of the dash is absolute class, and adds to the interiors quality look and feel.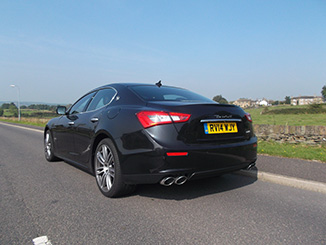 The door and boot closing does not have the quality "thud" you may have been expecting. They feel a bit light and "tinny" compared to some of its German premium brand competitors.
The car we had on test had the optional Skyhook suspension which is an electronically variable active damping system, quite a mouthful, and costs at £2,045.00. We tried using this expensive bit of equipment and really could not tell any difference in its behaviour or handling, but on the M1, M25 and around town you never are going to, are you?

The cost of the Ghibli diesel is £49,160.00 OTR, but our car had quite a few factory fit options, which pushed the price up to £60,490.00, many of the options are not really necessary.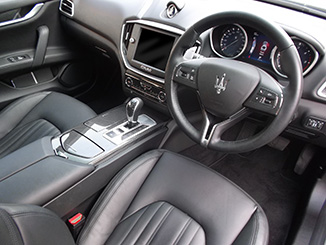 The Ghibli was really enjoyable and great fun. The design was a work of art and attracted attention everywhere you went with people pointing at it on the motorway, and it was relatively economical. But those Maserati badges are just so special; the marque has so much heritage and history. Some people think, if you can't afford a Ferrari, buy a Maserati.
This is an Italian car, it is well built, the quality is very high, but many will stick to the German, or British, or even Japanese premium saloons. But if you want something very different, it has to be the Mazzer…
Martin Ward, Manufacturer Relationship Manager