Consumer used car buying behaviour - revealed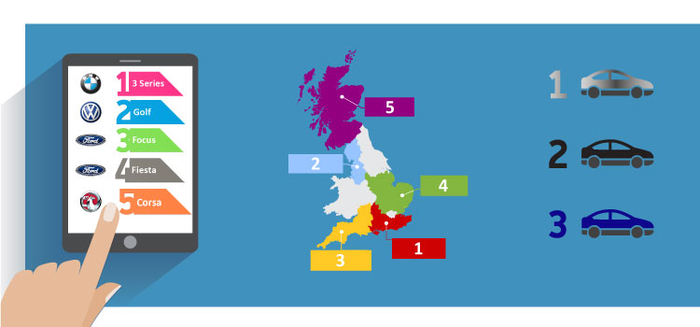 What are the most popular cars motorists wanted to buy last month? How much were they willing to pay? And where exactly are the UK's car buying hotspots? 
The latest research from CAP Automotive has thrown up some interesting insights into consumer buying preferences. Let's take a look…
The most searched for cars online 
Top of the charts as the most searched for car by consumers online last month is the ever popular BMW 3 Series. 12% of all online searches conducted in March were for the 3 Series. This is perhaps not so surprising as the 3 Series is one of those cars that many people dream of owning. It is desirable, aspirational and has a very high image. And what's great for consumers is that they're now more affordable than ever.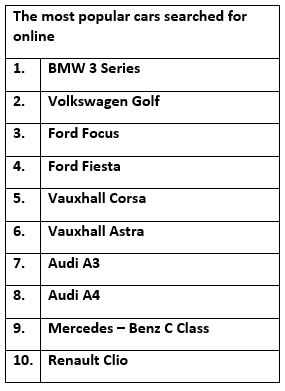 In second place is the Volkswagen Golf. Much loved, and still showing no signs of slowing down, no matter how old a Golf is – whether it's six months old or 15 years old - there's always someone who wants one. 

Next, the love for Ford continues as the Focus comes in at 3rd place followed closely by the Fiesta at 4th. The Focus and Fiesta continue to be firm favourites and a natural choice for many, accounting for 11% of online searches. As CAP's Manufacturer Relationship Manager, Martin Ward, explains: "Buyers of Ford are very loyal and it's not often that they look further afield at other brands. Many used car buyers are inclined to buy Fords because they always have, or their parents before them did." 
In 5th and 6th place it's the Vauxhalls. Let's start with the Corsa in 5th place – this car always looks like good value, has a good choice of engines and usually has a decent standard of specification and options to choose from. The Astra takes 6th place for the same reason as the Corsa; it represents good value and that popular five-door hatch is just the job.
Some customers are happy to pay more for a premium brand. The Audi A3 in 7th place radiates quality throughout and customers will pay much more for a premium hatch over a regular non-premium hatch. The A3 has a large consumer following, usually a good specification and those four circles on the bonnet show that the driver has made it in life. Hot on its heels in 8th place is the Audi A4: a solid car and solid choice, with good economical engines and a decent specification that appeals in any colour. 
Mercedes Benz are firmly back in the game in 9th place with their C-Class. The three-pointed star on the bonnet is a big attraction that appeals to both the young and the old. The C-Class has that certain image that only Mercedes can offer; it is a Merc after all. 
Last but not least in the top used car search is Renault with the Clio in 10th place. The Clio is a great, reliable little hatch that has evolved over the years. It is good value, cheap to run and well-built, despite many people's perception that they aren't.
Final thoughts - It's interesting to note that many of these cars that feature in this list of popular used cars, also feature in new car lists too. So when a car is in demand new, it continues to be in demand second hand.
Average age and spend 
The average age of cars being searched for is 7.4 years. In fact older used cars seem to be more popular than ever with cars over 8, 9 and 10 years old getting lots of interest in online searches. To be able to buy a German prestige brand motorists have to sacrifice newness to find something that fits their budget. 
But how much do consumers want to pay? The average value of cars being searched for is £7,369. This figure is across the board, so obviously 7 year old Bentleys and Aston Martins, fetching £40,000-60,000, push up these averages. But if we just look at the mainstream manufacturers that appear in the top 5 – Ford, Vauxhall, Volkswagen – then the average price comes in at £4,631 for models at 7 years old.
What's in a colour?
We all know the factors that impact the resale value of a vehicle - mileage, condition, equipment, depreciation. But what of colour?
When people purchase a brand new car they can of course choose the colour they want. However when it comes to buying a second-hand car the choice on offer is usually much more limited. 
Motorists may pay more for a used car if it happens to be the ideal colour that they are looking for. Similarly people may pay much less if the car they've found is completely the wrong colour.
Every combination of colour from the palette wheel can seemingly be found nowadays: Nautic Blue Pearl, Milano Red, Flaming Yellow, Carbon Flash; not to mention the countless pack and trim combinations available. 
However looking at the top 10 colours that consumers searched for online last month we have silver, black, blue and grey in the top spots. Hardly controversial; the 'safe' colours have come out on top. It's perhaps more of a surprise to see green, beige and brown make this list. Is the current renaissance of 80s culture having an impact here? Are green and brown vehicles that were commonplace on the roads a few decades ago making a comeback?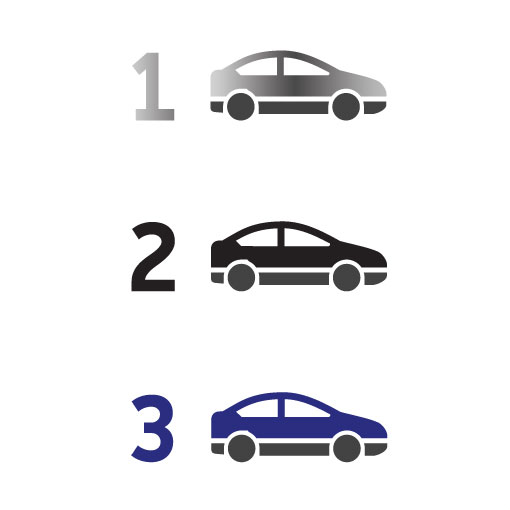 The list in full:
Silver

Black

Blue

Grey

Red

White

Green

Beige

Yellow

Brown 
Buying hotspots
15% of all online traffic came from the South East of England last month. 11% came from the North West, 11% from the South West, and 10% from the East of England. 9% came from Scotland and 9% from London.
This represents a fairly even spread with perhaps a small bias towards the South and East of England. 
Here's the full list of the most popular regions which motorists are searching from: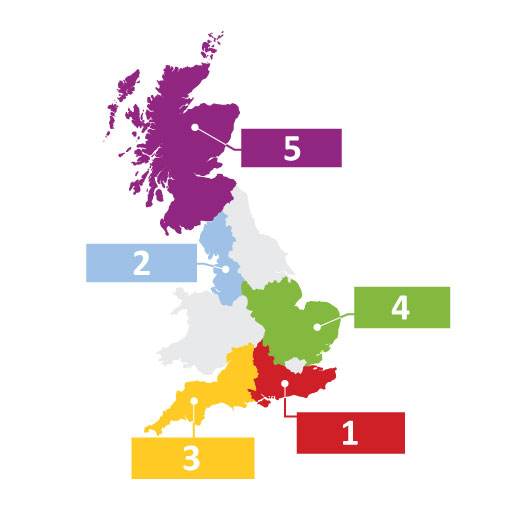 South East

North West

South West

East of England

Scotland

London

Yorkshire & Humber

West Midlands

East Midlands

Wales
Data compiled from the valuation service at cap.co.uk, March 2015