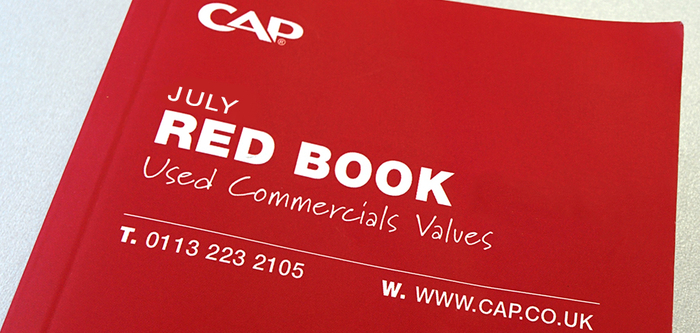 LCV Marketplace
With many familiar faces conspicuous by their absence at the sales we attended during the early part of last month, it was clear that, despite the apparently healthy supply volumes, professional buyers have continued to be choosy over which auctions to attend, not to mention which vehicles they were going to bid on. Overall, auction attendance levels were patchy to say the least with some sales very poorly attended indeed. So what was going on? From a supply perspective, at first glance the sale catalogues still had plenty of pages in them and there appeared to be a good mix of models on sale. Looks can be deceiving though, because not only were overall auction entries down by 7% over the month, but closer analysis of our research data revealed that around 31% of the stock did not sell first time around. In fact, of those that didn't sell first time around, it took on average a further 2.5 auction appearances before they sold. Two particular vehicles appeared 9 times at both LCV and Car auction sales before buyers were found. Things got better as the month progressed with larger attendances and a general feeling that buying activity was picking up. Whilst the used LCV wholesale market wasn't exactly on fire by the end of the month it was at least reassuring to hear reports that retail demand for used LCVs remained strong. Much of what was happening in the market last month can be attributed to there being far too much duplicated stock around all of a similar age and condition. This is hardly surprising considering the number of large de-fleets currently under way at the moment.  Following news that BT is increasing its Customer Service Engineer workforce by 2000, it has been widely reported that they have placed orders with Vauxhall for 2,500 New Vivaro and 300 Corsa vans and with Ford for 500 Transit Custom and 200 Transits. Many of these are already starting to appear on our roads.  This is of course is great news for the industry as a whole and, in the case of Vivaro, great news for the UK vehicle manufacturing industry, since they are built in Vauxhall's Luton plant.  So as one of the largest fleets in the country begins the mammoth task of replacing a large proportion of its fleet we can expect to see plenty of ex-BT vehicles, particularly Vivaro in the used market for some weeks to come. As we have seen in the past they seem to have a good reputation with professional buyers and already we are seeing a strengthening of market prices for some Vivaro models. Also appearing in large numbers last month were a mixture of ex-daily rental and Trafic, Vivaro and Partner from Enterprise, many of which had the tell-tale 'Burnt Tree' livery shadow. It would seem that Enterprise, who acquired Burnt Tree in August last year along with its 17000 strong fleet of commercial vehicles, is also going through a process of vehicle replacement. There were also more than enough ex-Royal Mail Combos, Connects and Transit to go around and ex-MOD 17 and 15 seat minibuses were again available in large numbers, many of which remained unsold. As we progress into July, with the summer holiday season rapidly approaching, we would normally expect to see a slowdown in the market. The glut of vehicles currently in the market couldn't have come at a worse time for vendors and if unsold stock levels build up too high we may well see prices fall for certain models due to over-supply. On the other hand, we would also expect prices to increase for models that are not affected by these de-fleets and for any entries that stand out in terms of age, condition and mileage.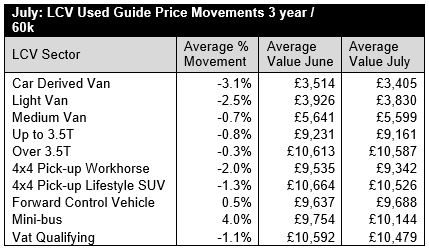 The top 10 models in the sector tables below are intended to give you a clearer view of what's driving the market. It should be noted that that the Sector Share is based on actual sales and not the availability of these models in the marketplace. The %CAP performance values are also based on actual sales. 
Since our guide values reflect the market prices of basic vans in plain white as they appear in the vehicle manufacturer's price lists, some of guide price movements you might see in this edition may not correlate directly with the sales performances shown in the tables which include vehicles in all colours and specifications. 
 In some of these tables you may also notice the same model description appearing more than once, however, the CAP Identity numbers will always be unique. Generally the lower CAP Identity numbers signify older models and higher ones are newer models; further details can be found by looking up the model/CAP Id number in the prices section of the guide.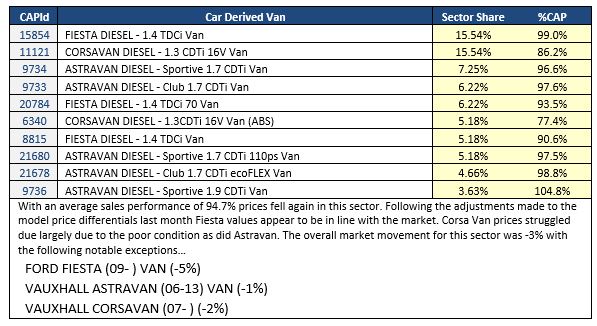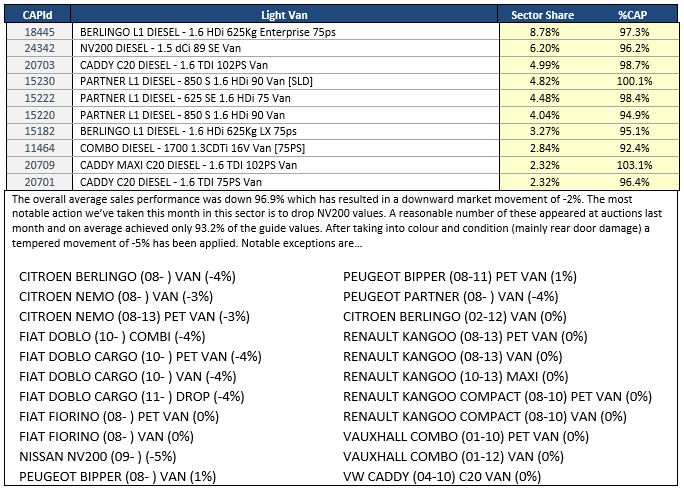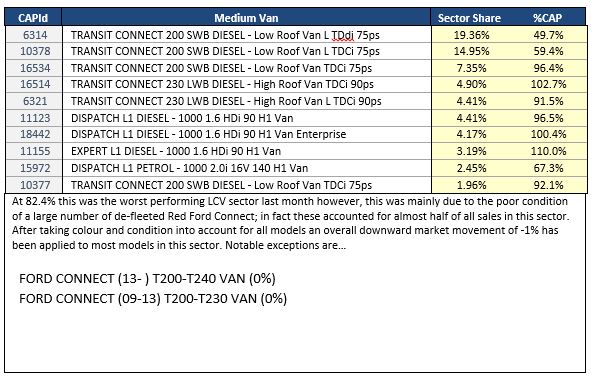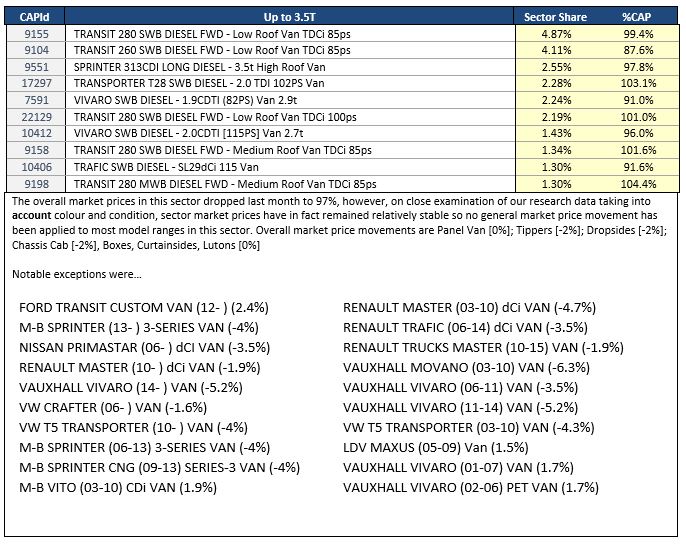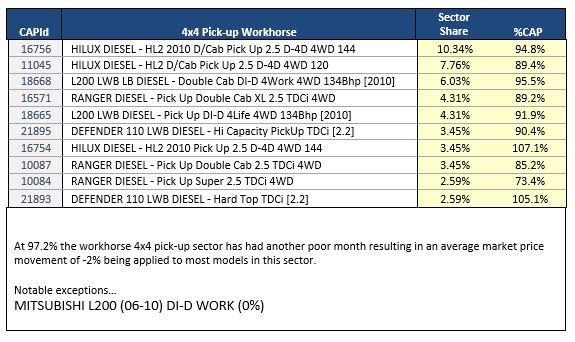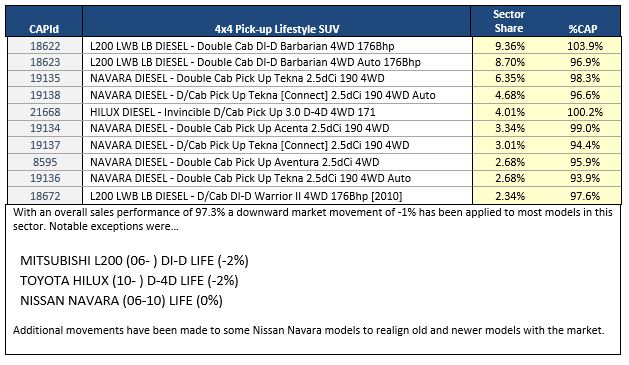 July 2015: Motorhomes Marketplace
In last month's edition I explained that motorhome buyers are extremely brand aware and knowledgeable about the features and benefits of the makes and models that are available in the new and used motorhome markets. I went on to say that all a potential motorhome buyer would need to know in the headline of a used motorhome advertisement is the make, model, year and price. 
Let's face it, motorhomes are not cheap so who in their right mind is going to buy a motorhome without first researching whether or not it is going to meet their individual needs. Naturally one of the key features a potential motorhome buyer would need to know, much the same as if they were buying a house, is how many people can sleep in it. 
Over the years manufacturers have come up with some incredibly innovative ways of making use of the available living space in a motorhome which would make even Dr Who's Tardis look cluttered. However, for a long while motorhome manufacturer sales brochures would extoll the virtues of their products along with how many berths there were but make no reference whatsoever to how many seat belts were fitted inside the vehicle. 
Believe it or not drivers and front seat passengers have been legally required to 'Clunk Click' every trip since 1983 and our rear passengers have been required to belt up since 1991 but the law regarding seat belts in the habitation section of a motorhome has always been a grey area and remains so today.
From a legal perspective there is provision within the 1986 Motor Vehicle Construction and Use Regulations to support the prosecution of a driver where it is considered by a police officer that passengers were being carried in an unsafe manner.
Two berth motorhomes are generally okay since the base vehicle will typically have at least two forward facing three point seat belts fitted by law, but with no specific legislation in place, motorhome manufacturers continue to produce models with more berths than there are forward facing seats fitted with seat belts. The onus remains with the driver to ensure that passengers are transported safely.
As from January 2006, the laws regarding newly manufactured motorhome changed. All new motorhomes must have at least two point safety belts for all designated travel seats. Mountings and belts have to conform to European and UK legal requirements. Rear passengers in motorhomes will be obliged to use the designated seats and their safety belts. Sideways facing seats cannot be designated as travel seats.
With such a large number of used motorhomes in the parc dealers, particularly those that don't regularly deal in motorhomes, need to be mindful that there is still no requirement for motorhome manufacturers to provide travel seats to match the number of berths. A used six berth motorhome might look like a bargain at an auction or a profit opportunity if you take it in as part exchange but, if it only has two travel seats it could take a while to sell. There could also be a 'Duty of Care' issue, if not legally then certainly ethically, to ensure you make potential buyers aware of the number of seat belts in the vehicle and, therefore, the number of passengers that can be carried both legally and safely, irrespective of how many berths it has.
Ken Brown, Red Book Editor - LCVs