October watershed as values drop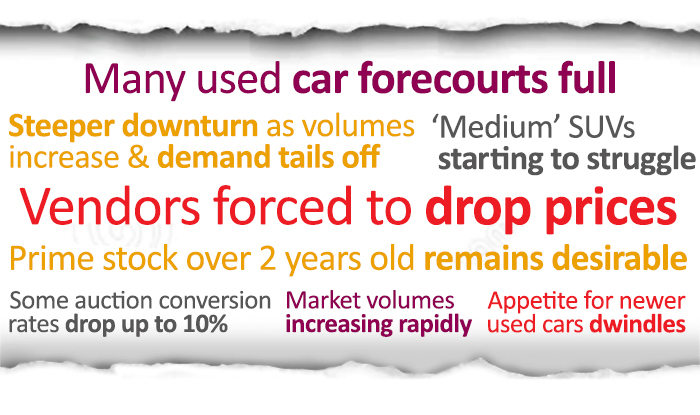 We certainly appear to have reached a watershed in the year for the used car market. 
Throughout 2014 the market has been remarkably stable, with generally only low levels of depreciation. However as we arrive at the middle of October, volumes in the market are increasing at a rapid rate.
With prices having been high for the majority of the year, vendors are now having to revise their expectations as buyers are not quite so keen to pay what they may have over the past few months.
Conversion rates at the auctions have dropped by as much as 10% over the past few days and there are reports that some fleet vendors are only selling around one third of the cars they have entered. Retail part-exchanges are faring better than fleet returns however, mainly due to the better variety and wider price range available.
Many used car forecourts are full and buyers are only after something a little out of the ordinary to supplement what they already have to offer to the consumer. It is still the prime stock over 2-year old that remains desirable – appetite for newer used cars continues to dwindle, mainly due to the attractiveness of deals on brand new cars.
Interestingly, at a time of year when SUVs usually perform strongly, whilst some of the larger cars are doing well, some smaller, "medium" SUVs are struggling – mainly due to the volumes that are available and continue to arrive in the market. This could be a short-term issue, as vendors dispose of vehicles, due to having replaced them with one with a "64" plate and normal small seasonal increases may return to this sector.
In summary, Black Book Live is starting to reflect a steeper downturn than it has over the last few months. However, it has to be said that this is normal for the time of year as volumes increase and demand tends to tail off from October onwards.
As always, any movements will be reported as they happen in Black Book Live.
Which specific models have gone up or down in value since the October Black Book was published?
Click here to see some of the Mid Monthly Movements