CAP supports F**k Cancer Campaign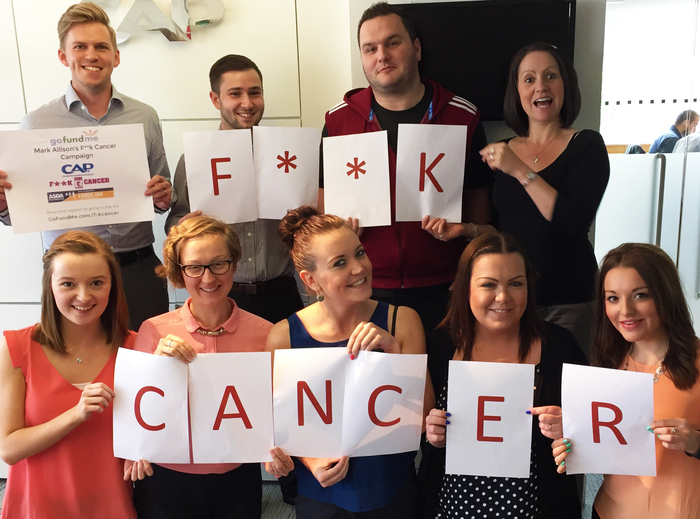 CAP take to the streets of Leeds to raise money for colleague diagnosed with cancer.
CAP is a kind, supportive and friendly place to work and many staff members see their colleagues as friends rather than just work colleagues. When we heard the news that a colleague had been diagnosed with Pancreatic Cancer and had since set about on a fundraising mission, we had to get involved to help make a difference and support our colleague, Mark Allison to raise awareness and help raise as much money as possible for charity. 
Mark's condition is terminal, however he hasn't let that dampen his phenomenal thirst for life and truly unique personality. From day one Mark has been truly inspirational with his attitude to life and dealing with his illness, this was when Mark's F**k Cancer campaign was born.
Mark's F**k Cancer campaign is all about raising as much money for charity as possible and to date Mark has raised over £45,000 towards a host of charities in his local area. Mark has had an outstanding response and has already received numerous amounts of kind donations and support from the local press. Mark hasn't stopped at the amazing £45,000 he's already raised, as he continues to push his fundraising total even higher - that's when CAP decided to get involved!
On Sunday 12th July a team of 16 CAP employees along with associates will take to the streets of Leeds to run the Leeds 10K. We will be taking to the course in CAP commissioned t-shirts clearly branded with F**k Cancer in hope of raising funds and awareness for a cause close to the heart of CAP. 
When the time comes, any money raised beyond the £45,000 will be split between pcrf (Pancreatic Cancer Research Fund) & ST Andrews Hospice in Airdrie.
PCRF is a national charity dedicated to supporting research to improve diagnosis and treatment of Pancreatic Cancer. PCRF is working to particularly raise funds for research into early detection, new treatments and ultimately a cure for Pancreatic Cancer. PCRF also work to encourage more of the research community to get involved in Pancreatic Cancer research and promote the need for more research funding by major cancer research funding organisations. 
ST Andrew's Hospice in Airdrie is an independant charity providing care and treatment for those living with life threatening illnesses. ST Andrew's Hospice provide complex symptom managment and end-of-life care, as well as offering further support to the patients' families and carers. 

To show your support and donate what you can please click here. We thank you in advance for your support.  
CAP is so proud of Mark and the incredible charity work he is doing. The CAP team and running squad are hoping to raise as much money as we can to further Mark's cause and ensure his 'F**k Cancer' campaign is heard loudly!
Here are some pictures of the fantastic fundraising efforts which Mark has already completed and how he's helped local charities through his ongoing battle with cancer - What an inspiration!