How growing factory lead times can hurt part exchange profits

Long lead times can play havoc with part-exchange valuations. The longer the factory lead time the harder it is to put an accurate value on the vehicle being traded in. 
This can result in lost profit if the value quoted for the trade-in turns out to be wrong.
With the economy recovering and inflation stubbornly low, factory order times do not seem to be getting any shorter. In fact, the average factory lead time for a new car with options is now 13 weeks. In some instances this can be a staggering 52 weeks for production and delivery. 
Take a look at Carwow's latest information on new build, factory order lead times and see for yourself the lead time variance between makes and models.
This is obviously a major source of frustration for customers, who are often shocked to discover they have to wait months before they can drive off in their shiny new car. But, having managed them past the lead time only takes you to the thorny issue of the value of their part exchange vehicle. 
It's an issue many of you have spoken to us about, how to get an accurate value for a part-ex that's realistically going to be months away from being sold?
But it's not an impossible dream. If someone tells you that it's impossible to forecast these values with any accuracy, then they clearly haven't seen CAP's forecasting tools. 
One of the advantages of working with CAP is the confidence we provide that the value you'll be offering a customer today will be relevant (and the right value) many months down the line. Gone are the days of erring on the side of caution or guesstimating to the extent that you lose the profit on the trade.
To put that into context, consider that, as part of our 'fit for purpose' tests, the results were clear. CAP's margin of error on its value forecasts is accurate to within 1.6%.
That not only gives you confidence about the value, but there's no longer a need to re-price at the point of delivery. So, more time is saved to concentrate on selling. 
And it's your customer that benefits as much as you. Naturally customers want to understand the cost to change, that's now easily predictable for those using the future valuations tool. Meanwhile, the customer doesn't get any nasty surprises closer to delivery regarding the value of their part-ex.
Finally let's throw in the positive fact that it's reassuring for a customer to know they've got a dealer they can trust to offer them a transparent, independently verified market value that is accurate when he first enquires.
Did closing that deal just become that little bit easier? 
Discover Black Book+12, CAP's brand new 12 month forecasting tool.
With accurate 0-12 month used car forecasts you can :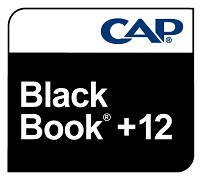 Accurately price-up part exchanges

Increase your profit margins  

Get deals done on the spot 

Not worry about new vehicle long lead times 

View forecasts quickly, accurately & easily