Does the badge on the front really matter?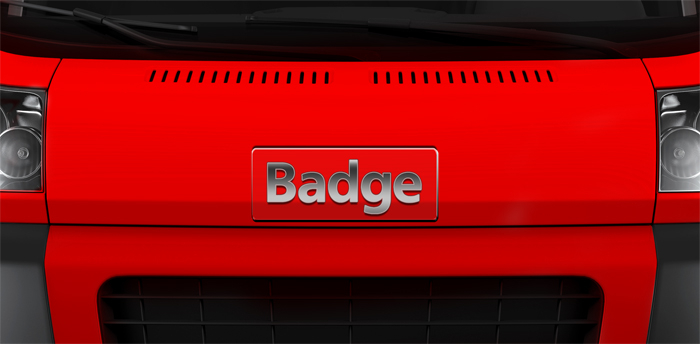 So far 2014 has been a bumper year for new LCV model launches with new products from all the mainstream vehicle manufacturers including Ford, Iveco, Renault, Vauxhall, Fiat, Citroen, Peugeot and Mercedes. You would have to look back as far as 2006 before you'd come across a similar number of LCVs all being launched within the space of a year. It's little wonder that manufacturers are clamouring to state they are best in class in some aspect or other of a vehicle's design or operational characteristics as they strive to differentiate their products and gain a competitive edge.
Industry commentators have been saying for a long while that 'nobody makes a bad van anymore' and the consensus from vehicle operators certainly seems to be that LCVs are generally better built, safer, more reliable, more economical to run and more driver friendly than they have ever been.
The Light Commercial Vehicle (LCV) sector has evolved over a long period of time and products with different body types, load-space volumes and weight ranges have been developed to satisfy the exacting requirements of a wide range of vehicle operators. It has become what is arguably the most complex sector of the large volume automotive manufacturing industry. It can be broken down into clearly defined sub-sectors with most manufacturers producing models that compete in each of them, often with very similar attributes, and all more than capable of doing the job.
Driven by profitability, like any other business, the vehicle manufacturing industry tends to gauge success in terms of market share of new vehicle registrations and Residual Values (what a particular model is likely to be worth at a certain age and mileage), both of which ultimately lead to greater profitability. 
Thinking about Residual Values, as this latest round of new LCVs enters the market it would be nice to think that the manufacturers who have paid the greatest attention to design and innovation will reap the greatest rewards but unfortunately the law of karma doesn't seem to apply to LCVs. In reality it's the manufacturers who have built the strongest brands over an extended period of time that almost always come out on top.
Brand is one of those words that tend to be used in all sorts of different contexts so let's make it easier and substitute it with the word 'badge'. 
The badge on the front is effectively a form of shorthand to potential buyers. It summarises what the product stands for not only in terms of design, quality and fitness for purpose but what product marketers refer to as the augmented product, those less tangible features of the product that can get over-looked such as the benefits of the vehicle's warranty and aftersales support packages and lower servicing costs.  More and more we hear manufacturers talking about the size of their dealer network, the number of approved service centres offering extended workshop hours and the first-time pick availability and competitive pricing of spare parts.
Reliability is always a major concern since but most operators would accept that any mass produced vehicle has the potential to suffer a breakdown or have a manufacturing defect that eventually comes to light. On occasions a particular fleet operator can have a run of a certain type problem on several vehicles which is unique and linked to their particular type of vehicle application. Whatever the cause, breakdowns can have a devastating effect on an operator's business. 
It's how the manufacturer responds that separates the wheat from the chaff. The relationship a large fleet customer has with the vehicle manufacturer and its dealer network can seal or break the next sales deal.  Nowhere is the old adage "sales sell the first vehicle whilst aftersales sell the second, third and fourth" truer than in the LCV sector. Such relationships are not forged overnight but where they do exist it adds to the reputation of the badge. 
It would seem this reputation rubs off on the used LCV buyers and the significance of the badge becomes even clearer when a vehicle enters the used wholesale market. 
Over an extended period of time price differentials have become established between the various LCV makes and models which, in the long term, don't seem to change significantly. It's as if trade buyers have a sort of in-built mechanism whereby they will rarely, if ever, pay more for one particular make and model against another. Collectively, the average prices that trade buyers are prepared to pay results in what we have dubbed as the desirability pecking order. 
The clearest examples of this are amongst the so called badge-engineered LCVs. These are effectively the same vehicle with identical features and where the only tangible difference is the badge, for example Fiat's Fiorino light van which is also badged by Citroen as the Nemo and Peugeot as the Bipper. Whilst used wholesale prices can vary considerably from month to month for all sorts of reasons, the long term trend for average trade prices clearly shows that buyers are willing to pay around 7.5% more for a Citroen Nemo than a Peugeot Bipper and 9.5% more than a Fiat Fiorino. 
Whilst there are many similar examples throughout each LCV sector the perhaps the most extreme has to be the Renault's Kangoo which also carries the highly regarded Mercedes Benz badge on the Citan. With a considerable gap between the two badges in the desirability pecking order and whilst there are some subtle differences in design and specification between the two vans, you can expect to pay around 20% more to buy a used Citan than the nearest equivalent Kangoo.  
It's worth pointing out that this kind of alliance can work well for both manufacturers. In this case Mercedes have filled a gap in their van product range without having to incur the massive cost of designing and manufacturing their own and in doing so they are effectively endorsing Renault's Kangoo thus enhancing the reputation and brand values of the Renault badge.
In the used LCV wholesale market naturally prices fluctuate up and down according to the balance between supply and demand, as does the model mix and the amount of duplicate stock around; identical models in the same colour and often from the same fleet operator. This can often result in guide values moving by significant amounts over any given month. Whilst this sometimes causes the desirability pecking order to change in the short term, rarely does it have any lasting effect.
When vehicles are sold at auctions you will often hear auctioneers referring to 'old shape' or 'new shape' when describing in terms of their model year. Naturally they will always attempt to upsell the 'new shapes' and certainly the vendors will expect them to sell for more than old shape models. By the time we start seeing the 2014 models regularly appearing in the used wholesale market, with so many being launched around the same time, the 'new shapes' will have plenty of company. Initially we tend to see the latest models sell at a premium but eventually prices do stabilise and arguably it will again come down to the desirability pecking order. 
So the holy grail of vehicle manufacturers is, or ought to be, how to reach a higher position in the desirability pecking order, unless of course they are already at the top; in which case, they should be focusing on how to stay there.
Ultimately the market prices buyers will pay for used vehicles impacts on the residual values that are achieved at the end of contract. Higher residual values means lower holding costs which in turn means more competitive leasing rates. Naturally every manufacturer aspires to have the highest residual values and product managers strive to put together the best possible package of product features to suit their particular market.
Whilst vehicle styling and innovative modern design features are good for operators and the industry as a whole, and there are many examples in the latest wave of the new models, ultimately it's a combination of everything that the badge stands for that has a lasting effect on its desirability.